Ready for a PJ Masks Race Day
This is a review post. I have been sent these items for the purpose of this review, however all opinions are my own.
Ready, set, let's race!
ukmumstv are hosting a PJ Mask race day next week on 20th February over on Twitter. To get us in the mood we were sent a selection of PJ Masks characters complete with vehicles to set up our very own race day. Who do you think would win in a race: Catboy, Owlette or Gekko? Read on to find out who won ours!
INTRODUCING THE RACERS
As soon as this opportunity came up, I knew our two would love to get involved. They discovered PJ Masks at their Grandma's house and have since taken to watching full episodes on YouTube.
We were sent a selection of items from the Super Moon Adventure theme and we couldn't have been more thrilled. Each set includes a 7.5cm figure – in our case Catboy, Owlette and Gekko – along with a Super Moon themed accessory and Space Rover vehicle. That's not all though, as we were also sent Romeo's Lab as it seems that he wanted to get involved in the race day fun and steal the trophy!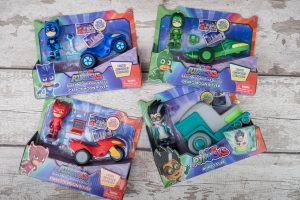 We wanted to make an event out of our race day, so we set up the race track and invited some friends around to play. Wrapping up each PJ Masks character ready for a big unveiling meant that the kids were so excited and couldn't wait to dive in.
OUR RACE DAY
The kids we're ecstatic with their racers. Poor Romeo was quickly dismissed as being the baddie and therefore not allowed to play, and Catboy, Owlette and Gekko were allocated owners.
What was great about each of the characters is that they fit on their vehicles very well and really snug. With hands that grip firmly on to the handles, and wide wheels that allow their vehicles to stand up without holding, these are all things that make them easier to handle for little hands. Any parent with tiny humans will know the epic tantrums that fiddly toys can induce, but these feel sturdy and easy to play with.
I won't lie though, there were initially a few arguments over who will be racing who – after all is seems that no day is complete in our house without at least one disagreement. Once the logistics were settled though, our little party couldn't wait to get racing and the took to the starting line.
Overall, the kids had a great time.
Usually when we put a new toy through its paces, I just let them have some free play. In fact, it's how they play with the majority of their character toys. However, they LOVED the race day set up for this and it's something that I'm going to do more of with them. I loved how engaged they were in their play, just by our setting up a scene for them to play within.
They literally spent the entire afternoon going back to it for more racing right up until we packed it away in time for dinner. Since then, Catboy and Gekko have gone most places with them – bed, days out and even school. Therefore, it's safe to say that these have been a big hit in our house.
We were so excited by our race day, we even made this short 60 second video to give you a closer look.
WHAT TO DO NEXT
First, if you want to get your hands on your own Moon Adventure PJ Masks sets then these are £9.99 each and are available Smyths Toys Superstores.
Finally, be sure to grab your PJ Masks vehicles and gear up to join in the fun over on Twitter on 20th February. The fun all takes place between 1-2pm and can be found on #PJMasksRaceDay, so make sure you set a reminder.