15 Things Happy, Healthy Families Do On A Regular Basis
This is a collaborative post.
Thank you for supporting the posts which make this blog possible.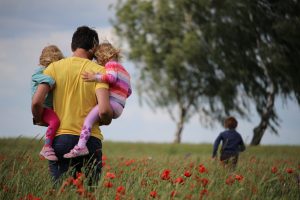 If you're thinking of starting a family, or you already have one and you want to ensure that you are doing things that are conductive to being happy and healthy, you've come to the right place. The things you and your family do most often, or even every day, are going to have a huge impact on your relationship, and even your individual moods. Luckly, research suggests that happy, healthy families do things similarly.
Here, we'll talk about what the happiest families do on a regular basis so you can make tweaks or additions to your routine if you need to. You'll find some awesome habits that you can work on building into your routine that will make a big difference to your daily lives and happiness levels.
Read on to learn more!
1. ENJOY ONE ANOTHER
Just because you live together and see each other regularly doesn't mean you should take one another for granted. Don't get complacent. Be happy to see your kids when you get home and they'll be happy to see you! Don't grumble about your hard day and turn the TV on straight away.
2. SWAP STORIES
Swapping stories with your kids can help you to build some great life lessons into your conversations with them – plus, it can just be a lot of fun to converse and bond! Take an interest in what has happened to them that day, and make sure they can't just give you a yes or no answer. Start by telling them a story about something that happened to you. This is how families stay close and foster open communication, rather than keeping secrets and never really building a strong connection.
3. SET AN EXAMPLE WHEN IT COMES TO YOUR RELATIONSHIP
Your relationship with your partner is teaching your kids what to expect and accept from their own relationships. In many families the kids come first, and while your kids are of course the most important thing, they are not the only important thing. Eventually they are going to move out and you might just realize that you and your partner don't know each other as well as you thought you did. This could lead to meetings with family law lawyers that could change your dynamic forever. Make sure you're setting a great example so your kids have their own ideas of what they should accept from a relationship.
4. HAVE FUN TOGETHER
Make sure that you and your family regularly have fun together. Try to incorporate play into your day every single day. Read books, play board games, make dens…do whatever your imagination allows! When you play with your kids, your own inner child can come out.
5. LIMIT YOUR KIDS AFTER SCHOOL ACTIVITIES
Many kids are overscheduled with after school activities, often taking part in around 5 different hobbies. You'll be their chauffeur, and you'll never be home at the same time as the children. This does not equal a recipe for a happy family. It can lead to getting out of touch with what is going on with each other, and it can also mean building stress for kids with far too much on their plates. Do your own after school activities as a family instead, such as rollerblading, skating, or even just going for a walk. Know when to draw the line. Your child can always try new hobbies as they get older or fancy a change. They don't have to do absolutely everything at once!
6. BUILD UP RITUALS
Having family rituals can help you to stay happy and healthy. Morning routines are fantastic, as they prepare everybody for the day ahead and help you to get out of the door much faster with as little faffing around as possible. Your rituals also refer to the things you do on a Saturday morning, such as making pancakes for breakfast or visiting the farmer's market. Rituals will help you to make memories and bring you closer together. Make sure you come up with something special you can all do most weekends – something you can really look forward to. Each family should have their own unique traditions that they enjoy.
7. ENSURE YOU HAVE A CALM ENVIRONMENT AT HOME
It can be tough to keep your cool in high pressure situations, but shouting at your kids teaches them that they should shout, too. They learn this early on. Kids thrive on stability, which is why you should aim to keep your emotions under control, even if you feel being angry is warranted.
Yes you should punish them when necessary and give them ground rules, but never lose control and shout at them. If you feel the need to shout at your kids it means you should probably take a look at your own emotions and work on ways to reduce your stress levels. By shouting, you're telling your kids that you are out of control and you are bringing them up in a non-peaceful environment.
8. NEVER, EVER FIGHT IN FRONT OF YOUR KIDS
Bickering may be inevitable, but you should never fight in front of your kids. If they ever do witness an argument between you and your partner, you should explain to them after that it was just a disagreement and everything is ok now. Arguments can confuse them, and it can make them believe that you are having problems. It can make them worry unnecessarily. It might even make them attempt to play you off against one another when they want something and one of you has said no. This is why you should always discuss things in private, rather than directly in front of the kids.
9. EAT AT LEAST ONE MEAL TOGETHER EVERY DAY
Eating at least one meal together every day is a backed by science practice that benefits the whole family. Not only is it a great time for you all to sit together and enjoy some delicious food, you can catch up and swap stories, laugh, and bond. Studies have shown that children who eat at least one meal per day with their parents do better in school and are more likely to avoid things like smoking and drugs. It doesn't necessarily have to be dinner, either. See if you can get up earlier so you can all have breakfast together instead. If it comes to it, you could even have supper later on.
10. VOLUNTEER / PRACTICE SMALL ACTS OF KINDNESS TOGETHER
Helping others automatically makes us happier, and this is a fantastic lesson to teach your kids. See if there are ways you can volunteer in your community and practice small acts of kindness together. You could regularly volunteer at a soup kitchen, for instance, or you could take it in turns to talk about who/what you'd like to help. This teaches your children that the world is much bigger than them, and that volunteering their time out of the goodness of their hearts can feel really good. It'll often mean raising more empathetic, sensitive, kind people.

Photo credit
11. PLAN HEALTHY MEALS
Planning healthy meals for the week is something you can do on a Sunday, or a day where you have a spare few hours. Plan your meals, go food shopping, and then see what you can cook or prepare in advance to save time. You could have a board on the wall where you write down each meal for each day of the week. It stops your kids from asking you what is for dinner all the time, and it sets the meal in stone so you know exactly what you're cooking – no routing around in the freezer for ages!
12. EXPRESS GRATITUDE FOR ALL YOU HAVE
Expressing gratitude for everything you have is a wonderful practice to get into. Oftentimes, kids are taught that toys are the be all and end all and that if they want something they should be able to have it immediately. Make it a habit to talk about things that you are grateful for, such as a warm bed to sleep in and clothes on your back. Talk about the things that make you happy that aren't necessarily material objects.
13. HAVE FAMILY MEETINGS

Family meetings can help you to plan for upcoming events, say, a camping trip, and they can even help you to plan your finances and teach your kids important financial lessons at the same time. It could also be a time to discuss things that have been going on in the family or in the house and work through them, for example, somebody not doing their assigned chores.
14. STAY ACTIVE
Stay as active as you can, whether you go for walks, family bike rides, or to a local bounce park! This is a great way to stay healthy and bond, and you'll teach your kids that exercise feels good while they are young.
15. GET PLENTY OF SLEEP
Make it a habit to get into a great sleep routine and you'll all be far happier and healthier. Remember, kids may need 10 hours a night or more, so plan their bed times accordingly.