Getting into the Halloween Mood with Little Brian Paint Sticks
When a challenge was set to great creative in the most spook-tacular way, anyone who knows us knows that it's a challenge that we wouldn't be able to resist. The idea is to create a Halloween masterpiece using Little Brians Paint Sticks. This is what we came up with.
WHAT ARE LITTLE BRIAN PAINT STICKS?
Little Brian Paint Sticks are pretty much exactly what they sound like. Paint….in a stick! Think a glue stick but with paint. We were sent a 24 pack of paint sticks to try out along with a 12 pack of fabric paint sticks.
I'm usually hesitant to let the kids loose with fabric paint due to the permanent nature of the paint (I worry for my carpets and their clothes). However, the great thing about these paint sticks is that there is minimal mess and no water required. They simply need to take off the lid, twist the bottom and get creative.
Paint Sticks are a fun and mess contained way to paint fabrics, perfect as an introduction to fabric painting. Once you're finished with your masterpiece you can seal your design by using an iron or hair dryer on the reverse side of the fabric. Once complete, the design is set and can be washed up to 40'C.
The Bears loved the vibrant and bright colours and they immediately reached for their favourites (pink for her and blue for him). We were ready to get started…..
WHAT WE CREATED WITH OUR FABRIC PAINT STICKS
With a 4-year-old and a 2-year-old I knew that we needed a little structure to be able to create something that was actually Halloween themed rather than just bright coloured splodges and smears. Therefore, I did a little preparation beforehand and made a pumpkin and bat template – papercutting it out of card.
For our t-shirts we picked up some cheap and cheerful options for £1 each. The idea is to use the templates and dot the colour into the gap using our fabric paint sticks and create some fabulous bats and pumpkins onto them.
Darcie loved it. As in LOVED it. She took real care to do each one carefully and to make sure that the card didn't move as she dotted into the gaps. The fabric paint sticks were great for this. The colour was bold and beautiful, and the dotting technique created lovely clean lines to create our shapes.
Henry on the other hand….well, he still had a great time. Keeping the templates still was more of a challenge for a 2-year-old, and you can perhaps spot the two that I helped a little with. Though those were the only ones that I was allowed to do as I was quickly shouted down and told to leave him alone to finish his t-shirt. He did a great job and had fun doing it.
Once finished, I set the paint by popping some baking paper over the design, and ironing.
We purposefully created t-shirts they can wear in the day as we have plenty of things planned for Halloween week which falls in the half term holidays where we live. The kids can't wait to show off their creations! Apparantly this is the face you make for Halloween….who knew?!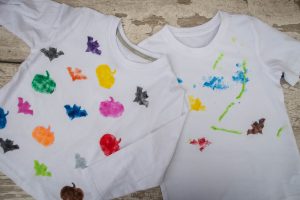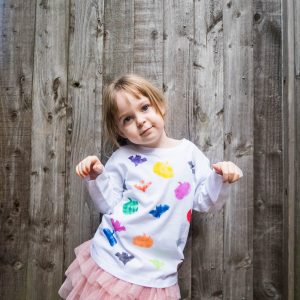 THE GIVEAWAY
Fancy getting creative yourself? Little Brian are giving away a 12 pack of fabric sticks worth £12.99 to one lucky Tippytupps reader. All you have to do is enter using Rafflecopter below and follow the usual social media accounts.
This giveaway is open to UK residents only, is powered by Rafflecopter and will close on Sunday 4th November 2018 at midnight. Perfect timing for some festive creativity just in time for Christmas. The winner will then be chosen at random using the tool. Please note that this giveaway is hosted by Tippytupps blog, but the prize will be distributed from the PR. For full terms and conditions for the giveaway, please visit the Tippytupps terms and conditions page.
Good luck!!
If you enjoyed this review, then why not check out our review section for more.
DISCLAIMER: I was provided with these items in return for this post. As always though, all opinions expressed in this post are my own.