Toddler Craft – Hanging Snakes
This is another quick and easy craft this week as hopefully the sun is shining wherever you are, and you are all having fun outside! I would love to take credit for this one, but this is another cute craft we did in playgroup a little while ago that we thought we would share as my two loved it so much. In fact, we still have the masterpieces on our fridge. May I present to you, hanging snakes!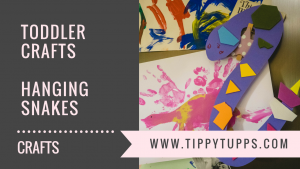 WHAT YOU NEED
Coloured card cut into the shape of a snake
Stickers, gems or shapes ready for sticking
A pen
WHAT WE DID
This is literally as easy as it seems. They have a shape, so simply let little ones decorate it until their heart's content. The simplicity these hanging snakes means that it is perfect for really little ones as Henry who is only 1, had as much fun decorating his snake as his big sister did having found a new love for all things stickers.
When all stickers are in place, you simply need a pen to mark two eyes and your hanging snake is finished.
Once complete they are ready to hook onto anything and hang with pride. The benefit of making more than one is the ability make your very own little hanging snake chain.
If you like the look of this craft activity, then why not check out the creations section of the blog for more crafting fun ideas.