Toilet Roll Necklace
Yes, you read right. This really is a quick post to tell you exactly how to make your very own toilet roll necklace. Before you click on by though, let me tell you why. I'll be honest and say this was a toddler craft activity born out of sheer desperation. It was a very rainy day when we were stuck inside. One of those days where the Bear was in full tantrum mode and nothing would please her. That was until some empty loo rolls were spotted in the bathroom and inspiration struck. A toilet roll necklace! Why not…..
Now, I admit that it sounds like a random activity. One that will leave you with even more cardboard stuff in your house. However, as if by magic, this kept the Bear entertained for about an hour. First by making the toilet roll necklace, and then wearing it and making her teddies, dolls and baby brother all wear it in turns. This is a LONG time in the world of the Bear. Still not convinced? Well, not only is it quick and easy but it's also mess free. Which – I don't know about you – but that's always a winner for me.
So, here's how you do it: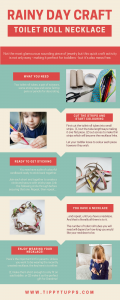 And that really is all there is to it. Such a quick and easy thing to do, and a perfect way to spend an hour when your stuck indoors on a rainy day. The added bonus being that is really doesn't create much mess at all. Although mentioned tongue in cheek, this could be a cute little activity to create a little gift for someone special – especially seeing as Mothers Day will be on us before you know it.
Looking for other crafts to keep little ones entertained? Then why not check out the Tippytupps blog creations for kids section.