Tuff Tray Ideas – Dino World
Our tuff tray is one of the best things I've ever bought. On a rainy day when no one has much energy, it's great to fill to the brim with dried rice, lentils and pasta, pop in a few pots and spoons and just let them play. However, if you're feeling a little more adventurous then they are fantastic to set up for real imaginative play. This morning was such a day. Darcie was playing happily but Henry was bouncing around not really finding anything to hold his attention. We hadn't done anything for his dinosaurs for a while, so I thought I'd set him up a little scene in his tuff tray
OUR TUFF TRAY DINO WORLD
First of all, we have the beach. We piled our shell collection into one corner and then surrounded it with sand from our sandpit. We then used some course gravel borrowed from our driveway to partition off each of the sections. To be honest, I've no idea why I do this as it gets destroyed in 2 seconds flat, but I like how it all looks with separate worlds for the 2.4 seconds that it's relatively neat.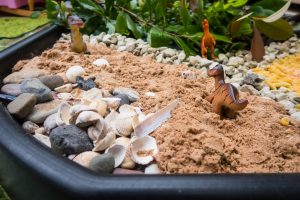 Next, we have the dino's play section which is made using out dried rice, lentil and pasta mix. Darcie likes to pretend that it's water next to the beach whereas Henry likes to smash it and make as much mess as possible.
This leads us into some rocky woodland. Make simple of stones from the garden and sticks from our playing green, this makes a fabulous textured section for the dinosaurs to climb over and hide under.
This rocky woodland then leads into the wider forest. Filled to bursting with leaves, twigs and branch cuttings. In Darcie's words, this is the "dark, scary forest" apparently. So, there's no telling what may be lurking within.
There we have it, the sections that make up our dino world.
WHAT WE USED
As you can see, we mainly used things that we have hanging around. If you fancied giving it a go yourself though, here's a list:
Cuttings from trees
Stones from the garden
Sand from the sandpit
Our shell collection from our (many!) seaside trips
Sticks from the green outside our house
Gravel from the driveway
A mix of dried rice, lentils and pasta that we keep in a box ready to use with the tuff tray
WHAT THE KIDS THOUGHT
Using tuff trays in this way is really the easiest thing to do. It does take a little imagination to set it up, but from there little ones can just get lost in it for hours. If you child is like Henry, then they will play with it for 20-minute intervals all day. Coming to play, going away to do something else, but always gravitating back to it.
However, if your child is like Darcie, they will literally sit and play with it for HOURS. Lost in a little world of imaginative play. On this occasion it was the hatchimals that came to play in dino world, though they refused to leave the beach.
With a little imagination and time to set up, this has kept my two entertained all day on this wet and windy summer day!
Do you have a tuff tray? What have you been using yours for recently?
If you enjoyed this little idea, then why not check out the creations for kids section of the site for more.