Teeny Tiny Bee – Free Knitting Pattern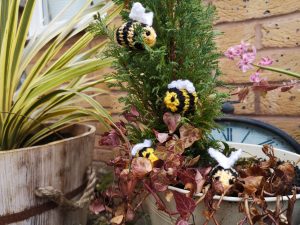 This is the cutest little knitting pattern. One that I developed to meet a need for work, but I've used it for ourselves a few times now. They make great decorations, little toys or even a little learning aid. This free knitting pattern really is quick and easy to knit and then stitch up. They're also a wonderful way to use up the odd little bits of yellow, black and white you may have lying around.
WHAT YOU NEED
4mm needles
Scraps of black, yellow and white DK yarn
A little stuffing
Darning needle
THE PATTERN
To make the bee
Using 4mm needles and black yarn cast on 8 stitches
Row 1 – knit
Row 2 – (p2,pfb) twice, P2 – (10 stitches)
Row 3 – (k2, kfb) three times , k1 – (13 stitches)
Row 4 – purl
Switch to yellow yarn
Row 5 – knit
Row 6 – purl
Switch to black yarn
Row 7 – knit
Row 8 – purl
Switch to yellow yarn
Row 9 – knit
Row 10 – purl
Switch to black yarn
Row 11 – knit
Row 12 – purl
Switch to yellow yarn
Row 13 – knit
Row 14 – purl
Row 15 – k2tog six times, k1– (7 stitches)
Row 16 – purl
Cut yarn leaving a tail, thread through remaining stitches, pull tight and fasten off.
Join side seam with mattress stitch, stuff with either stuffing or yarn offcuts then gather cast on edge and fasten off.
Stitch two eyes as per picture using black yarn.
To make the wings
Using 4mm needles and white yarn, cast on 7 stitches
Row 1 – 3 – (k1, P1) three times, K1
Row 4 – cast off 3 stitches (one stitch left on needle) K1, P1, K1 – (4 stitches)
Row 5 – K1, P1 twice
Row 6 – P1, K1 twice
Row 7 – K1, P1 twice
Cast off.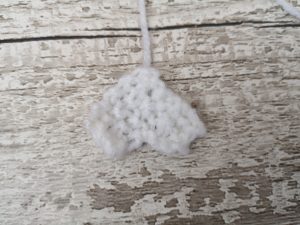 And that is literally it. I told you it was super quick, easy and simple! We've been using these little guys as counting bees to work on our numbers and also as props to learn as much as we can about them. Did you know that bees are most attracted to purple flowers because that is the colour they see mosy clearly? Yeah, me neither!
Once we're done with them we plan to add them to a fabulous knitted spring garland. What would you do with yours?
For more knitting patterns, be sure to check out my other knitting creations.