Snow Day!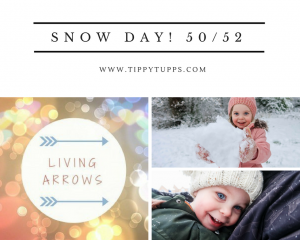 Just like most of the country, this week the snow decended on us. The Bears have never even seen snow in person, let alone played in it so it was with great excitement when it arrived with us on Friday. Out we went, and that's what we've done pretty much for the past 3 days…..in and out the house playing in the snow, then coming in and getting warm!
HER

She LOVED the snow. Loved it. Until she got wet that is. Or cold. Such are the volitile emotions of toddlers, but before that stage she has had a great time all weekend. She's built her first snowman. Been sledging for the first time. Thrown snowballs at her daddy; with varying success as one even ended up in her own hood! Overall though, it's been a resounding success and I'm so pleased that her first Christmas that she REALLY gets it and knows who Father Christmas is, has brought with it some real snow to play in.
HIM

This one has been a little less convinced. He loves it and loves walking around in it, but uneven ground + wellies means that it's a little unsteady! Each time we've been out in it over the long weekend, he's had a great time for about half an hour or so before it starts to wear thin. He gets cold and wants to be held. Mostly by daddy at the moment as come the weekend, this little man has become a right little daddy's boy. Unless it's bedtime that is, which is when he still wants his mama!
"You are the bows from which your children as living arrows are sent forth" – Kahlil Gibran