To Darcie, on your first day of pre-school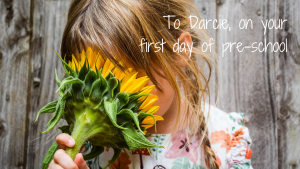 To Darcie, my first-born Bear.
You are the tiny human that made me a mummy and I cannot thank you enough. As I sit here the night before you head off on a brand-new adventure tomorrow, it just feels so soon. Tomorrow you start pre-school 5 mornings a week for the upcoming school year. We've seen the school, met the teachers and know that you will love it there. However – now we only have a few short hours to go – it feels so sudden.
It may be almost 4 years, but it feels like only moments ago that you whirled into our lives and taught us about life, love and sleep deprivation. Now here we are standing by your side and having to learn to share you with other people.
I just hope your teacher knows that I am handing over one of the most precious things in my life and just how special you are. That she will see through your shyness and uncertainty to the confident little girl who lies beneath, just waiting until you are comfortable before letting it show.
I hope she sees your creativity and how you love colour and motion.
I hope she sees your curiosity and how you love to watch and observe. You view everything with such wonder, see everything and rarely forget a detail.
I hope she realises just how funny you are, making up dances and songs at every opportunity.
I just hope she sees you as the beautiful, kind, funny, courageous, headstrong, bed tempered little lady you are.
I've seen a few things pop up on social media and overheard a few comments about the fact that pre-school / nursery class isn't 'proper' school yet. That you will not be there all day regardless of the fact you go to the same school as all the other children, have the same assemblies and wear the same uniform.
Tell that to my heart as it sees you dressed in a uniform which is too big for you, despite my hunting high and low for one that would fit.
Tell that to my head that knows how desperately you are looking forward to this new adventure.
Tell that to my fear that no one will play with you.
Tell that to my worry that you will feel afraid, or anxious, or unsure throughout your morning.
Tell that to your excited little face when you talk about heading out to 'big girl school'.
You are so desperate to start this new chapter of your life and tell me that you want to go every day with no stop at the weekend. That you will have fun, that you will play, and you will make lots of new friends. Your excitement over going puts every fear and worry I have at ease.
You are ready. Even if I am not.
So, tomorrow morning I will hold your hand and you will hold my heart beautiful Bear as you set out on your newest adventure. I could not be prouder.
I love you now, forever and always.
Mummy xxx