To Henry, on your first day of pre-school
Family, Letters to my children
I am sitting here writing this instead of turning up the hem on your trousers. No matter how much we looked we couldn't find a pair that would fit. That fact alone has my heart aching for your first day at school tomorrow. You still feel so small.
While my social media fills with parents who are getting ready to send their children into reception, we are lucky in that the pre-school class at your school does an amazing job of integrating you with the rest of the school. Over the next year you will be as much a part of your new school as any other school year. For that reason – although my heart aches for your sister as she joins the rest of the pupils in full time education – I know she will be okay.
She knows all of her classmates by name. She has already had lessons with her new teacher. And she is desperate to get back to her friends and tell them all about her summer. I could not be more proud of the girl she has become and I cannot wait to hear about every moment of her day.
And you my darling boy, are so eager to follow her. Although I only went through this exact same process with your sister 12 months ago, it could not feel more different.
My head tells me that I know the school. That I know what will be expected of you and what wonderful new experiences you will enjoy over the coming school year. It even reminds me that I know your teacher well and she already knows you having seen you at every pickup and drop off. She always had time to come and say hello, knowing you were joining her flock this year.
My heart though is a different matter. It is my heart that aches to hold your small hand in mine for as long as possible. To feel its warmth and commit its shape to memory as to how it feels right at this very moment. To relish in being the centre of your world for as long as possible before you let a whole new family of people into your life and into your heart.
I could not be prouder of the little man you are becoming. You bring light into the lives of everyone you touch, and you have the most gentle soul filled with some much love. You connect with everyone whole heartedly and I am going to miss you desperately.
So, please be patient with me my darling boy. Tomorrow morning as I linger while I help you put on your too big uniform, take enough pictures to fill an album and I hold your hand a little tighter than usual, it will be because my heart will be full.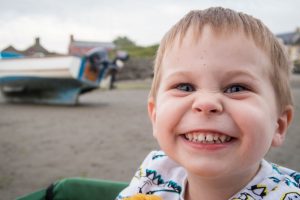 Full of wonder at your courage. Full of pride at the little man you are becoming. Full of worry that you will be upset. Full of heartache. This feels like the first of so many lasts that are coming my way, and I cannot help but feel my heart break a little with every moment that passes and brings me closer to that school gate.
But for now, I will let you go as you run into the next stage of life with the same enthusiasm with which you face every adventure. I will hold my tears until you are out of sight and I will hold my heart is my hands as it bursts with pride.