Love Leggings: The Mum Uniform
AD | review
The schools are back and we're getting into the swing of things. The kids have their term time uniform, but I also have mine too. Anyone else rock the leggings and mum bun look from September to July?
Now as a mummy who is on the bigger size, I am fussy about leggings. They need to be comfortable but also thick and hardwearing. Otherwise my pants will be showing through in no time! So, when Love Leggings offered me a closer look at their range, I was happy to take a look. After all, they declare that they are the "non see through leggings that keep you covered all day, every day". Sounds great right?  Here's what I thought.
THE LOVE LEGGINGS RANGE
Love Leggings have a variety of ranges covering their classic, cropped and high waisted leggings in their everyday range. Full length, cropped and 7/8's in their sports range. Then full length and cropped in both their maternity and children ranges. Personally – having had an emergency c-section to have the Bear – I like everything tucked in so to speak! So, I went with the high waisted range.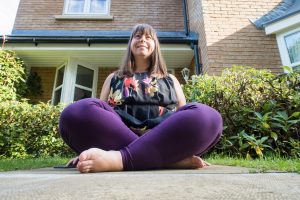 What struck me the most is the colours available. The range is bright, bold and there is so much choice.
I found these leggings so comfortable. Lovely and thick, the colours are fabulous. These leggings have a lovely feel to them and are definitely a step up from the normal high street brand. The inside has a soft brushed feel to them which is really nice against your skin.
At 5ft 3 I will say that I did find the high waisted range to be a little long for me. Next time I order I think I will instead go for the everyday classic range to see if that is a better fit in the leg.
That being said, it didn't impact the look or comfort of these leggings. All I had to do was pull them up high and enjoy the tummy control which comes with this high waisted design. It certainly hasn't stopped me wearing them on the school run!
THE GIVEAWAY
I am pleased to confirm that the team from Love Leggings will be giving away a pair of their leggings for one lucky Tippytupps reader to try. Just enter via Rafflecopter using the link below and follow the usual social media accounts.
This giveaway is open to UK residents only, is powered by Rafflecopter and will close on Sunday 29th September 2019 at midnight. The winner will then be chosen at random using the tool. Please note this competition is hosted by the Tippytupps blog but the prize is being provided by Love Leggings who will be responsible for posting your prize out to you. For full terms and conditions for the giveaway, please visit the Tippytupps terms and conditions page.
Good luck!
If you enjoyed this review, they why not check out our other reviews over on the blog.
DISCLOSURE: I was sent these leggings for inclusion within this review. However – as always – all thoughts and opinions remain my own.