Turning Up the Power with the Hoover Velocity Evo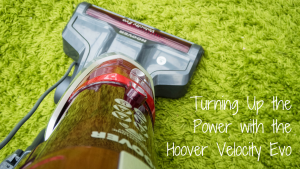 I was asked recently how often I vacuum. The answer is a lot….at least 3 times a day, maybe even up to 5. Now, that may seem excessive, but we have 2 young children and a rather chubby, fluffy, long haired cat. That means when I come down each morning I am met with a carpet of fluff. I have no idea what our cat does in our living room each night while we're asleep, but it seems to entail shedding a large portion of his coat. Vacuum #1 is usually cleaning up that mess ready to start the day. Then during the day there is play. Lots and lots of messy play which usually entails at least 1 tidy up including a vacuum. If it includes play doh, kinetic sand or Darcie's favourite activity (cutting out paper shapes), then you can usually add another couple of whizzes around.
So, when AO got in contact to test out the Hoover Velocity Evo then I absolutely jumped at the chance.
WHAT IS THE HOOVER VELOCITY EVO?
A bagless upright vacuum cleaner, what is great about the Hoover Velocity Evo is that it works equally as well on carpets as on hard floors. This is especially great for us seeing as we have a combination of carpets, lino and tiles throughout our home. It also comes with clever Intellicare technology that works to protect your carpets. It does this by decreasing the power and speed of the brush bar when you stop moving meaning that it doesn't over stimulate any particular patch of carpet when it's paused.
The Hoover Velocity Evo comes with something called 'full stair cleaning'. That means that due to its removable handle and 4.5m stretch hose, you can say goodbye to balancing your vacuum cleaning on the stairs. Instead the hose will stretch to cover a standard 13 step staircase while the unit stays at the bottom.
That's just the beginning of its impressive reach though as with 17m, it means that you can comfortably cover several rooms without needing to unplug and move to another socket. With a twist and steer design that gives multi direction movement – as opposed to traditional backwards and forwards – it makes moving room to room to vacuum a doddle.
There are plenty of above floor attachments too. This includes a handy tool for corners and crevices for any hard to reach areas, as well as a fabulous little turbo tool. If like me you live in a house with a fluff pot then this is amazing for lifting fur, dirt and paw prints.
OUR VERDICT
This is a great upright cleaner. I always prefer a bagless option as it takes away the hassle when emptying the vacuum cleaner. The fact this comes with a large capacity 1.5L bin is a bonus. Add that to the great 17m reach and the equal performance on both carpet and hard flooring, it means that I can do a large portion of our home without needing to constantly swap plugs.
Easy to move room to room, this is a vacuum cleaner which is great for getting up stubborn pet hair. The one drawback though is that due to the powerful nature of the Hoover Velocity Evo it can be heavy to push at times. This is nothing too difficult though and something I can manage even with a dodgy elbow and shoulder.
All in all, this is a powerful cleaner with a long reach and great suction lifting both pet hair and toddler carnage in one pass.
If you enjoyed this review then why not check out our review section for more.
DISCLAIMER: I was provided with this item in return for my honest review. As always though, all opinions expressed in this post are my own.