BabyBjorn Booster Seat – when little ones just need a boost
For those people who follow the blog, you know that we have a toddler in the house – well, 2 in fact – but this particular one is a little on the small side. At 3 years old the Bear is wearing a mix of 18 – 24 month clothes that are getting a little short in the leg, and 2- 3 years that just hang off her. So yeah, she's a little small for her age.
This doesn't usually cause us many issues but some things can become a struggle. Like meal times for example. We love all sitting up to the table together but this means that the Bear usually ends up knealing to eat her meal. The reason being that she refuses normal booster seats that strap her in. With sounds of "I'm not a baby anymore, mummy" ringing in my ears, her old booster has now been donated to her younger brother (who as a 17 month old fidget, most certainly still needs to be strapped down!). This means that we had a gap in our lives for something for the Bear. Enter the BabyBjorn Booster Set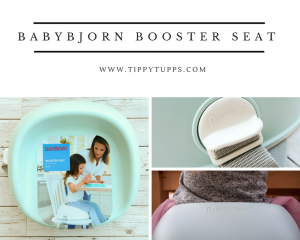 A SEAT WITH A DIFFERENCE
Let me just start by saying I LOVED this seat. The style is really simple and modern, which not only looks great but it also means that it's so easy to clean. No little corners or creases for food to hide in; a quick wipe after each meal and we're done. It boosts the Bear up just enough to be able to reach the dinner table with no issues, but not too far that the table becomes uncomfortable on the top of her legs. It lets her comfortably be part of the meal, without making her feel like a baby. Instead she has the 'big girl' seat now apparantly.
The Bear loves it that much, that she's taken to asking to sit at the dining table to draw and craft – I think because it keeps her out of the reach of her baby brother!
However, let me be clear. This seat doesn't have straps so you need to make sure your child can be trusted to stay safe while not being strapped in, therefore I'd definitely say this is best for children from around 3 years +. For us the Bear was undeniably at that stage and was more than ready for something that made her feel more like a 'big girl'.
That's not to say that it's without saftey features though. The seat has a no slip texture along the bottom edge and a two stage lock. Simply place the seat on a chair, feed the strap underneath and insert into the lock. Twist to secure, click into place and tighten the underneath strap. That's it! Done within a minute.
THE VERDICT
I really think the BabyBjorn Booster Seat is a win – win product. I love it because it's safe and secure, easy to clean as well as light and portable too. For the Bear, it allows her to sit up and be close to the table comfortably, whilst making her feel like a big girl. This is the perfect follow on booster for when little ones have outgrown their high chair, but aren't quite big enough to go solo at the dining table yet.
In fact, this would be a great option for grandparents houses etc where a booster is needed, but not all the time. The fact that it is so light and portable means that when it's not in use, it can be easily stored away. Then when needed, it is so quick and easy to attach to a chair, it means that there is a safe and comfortable place for toddlers to eat – or craft and play – within minutes.
The BabyBjorn Booster Seat is available either in white or mint green, and is currently available on Amazon (affiliate link), and retails at around £33.
DISCLAIMER: this post may contain affiliate links. This does not impact you, but should you choose to purchase an item using a link from my site, I may earn a small commission. I was provided with this item in return for my honest review. As always though, all opinions expressed in this post are my own.