Little Drop In The Ocean
With a 3 year old and a 16 month old, clothes are important. Especially the rate at which my two seem to be ploughing through them at the moment. It's really hard to strike a balance between clothes that are cheap and cheerful as they will be outgrown quickly, and quality items that are stylish but still functional.
It was at this point that Little Drop In The Ocean got in contact to ask me to try out a few items from their range. With a beautiful collection of travel inspired clothing, all of their items are made using 100% organic cotton and hand printed with planet friendly inks.
THE REVIEW
I chose the Dylan dungarees in burgandy and a Get Lost tee in coral for her and a Get Lost tee in black along with a pine green Glendalough tee for him. Everything arrived really quickly and was beautifully packaged in that way that small business owners who passionately care about their products seem to do.
I love the feel of the materials used: both super soft for comfort but even now after 4 or 5 washes, they show no sign of wear. I also love the designs on the shirts which are hand drawn making them feel original and a little bit different. We are a family which love the outdoors and this is exactly the kind of style I'm drawn to: simple yet unique and fun, comfortable yet stylish. So, what better way to test them out than conker picking?!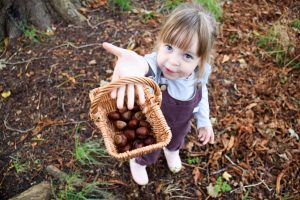 You can tell by the way the kids moved and ran around that they were comfortable. The fit was great and very true to the measurement guide on the Little Drop In The Ocean website. That means both kids were in size 2-3 years. Yes, despite there being almost 2 years between them, they pretty much wear the same size.
The fit was lovely on them both despite being very different body shapes. I love the colours of the fabrics which were bold but not too bright meaning that they suit pretty much all the clothes they already have.
These pieces are now very much some of the 'go to' items in their day to day wardrobe.
THE VERDICT
The Little Drop In The Ocean range is perfect for parents who are looking for items which are little more sustainable and planet friendly. While being environmentally concious, they also remain both fashionable and functional. Hand drawn, fun and hardwarning: these are clothes which are perfect for children on the move and who love adventure.
LITTLE DROP IN THE OCEAN – THE DETAILS
Dylan Dungarees – £38
Get Lost tee – £15
Glendalough tee – £15
Please feel free to visit and follow Little Drop In The Ocean:
Website | Facebook | Instagram | Pinterest
DISCLOSURE: I was provided with these items in return for my honest review. As always though, all opinions expressed in this post are my own.