Exploring Nature with Mud and Bloom
If you follow the blog then you will know that we have taken a keen interest in our garden this year and the Bear and I are trying our best to grow our very own vegetables. We are really enjoying both getting outside and getting our hands dirty. So when Mud and Bloom announced they were on the lookout of people to try out their monthly gardening and nature craft box, we were very keen to get involved.
WHO ARE MUD AND BLOOM?
Mud and Bloom launched in December so they are still pretty new to the subscription box scene. What they offer though is a monthly subscription which provides seasonal nature crafts and gardening activities to your door. Each box includes everything you need for two crafts and two planting activities. The idea is that Mud and Bloom helps our children connect with nature.
There is no doubt that nature is important to our children's wellbeing and that being outside helps them to stay fit and healthy. That's not the only thing I loved about the idea of this box though, as I loved that Mud and Bloom seem to strive to ensure their boxes are as sustainable as possible by sourcing plastic free materials and packaging, and using certified organic seeds.
We were sold on the idea and couldn't wait to take a look. So, let's take a look inside.
INSIDE THE BOX
Inside our Mud and Bloom box was a host of goodies ready to use. Glue, string, washi tape along with buttons and beads were included for the crafts, and then seeds, compost pellets and plant labels for the gardening. Then in addition to all the craft and gardening instruction sheets, there was also a little spot the leaves and trees activity sheet, a nature news update (which I LOVED talking through with the kids) and a short quiz.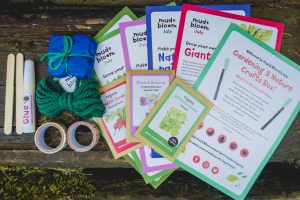 THE CRAFTS
Make your own summer flower vases
This was a really cute quick activity to do and one that really appealed to the Bear. For this you just needed your own glass bottle or jar and your own scissors, as everything else was provided. The activity was simple: to decorate a glass jar or bottle to be able to display beautiful bunches of summer blooms.
Although the box came with its own buttons and beads to use, Darcie knows that we have our own stash of pretty buttons that she loves to use from time to time and she demanded that we use them here. Upcycling at it's best, this was perfect for us and she took great delight in painstakingly applying her buttons all over the jar. Mummy had to help get the tape straight as her particular nature would not let it be wonky, but other than that this was all her. So much so that in no way was Henry allowed to help and he had to make do with playing with the buttons and sorting them into colours!
Make your own nature paint brushes
The second craft involved heading outdoors for some nature hunting to collect some sticks and a collection of leaves and flowers. The idea is that you use the string provided to secure the leaves to the sticks and what you are left with are some fabulous nature paint brushes. These were not only fun to collect and make, but also provided so many great patterns when you paint with them.
For the painting, we just used some ready made poster paint, and plenty of it! To minimise mess we simply cleared a space in the conservatory – easy wipe floor! – and put a huge piece of paper down and then just let them loose. Darcie wasn't too sure at first and asked for a 'proper' paintbrush, but once she got going there was no stopping her. Both had an wonderful time making as much mess as they possibly could and very quickly moved on from the paper to painting themselves.
One lesson learnt though from me, would be to run the bath BEFORE starting so it's ready to dump them straight into after they're finished!
PLANTING OUR SEEDS
In our box we had two packs of seeds to plant: giant radishes and lettuce. They came with a fabulous card which gave us clear instructions as to how we should going about doing this. I will say that the card is missing seasonal information about the vegetables; things like what months you would usually sow them in and when you would usually harvest them. This is for people like me who sometimes don't always get to these things as soon as they drop through the letterbox. It would make sure we did not miss the planting period and therefore had to hold off until next year. However, the instructions were clear and easy to follow.
To help with our planting activities we had our instructions, our compost pellets, our plant marker sticks and our packs of seeds.
I have to admit I didn't have much use for the compost pellets which were included as the instructions tell us to insert a single seed into each pellet but the number of seeds obviously outnumber the pellets. Therefore – although we used them – we did also revert back to our usual re-purposed empty egg boxes to plant our seeds. That being said, when I took a closer look through their site, I actually love the idea behind the pellets. Mud and Bloom want their boxes to be accessible to people without gardens too and allow anyone to grow the seeds regardless of what space they have. Therefore, I LOVE the idea behind them, but it just wasn't something (thankfully!) we had to be concerned with. However, the kids loved them and had a great time watching them grow and then poking holes in them!
We're not quite confident yet to put our seeds directly outside, so we always start by putting them into smaller pots first. That allows us to keep a closer eye on them in their propegater which sits in our conservatory until they're big enough to transfer outdoors. The Bear also loves checking on them everyday and gets so excited when they finally start to sprout. So – after getting our hands muddy by filling our empty egg box with compost, pushing our seeds deep, patting them down and then watering well – they are tucked up in bed and we are ready for our seeds to start growing!
THE VERDICT
We had a great time trying out our Mud and Bloom box over the past week. The guided activities are a wonderful inspiration when you don't always know what to do with little ones and I loved that they are nature themed. My little ones are 2 and 3 years of age and I loved that they were both able to get involved in every aspect of this box – with a little mummy supervision of course!!
I love that the team make a real effort to ensure that their boxes are as environmentally friendly as possible. This is the kind of subscription where not only is it fun, but kids are also able to learn about where their food comes from. It encourages them to get outside, learn about nature and to get their hands dirty. All of which is fine by us!
Did you enjoy this review? Why not check out our review section for more.
DISCLAIMER: I was provided with these items in return for my honest review. As always though, all opinions expressed in this post are my own.