Getting Green Fingers with Plantpal – review & giveaway
If you know me then you will know that I am as far away as having green fingers as you can get. In fact I think the phrase is brown thumbs! I love plants and flowers but the most I am able to do is buy them and hope that they somehow survive. Something that I have noticed that they are more likely to do, if I leave them alone and don't get involved. So, when I want contacted to try out a new gardening tool, my first thought was that this one is definitely not for me. However, when I found out that tool was actually Plantpal Watering Globes, I thought that this may actually be a way to keep my plants alive for longer!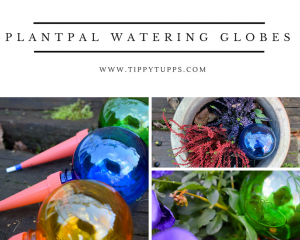 You see, I am like many people that doesn't REALLY know how much to water their plants. Either they dry out because I forget about them, or the drown because I just keep on watering them when they don't need to. Add in fact that I over water in the winter and under water in the summer and it's little wonder that they don't survive.
ENTER THE PLANTPAL WATERING GLOBES
These are basically globes which you fill with water, pop into the soil of your plant and boom! They water your plants automatically for up to 2 weeks. No more having to guess, no more one partner watering the plants when the other one has already done it, and no more worrying about whether they will see be alive when you get home from holiday. In fact – for my plants; they can breathe a hugh sigh of relief and they will have no more interference from me.
As the Plantpal Watering Globes uses natural technology, there are no batteries required. They even have a water control spike which seperates from the main globe which eliminates soil clogging. Something which is apparantly a common problem with other globes.
SO, WHAT DID I THINK OF THE GLOBES?
This is not something that I would ever thing to buy, in fact I never knew things like this existed. However, this is a simple gadget which helps take the guess work out of watering plants. In our home that will increase the expected life span of all our greenary significantly, which can only be a good thing.
The Plantpal Watering Globes are available on Amazon and are currently retailing at £20 for a pack of three. Perfect if you are planning on going on holiday as a way to ensure you plants are watered while you are away, or they would make a great gift for someone in your family who enjoys keeping plants.
THE GIVEAWAY
Ready to give your plants a fighting chance? Then I have one set of Plantpal Watering Globes to give away to one lucky Tippytupps reader. Just enter via Gleam using the link below and follow the usual social media accounts.
Win 3 Large Plantpal Watering Globes #6
This giveaway is open to UK residents only, is powered by Gleam and will close on Sunday 7th January 2018 at midnight. The winner will then be chosen at random using the tool. Please note this competition is being administered by the Review Directory and hosted by the Tippytupps blog. For full terms and conditions for the giveaway, please visit the Tippytupps terms and conditions page.
DISCLAIMER: this post may contain affiliate links. This does not impact you, but should you choose to purchase an item using a link from my site, I may earn a small commission. I was provided with these items in return for my honest review. As always though, all opinions expressed in this post are my own.