8 Fathers Day Gift Ideas
Disclosure: the products featured were sent for inclusion in this gift guide however, all opinions are my own.
Take this as your official 2-week warning that Father's Day is just around the corner here in the UK. You may be organised with a plan in mind and Father's Day all wrapped up and ready to be delivered. On the other hand, you may be just like me: scrambling around for inspiration as to what to get the men in your life that seem to have everything already.
So, here are my ideas for Father's Day gifts that will hopefully help give you a little spark of an idea as to what to buy. I've also included plenty of photographs as you can never tell anything from a picture of a box can you?!
FOR THE MAN WHO LIKES TO HAVE FUN
Ever looked at your kids scooting along and thought "that looks like so much fun". Maybe you hop on for a go when their back is turned. Then why not get the man in your life their own?
The Madd Gear Kruzer 200 Folding Scooter is such a great option with large 200mm smooth rolling wheels. On this bad boy you can keep up with the kids with ease!! The bar extends from 800 – 915mm and is aimed at 8+ all the way up to adults. This is clearly seen by the long foot platform which is made with bigger feet in mind making it more comfortable for the big kids who just want to scoot and have fun. Much to the delight of my husband!! And if they want to get ambitious and attempt some tricks, then the bar spins 360 degrees.
Add all that to an easy fold system makes it easy to pack away, store and pop in the boot and you have a really great option for a Father's Day gift for someone who likes to relive their youth and have a little fun.
Where to get your own: Madd Gear Carve Kruzer 200 Commuter Foldable Scooter – Black / Red | Skates.co.uk
FOR THE MAN WITH A SWEET TOOTH
What could be better than a box filled with some of your favourite Cadbury sweet treats?? This Cadbury gift box is filled to the brim with all of our favourites including Heroes and Roses share boxes, 3x Cadburys share bars, and bags of sweet treats. All topped off with a Cadbury Dairy Milk 200g bar in a special 'HAPPY FATHER'S DAY' gift sleeve.
I really loved that there was something for everyone with a mix of boxes, bags and bars which included both milk and dark chocolate. Needless to say, this would never last long in our home!
Where to get your own: Cadbury Father's Day Chocolate Gift | Cadbury Gifts Direct
FOR THE MAN WHO IS A LITTLE SENTIMENTAL
If you follow the blog then you will know that a lot of what I do and take joy in is photography, which is why any gift that can showcase beautiful pictures is a hit with me.
Made from oak, this stunning wood photo cube has space for 5 photographs which allows you to share your favourite images as part of your gift. You can take your personalisation one step further with the wood photo cube by adding an engraved message of up to 35 characters per line (one per side of the square top). Each side measures 11cm making it big enough to see the images you personalise your cube with, but not so big that it would take over your desk at work.
Get your own at: Personalised Birthday Wood Photo Cube | Boutique Gifts and browse for more inspiration here: Personalised Fathers Day Gifts | Unique Dad Gifts (boutiquegifts.co.uk)
FOR THE MAN WHO HAS STYLE
Clothes is always a good option when it comes to Father's Day gifts and this Levis Short Sleeved Slouchy Shirt is such a great option for any age. In a "Navy Academy" colour, it has a fabulous all over colour block design in navy, blue, grey and white. The signature Levis logo tag is on the left above the hem.
Not that I know much about it if I'm honest, but both the pattern alongside the pearlescent buttons and lapel style collar seems very on trend at the moment. The short sleeves 100% cotton fabric make it a great option for summer.
Get your own at: Levis Short Sleeved Slouchy Shirt Navy | Mainline Menswear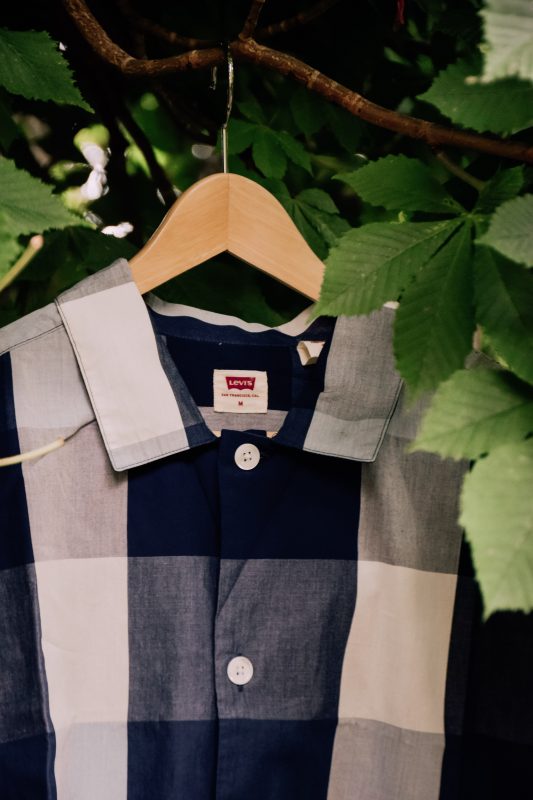 FOR THE MAN WHO LIKES TO PICK HIS OWN
Sometimes you genuinely just don't know what to get someone which is where gift cards come in to their own. However, when you are not sure what someone needs, how do you know which one to get? That's where VEX Gift Card is a brilliant option. With more than 150 brand options from Ikea through to iTunes, Jet2 to Joules and Screwfix to Superdry. There is no doubt that there would be something to suit anyone.
The VEX Gift Card is available in values for £10-£250.
Get your own at: The VEX Gift Card (voucherexpress.co.uk)
FOR THE MAN WHO IS A LITTLE BIT OF A FOODIE
Most chefs and people who love their food will agree that presentation is the way to really showcase your delicious meals and what better way to show of your culinary delights than on this gorgeous MasterClass rustic mango wood chopping / serving board. With a wonderful organic shape which shows off the stunning wood gain beautifully, this board provides a large flat surface which measures 23 x 50 x 1.5cm.
Think a fabulous spread of cheeses, gorgeous freshly baked breads and tasty tapas, all beautifully showcased in style. The hanging strap allows for easy storage and decoration display should you wish to.
Where to get your own: MasterClass Gourmet Prep & Serve Large Natural Mango Plank – CookServeEnjoy
FOR THE MAN WHO LIKES TO BBQ
If you've not heard of them before, LANDMANN is the oldest barbecue manufacturer in Germany. As soon as I saw this fantastic tripod design, I thought it was such as great idea. It really appealed to the caravan owner in me as I could see so many great benefits to this design
Made from tough, durable, powder coasted steel, the 52cm fire bowl keeps the heat away from the ground and is big enough to accommodate plenty of BBQ treats for the whole family. Suitable for both logs or charcoal, the heigh adjustable chain provides flexibility and control while cooking. What I loved most about this though is that is was so easy to disassemble, transport and then reassemble as it easily breaks down into smaller pieces when not in use.
Where to get your own: Tripod Charcoal BBQ – LANDMANN
FOR THE HANDY MAN
Look around you now and the odds are that you have at least one piece of tech nearby. It could be a mobile phone, a laptop, a tablet or maybe all three. In a modern world we all rely on technology which means that when they break, we can sometimes be at a loss. Obviously big repairs need to go off to a professional, but when it's something small, it's frustrating not to have the (sometimes teeny tiny!) tools to hand. Enter the Essential Electronics Toolkit by iFixit.
Designed for smartphones, small appliances, laptops and more, this clever toolkit contains the tools you need for the job. Including detailed step-by-step guides! Contained within a compact magnetised case with built-in sorting tray in the lid, you will be able to find:
Anti-static spudger
Six opening picks
Opening tool
Jimmy and suction cup
16 precision screwdriver bits (S2 steel)
Ultimate grip tweezers (to avoid any finger oils on delicate components)
Get your own at: Essential Electronics Toolkit by iFixit | Available at Sugru | Sugru
And that's it from me. I hope that this little list has given you some inspiration when it comes to getting something for the men in your life. If you have any other ideas though, I'd love to hear them.