A Christmas Gift Guide for Grown Ups
Goodbye Halloween, hello Christmas!
Yes, I know we still have a little time to go but I always think that as soon as the pumpkins and fireworks are packed away, it's all steam ahead with plans for the big day. It's around about now that I take a closer look at the gifts I've already managed to pick up throughout the year and start planning to fill any gaps.
With that in mind, here are a few ideas for some of the grown ups in your life.
FOR THOSE WHO ARE BIG KIDS AT HEART
Before there was HD, there was 8-bit gaming. This is the gift that is filled to the brim with nostalgia. A retro handheld console from Find Me A Gift that is filled full of fun. Not only does it have 150 games including classics but it even comes with all that music that used to get stuck in your head for days. Don't worry though, as there is also volume control to turn it down!
Great for someone who will enjoy re-living their gaming youth, or maybe to introduce the little people in your life to how games used to be. This is a gift that is suitable for all ages and gender.
FOR THOSE WHO ARE TEETOTAL
You know the rule at Christmas to eat, drink and be merry? Well, what if you can't. I was pregnant with Henry over Christmas and I remember at the time really missing being able to have a few bubbles over the festive period. Not because I wanted or needed alcohol, but because I just missed having something a little special.
Enter Botonique. A fabulous option for the people in your life who either can't or simply don't want to drink over the Christmas period. It's a sparkling drink made from botanical extracts which have been enriched with Prelixir vitamins, minerals and amino acids, with just a touch of pear juice. Delicious and good for you too. What's not to love!
Next we move to the other end of the spectrum which is not only alcoholic but also a gift that just keeps giving. The Summerton Club is a very special subscription service which delivers aged spirits to your door. A different bottle every month, the club aims to provide their members with a spirit that is not available in the supermarket with everyday brands. They strive to provide their members with new experiences and introduce them to new masterpieces.
Focusing primarily on Whiskies, Brandies and Rums, this really is something a little bit special for the people in your life who appreciate the finer things and believe that their tipple should be someting the take your time over and savour. What's more, I have a discount code for you. Use Tippy5 at the checkout and you will be able to save £5 off of the first month of your subscription (equivalent to 10% off the first month).
FOR THOSE WHO LIKE TO GROOM
For this one I'm going practical. Although Christmas is a wonderful time to treat the people in your life to something a little bit special, I also think is a great time to fill up the stocking with those practical little luxuries that they wouldn't usually afford themselves. In this case it's upgrading that old disposible razor.
Gillette have a brand new limited edition Mach3 gift set in both Chrome and Black which is exclusive to Boots. It includes additional cartridges, a shave gel and a stand for the razor. Not just a modern display, the stand keeps your razor away from other bathroom surfaces. It may not be the most exciting of gifts, but it's the little things that can add a little luxury to your life.
FOR THOSE WHO LIKE TO RELAX
Know someone who deserves a spa treatment each week but who doesn't have the time or the money? Well, the Hot Rock Massage Stones from Find Me A Gift could be the gift for them. This therapy pack contains an incense holder and incense stick, a scented candle and holder along with 9 spa rocks and instructions on how to use them. The idea is simple; warm up the rocks, place them on your back and simply lie back and relax.
FOR THOSE WHO LIKE TO STAY ORGANISED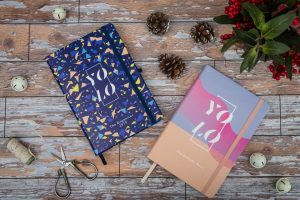 Now, this is right up my street as I LOVE a good organiser. Your Own Life Organised – or YOLO for short – is a new online stationery retailer who prioritise spending your time wisely. Their aim is to statisfy the needs of a busy life with beautiful books that not only allow you to get organised, but to also look great doing it.
With a planner, notebook, a bedside book and a range of organisers for 2019 already in their collection, they are an up and coming brand in the stationery world. These are a great option for anyone with a busy life or anyone who – like me – just loves to have beautiful stationery in their lives!
DISCLOSURE: I have been sent a number of these items in return for including them in this guide. However, all items were chosen by me to suit the needs of this post and as always, all thoughts opinions are my own.