Christmas Gift Guide for Children | 2023
AD | gift guide – it's at this time of year when the days become shorter and the evenings darker that my thoughts always turn to Christmas. Whether you're an early buyer or a last-minute dasher, I'm hoping that I can give you a little inspiration as to what to buy for the little people in your life this year in my 2023 Christmas Gift Guide for Children.
ADJUSTABLE QUAD ROLLER SKATES
If the kids in your life are anything like mine, then they don't spend a lot of time standing still! Therefore an active gift such as these Adjustable Quad Roller Skates from Skates.co.uk are a great option. I love how adjustable they are which not only allows the user to adjust the length of the skate, but also the width, making this skate the perfect model for fast growing skaters looking for a skate that will grow with them.
That's not all though as the site comes with a price promise guarantee, the option to buy now and pay later with free UK delivery for orders over £40 (and only £2.95 for orders under that). And if it's not what you're looking for, then there is a 30 day return window
Find out more on the Skate.co.uk website.
TREASURE X SKULL ISLAND
The Boy has been obsessed with Treasure X for some time and I love the fact that they have now gone teeny tiny! He loves his sisters small world play items and I love the fact that there is something that is not pink on the market in this area! Kids can explore Skull Island and search for real gold dipped treasure in this incredible looking tower! here are 3 different Treasure Tower playsets, each with exciting thrills plus 6 exclusive characters for kids to collect
Find out more about Treasure X Skull Island on the Smyths Toys website.
CUTIE CLIMBERS
The clue is in the name but how cute are these Cutie Climbers?! They live in their flower-shaped houses with their babies who not only love to climb but they also love their food! Kids who love small world play will love making their Cutie Climbers to the top of their vine, ready to discover their babies hidden within their flower house complete with adorable feeding bottle.
There are three family packs to collect, each with an exclusive animal.
Explore the Cutie Climbers range on the Very website.
GOLITH GAMES BEAT BLAST
The tagline says it all, compete to the beat!! This fast paced music game is so much fun as participants need to time the right move at the right time to earn the most points in a combination of slash, swipe, bash and jab. Let's just say that thank goodness there are 5 levels of difficulty with 5 different types of music. I love how active this game is and the fact that players can choose to play in solo mode or party mode.
Beat Blast is available on Amazon now (affiliate link).
LET'S GO BUNNY
This little bunny learns as you play. Although it starts off very shy, the more you play with her the more she starts to engage with you and becomes more and more animated. Small enough to sit in the palm of your hand, your bunny friend will hop towards you and express its emotions through more than 25 light and sound features.
Let's Go Bunny is available from Amazon now (affiliate link).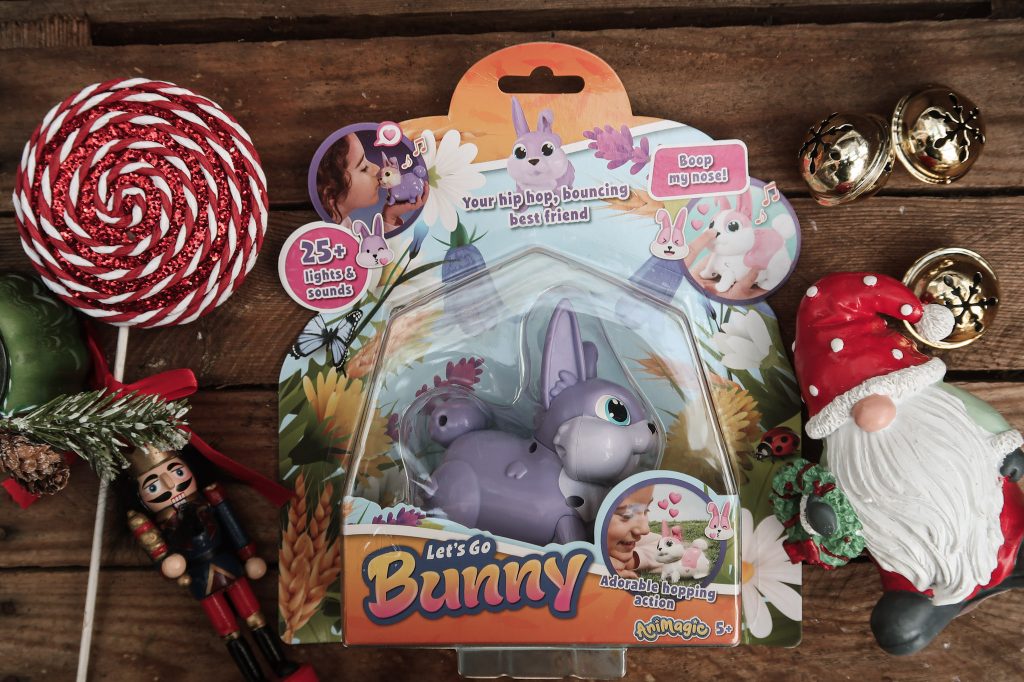 HELLY HENSON KIDS FLIGHT LIGHT JACKET
If you're looking for a gift that is a little more functional, then clothes are always a great option and this Kid's Flight Light Jacket from Helly Hanson ticks all the boxes. It is great for those days that are a little more changeable and you may need a little extra protection from the elements. The fact that is packs away incredible small into its very own bag means it takes up a tiny amount of space when out and about on outdoor adventures.
Find out more on the Helly Hansen website.
NATIONAL GEOGRAPHIC SHARK TOOTH DIG KIT
My two LOVE these kinds of kits and both have a current obsession with Sharks which I am blaming on the latest series of Planet Earth III ! (Did you see that episode? The great white's looked terrifying!).
What is fabulous about this particular kit though is that kids can excavate three actual shark teeth rather than imitations which is such a great touch.
The National Geographic Shark Tooth Dig Kit is available on Amazon now (affiliate link).
And there we have it. A diverse range of suggestions for Christmas gifts for kids. Are there any on my list that you think the kids in your life would like?
DISCLOSURE: I was sent these items for the purposes of this guide. However all items were individually selected to provide a list of genuine recommendations.