Christmas Gift Ideas for Grown-ups
AD | Gift Guide – The kids are sorted in my What to buy for children this Christmas gift guide, so now it's time for the grown-ups. As things as a little harder for us all financially this year, I am working hard to make every gift count.
So – rather than filling the tree with a large number of gifts purely for the sake of it – I am taking the time to think about what everyone will enjoy and get the most from. Especially when it comes to Christmas gifts for adults. With that in mind, here are a few little bits that I think would make a lovely addition to any grown-ups stocking.
Wildflowers Gin Copa Glass by Ginology
Drink gin in style with this utterly stunning Wildflowers Gin Copa Glass by Ginology. Standing proud at 20cm tall, this glass feels wonderful in the hand and is beautifully detailed.
If you visit the enesco website, then you will see that each Ginology glass design comes with an amazing story and description. For the wildflower glass is tells us:
Wildflowers are equipped to grow on their own, in a garden full of roses, be a wildflower, grow where no other flower can.

enesco
I absolutely love this about the range and thing it is such a wonderful touch to make this so much more special to give as a gift.
You can browse the entire Ginology range on the enesco website here.
After the Rain Home Fragrance Gift Set
I truly wish you could smell this as the After the Rain Home Fragrance Gift Set from ARRAN is absolutely gorgeous. A beautiful blend of rose, sandalwood and lime, the set includes a reed diffuser along with two 8cl candles with up to 12 hours burn time on each one.
Beautifully presented in an ARRAN branded gift box which proudly displays its Scottish island roots. This After the Rain ARRAN gift set oozes elegance and brings their signature scent into your home.
Find out more over on the ARRAN website.
Cotton Traders Fleece Lined Shirt
It has been a strange winter so far where the weather has been changeable, and it's not quite gotten cold enough (yet!) for a winter coat. This is where the Cotton Traders Fleece Lined Shirt is a great option to keep you cosy and warm. The check cotton is layered over soft teddy fleece to provide both warm and comfort and is great for layering over t-shirts.
Classically stylish with lots of lovely details such as the corduroy trim to the shoulders and back as well as patch pocket with button fastening. This fleece lined shirt will provide and extra layer of much needed warmth when the weather turns.
Find out more on the Cotton Traders website.
Minimalist Watch
Simplicity is key when creating beautifully understated watches and this Minimalist Watch from Seizmont embodies that perfectly. With a plain black matte face, punctuated by a simple white logo and numerals it has the art of subtlety nailed.
What's really surprising about this watch though, is just how lightweight it is. Weighing in at only 77g, you could almost forget that it's there.
Find out more on the TRENDHIM website.
---
---
Fable Camera Bag with Printed Strap
How beautiful is this bag?! Designed not to be too big, nor too small, it is just big enough to fit in all the essentials. With a stunning lining and gorgeous boho detachable strap it makes a statement while retaining understated elegance.
Beautifully made, you will be walking with pride with this on your arm.
You can find the Fable Green Camera Bag with Printed Strap on the Fable website
Personalised Photo Blankets
As a photographer, there's nothing I love more than being able to utilise the thousands of images I have taken over the years. I love the thought of a photo blanket as a fun but still practical gift which can become a memorable keepsake. Something that will make you smile each time you wrap up warm on cold nights.
There are two size options available and made from polyester fleece. There is such a wide range of design templates available on the website to create you design including both single and collage options.
This was almost impossible to photograph so head over to the VistaPrint website to explore the massive range of photo blankets they have available.
---
---
The Genius Square Game
Now is it really Christmas without a new game? The Genius Square challenges you to roll the dice and race your opponent to complete the square.
Each roll of the dice places a blocker piece on your grid and you need to use your 9 colours shapes to fill the square. It sounds easy right, but with 62,208 possible puzzles, it is more difficult than it may seem!
Challenge an opponent, play alone or challenge yourself against the clock.
The Genius Square is available to buy now from the Happy Puzzle Company.
Books books and more books!
To a bookworm there is no such thing as too many books so if you're thinking that your loved one wouldn't want or need any more for Christmas, then think again! I can guarantee that any book lover is always happy to find more books under the tree.
Here's a few that I can't wait to crack the spine on this winter!
I Can't Tell You Why by Elaine Robertson North
Having an affair is inconceivable to Dani and yet she's having one with Alex. He's married, he's an actor and she's his agent. Then Dani meets Sean, a paparazzi photographer with a formidable reputation. It's a profession that makes him unpredictable at best. A dangerous trait when his motivation to expose becomes personal. Dani knows she's made mistakes. She also knows she's not the first person who willfully hurt someone they love and is simply unable to explain why. I Can't Tell You Why is available now to buy on Amazon (affiliate link).
Bring Me To Life by Elaine Robertson North
Grace works for a national newspaper where life is fast and unforgiving. While she thrives under the pressure, she is slowly being crushed by her relentless bully of a boss, her cheating ex-boyfriend and her fiercely controlling mother. When Grace decides it's time to regain some control, her innocent approach to a life coach propels her into the middle of two people's desire for revenge. Both have a plan to get even. Grace simply gets in the way. Bring Me To Life is available now to buy on Amazon (affiliate link).
The Stealing by S. A. Sutila
She chose to die. Now she chooses to live. And love. But her spirit has been claimed by a dark presence. In the final year of high school, Sarah Vise's life is set to start and finish on a literal dead-end street on the coast of Delaware. Abandoned by her mother, Sarah works endless hours on her domineering father's fishing boat in the shadow of a run-down lighthouse. However, with an offer to college and after an intriguing encounter with her blue-eyed neighbour Grant, a fire is sparked inside Sarah. She is filled with a passionate desire to break free and carve out her own future for herself. The Stealing is available to buy now on Amazon (affiliate link).
Sea Shaken by J. M. Simpson
Jesse Stevens lies in a coma after being pulled off a cliff by a psychopath who escaped from prison to find her. He is in hiding, also hurt from the fall, but fuelled with rage. He needs to make sure she's dead. If she isn't, he'll finish the job once and for all. Sea Shaken is available to buy now on Amazon (affiliate link)
---
---
Neitiv Coconut Flower Beer
If you're looking for something a little different this year, then why not think about the UK's first Coconut Flower Lager. What's really nice about Neitiv as a brand is that it aims to be the most sustainable option on the market through its fully recyclable packaging and harvesting techniques. Even though it only launched in 2021, it already has its own charity programme – the 'Neitiv Red Dot Project' – which aims to eliminate period poverty. Beer with a conscience!
The Divine Gift Set includes one of each variant of the coconut flower beer along with Coconut Shell Candle and Coconut Shell Cup or Reusable Bamboo Straw or Mandala Cork Coaster.
Explore the range on the Neitiv website.
STABILO Swing Cool Desk Set
If this doesn't get your inner stationary geek squealing, then I don't know what will! STABILO is Europe's best-selling pocket highlighter for a reason and comes with anti-dry out technology which apparently allows for 4 whole hours cap off time. Not that I would ever put that to the test!
Wedge tipped and a gorgeous range of colours – 8 neon and 10 pastel – this desk set will keep journallers, planners and list makers happy for hours!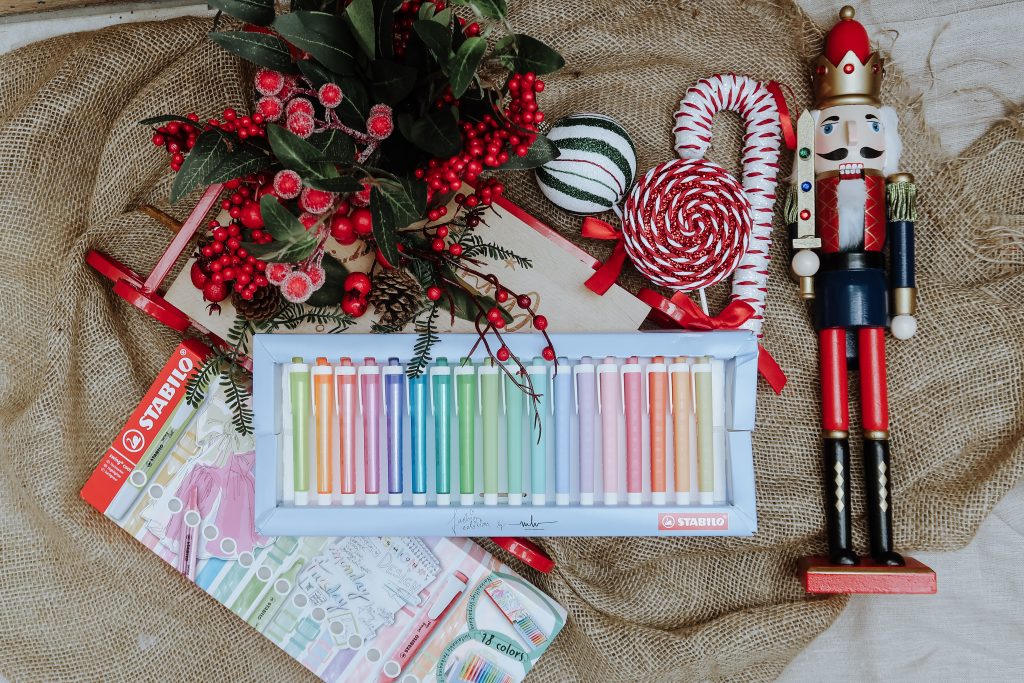 You can find the STABILO Swing Cool Desk Set on Amazon (affiliate link).
And there we have it, a few ideas for what you could buy for the grown-ups in your lives this Christmas. I have tried to keep it simple and keep it small in the hope of replacing volume of gives under the tree, with a small number of things that people would really appreciate. Afterall, Christmas is not about the things we receive, but the thought that we put into the joy of giving to those people we love.
I hope this has given you a little inspiration. Merry Christmas!