Easter Gift Guide
AD | gift guide – There is no lying that Easter is all about bunnies and chocolate in our house. However, our time at home during the pandemic had us elevating our Easter celebrations to egg hunts and an Easter basket. Somehow this is a tradition which has stuck, therefore I wanted to share some ideas of the little things you could add to your child's Easter basket to give it a bit more umph!
They don't get much, just an egg, maybe a soft toy and a couple of very small little gifts. Nothing big in our house but just a few small extras to make it a little more egg-citing.
Cadburys Deluxe Christmas Hamper
Let's start this with chocolate. Our basket will always include an Easter egg, as quite simply, Easter is not Easter in our house without an egg. I love this Easter hamper from Cadburys as it is absolutely packed full of chocolate from large eggs to small, to little treats and a big sharing box.
What I particularly liked about this hamper is that it would be perfect for a family. So, if you live far away from some friends of family members who you won't see, then this appearing through the post as an Easter treat for the whole family to share would be such a treat.
You can find out more about the Cadburys Deluxe Christmas Hamper on the Cadburys website.
Sea Monkeys Mystery Eggs
If it's not chocolate or bunnies, at this time of year I am a sucker for anything egg shaped, and these Mystery Eggs from Sea Monkeys fit the bill perfectly. We had a Sea Monkeys aquarium when the kids were younger and they absolutely loved it. After a few cycles though, it was time to wash it out and say goodbye to what was still lurking in the depths. But, what do you do with the tank then? Well, these little eggs hold the answer as it contains everything you need to go again.
Each Sea Monkeys refill kit comes in either a blue, pink, or orange dragon mystery egg and contains water purifier, Sea Monkeys eggs, a Sea Monkey food refill, and a feeding spoon. Basically, it is everything you need to top up your aquarium or start a new one. Don't have a tank? Then don't worry! As literally anything will do. Just get creative.
You can find out more about Sea Monkeys Mystery Eggs on Amazon (affiliate link).
Springtime Yoto Cards
If you follow the blog then you know we are massive Yoto fans and Easter is a great opportunity to pop a spring themed card into the baskets of little ones. And what screams Easter more than the beautiful tales created by Beatrix Potter.
This gorgeous set of 5 cards allows you to revisit some of your favourite characters including Peter Rabbit, Benjamin Bunny, Little Pig Robinson, Jemima Puddle-Duck, and Squirrel Nutkin.
You can find out more about Yoto cards on the Yoto website (affiliate link).
Blind Bags
My kids are a massive fan of blind bag toys in our house as not only are they collectables, but they have that added excitement of "what will I get". Here are a few of our favourites that would sit perfectly as a little gift alongside a chocolate egg.
Nano Pods
These little pods are super small and super cute. Each one contains a character constructed with micro, nano detail. Encased in their own little pods which connect together, collectors can build entire worlds and display their collections with pride. Swap, trade and collect to get them all and then interconnect them all to build a display unique to you.
We have a Marvel mad little man, but there are plenty of other franchises to choose from in the Nano Pod range including Disney and Harry Potter.
You can find out more about Nano Pods on Amazon (affiliate link).
LankyBox
If you've not come across LankyBox before, it's actually a successful YouTube channel ran by a duo who spend their time sharing gameplays and remakes of music videos and and movies. My two haven't seen the channel if I'm honest as they're a little young for it but LankyBox released a range of squishy collectables.
Cute and…..well squishy!…there are six characters to collect in series 1.
You can find out more about LankyBox series 1 on Amazon (affiliate link).
Aphmau Mystery MeeMeows Surprise Figures
MeeMeows – and the entire Aphmau range – are also based on a popular gaming YouTube channel. You may have already seen the super cute plushies, but these little blind boxes contain little kitty figures. There are 8 possible MeeMeows figures to collect including Donut Cat, Fairy Cat, & Mermaid Cat.
You can find out more about Aphmau Mystery MeeMeows Surprise Figures on Amazon (affiliate link).
---
---
PeekaPets
Do you have a little one who is perhaps a little young for the amount of chocolate that Easter usually brings? Well, what about an alternative then?
Theses PeekaPets Bunnies will literally play peek-a-boo with your little one. Suitable for babies upwards, they are sweet and soft cuddly with a really lovely peek-a-boo interactive element.
The Bunny that plays peek-a-boo with your little one.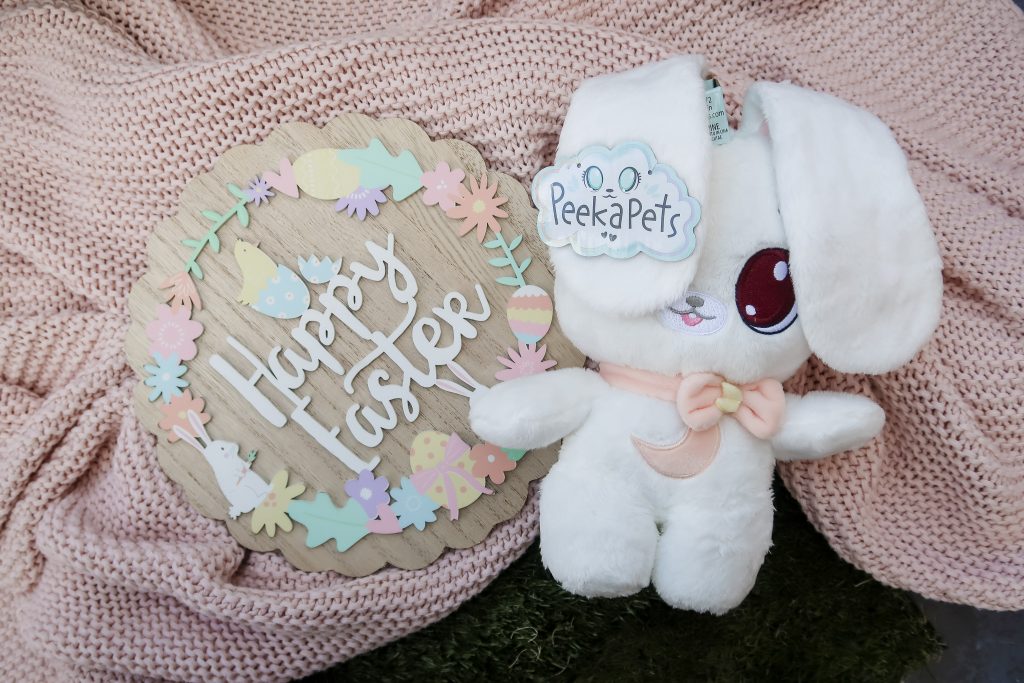 The PeekaPets Bunnies are available in 2 styles: pink and violet or cream and peach.
You can find out more about PeekaPets Bunnies on the Argos website.
Jurassic World Spin & Hatch Dino Eggs
This is such a great option for little one. The Jurassic World Spin & Hatch Dino Eggs is a lovely dino twist on Toomies' bestselling Hide and Squeak Eggs which my two had a loved as toddlers.
Spin the incubator round and round then once the lid is removed, the faster it is spinning the quicker the dinosaur eggs will hatch. All five eggs contain a different dinosaur complete with growling sounds.
You can find out more about Jurassic World Spin & Hatch Dino Eggs on Amazon.
Board games
My final recommendation for either an alternative Easter gift if you want to avoid chocolate, or want to purchase a gift for the whole family to enjoy across the bank holidays, is a board game. This is one of our favourite things to do altogether, as not only does it get you away from screens, but it allows you to really spend some time together.
A board game for little kids: Cluedo Junior
It was the butler in the library with the candlestick! This classic game has been given a remake with little people in mind. Suitable from ages 4+ there are two ways to play the game.
Level 1 is a Playground Mix-up game, a character has mistakenly put an item in their backpack. Players team up to hunt for picture clues and deduce what item is missing and who took it. You can then flip the board for the Level 2 which is a Science Lab Mystery game where a volcano has erupted in the lab.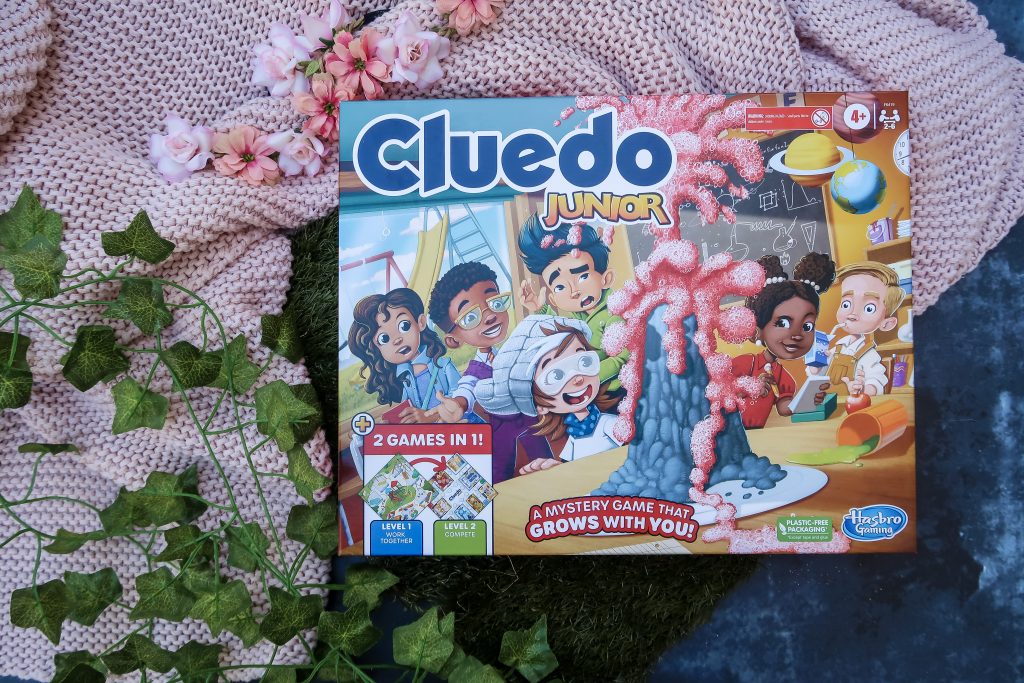 Either work together to solve the mystery, and then when your little ones are ready, start to compete and play against one another. This is a great to introduce little ones to this classic game.
You can find out more about Cluedo Junior on Amazon (affiliate link).
A board game for big kids: Wordle
Love Wordle? Well now you can enjoy the favorite word-guessing game in real life. Inspired by the digital version of the game. Each round, a player designated as the Wordle Host writes down a Secret Word. Just like the original Wordle game, players try to guess it in the fewest tries (six max). But in this game, players are competing against others.
You can find out more about Wordle The Party Game on Amazon (affiliate link).
And that's it!! If you are looking for a few ideas to bump up your Easter basket or looking for a few gift alternatives, then hopefully this has given you a little inspiration!!