What to buy for children this Christmas
AD | Gift Guide. With bonfire night long behind us, it is full steam ahead for Christmas and I simply cannot wait! I feel like we really need some festive cheer in our house this year.
It's at this time of year that my thoughts always turn to Christmas gifts and whether you're an early buyer or a last-minute dasher, I'm hoping that I can give you a little inspiration as to what to buy for the little people in your life this year.
Mouse in the House
If you've not come across Mouse in the House before, then this is small world play at its cutest! These micro-figures and food themed playsets are beyond cute and open up a fabulous world behind our skirting boards.
The series comes with hidden reveals, accessories, stickers and bunting to customise and connect the toyetic version of Mouseville. At night, the Mouseville stickers even glow in the dark!
You can find the Mouse in the House range on Amazon now and most are currently on offer.
Jurassic World Dominion Single Duvet Cover and Pillowcase Set
Oh my days, check out this duvet set. It is surely every mini paleontologist's dream!!
Fans of the Jurassic World franchise will immediately recognise the fossil logo and love falling to sleep under some of their favourite dinosaurs.
Made from a polycotton mix, this single duvet and pillowcase set is reversable giving little people even more choice as to which side they prefer.
You can order your own Jurassic World Dominion Duvet Cover on the Argos website now.
L.O.L. Surprise! B.Bs Born To Travel
As my children grow the more, they are interested in technology and gaming. We got the kids Nintendo Switches for Christmas last year, so an easy gift for birthdays and Christmas' are new games.
Released in October, the "L.O.L. Surprise! B.Bs Born To Travel gives fans the chance to create custom, fierce L.O.L. Surprise! Dolls and travel the world in this arcade fashion game. With 30 stages in five cities to play, it promises to keep you entertained as you build your doll collection and enjoy fashion shows and music concerts.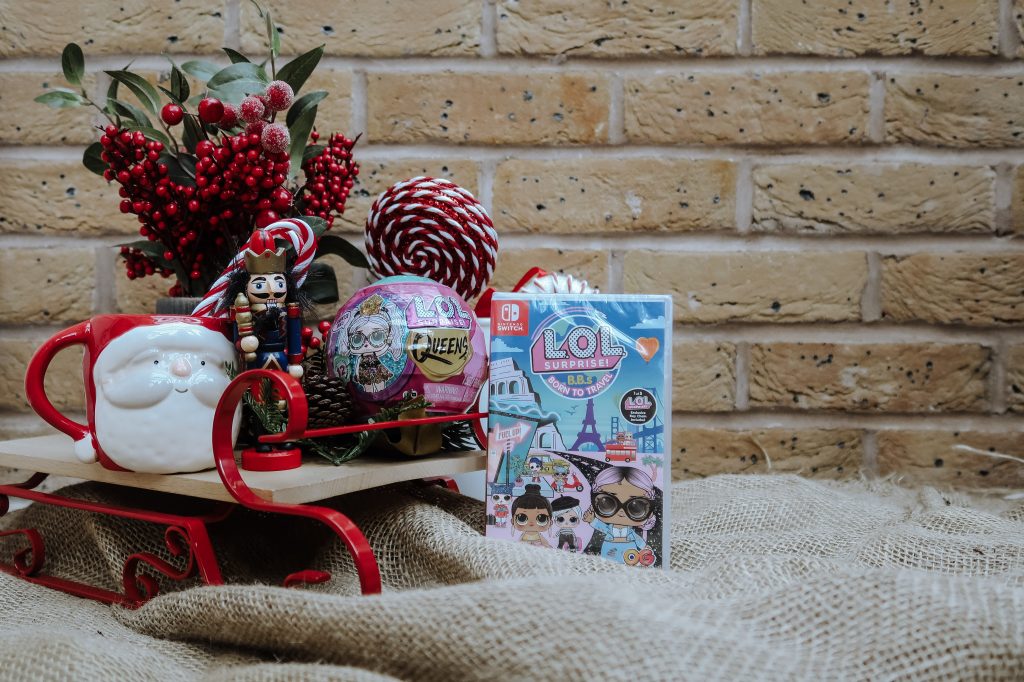 Available on PlayStation 4®, PlayStation 5, Nintendo Switch™, Xbox One, Xbox X|S and Steam. You can find out more on the Outwright Games website and buy your own on Amazon (affiliate link).
Chicco Goal League Pro
With the lionesses winning the Euro's lets inspire the next generation of footballers regardless of what gender they are with this fabulous Goal League Pro set from Chicco. This electronic football net comes complete with 25 different sounds which are triggered when you score.
With three different games modes – penalties, golden goal and challenge – this is a beautiful and fun set which will grow with your child. Keeping them engaged and entertained as they learn and develop coordination and precision skills.
And don't worry, the ball is soft so it can be used indoors too!!
The Chicco Goal League Pro is available now from Amazon (affiliate link).
---
---
Uh Oh Milo, The Excited Elf
Christmas is not complete in our home without a festive book and this year our Bears will be finding Uh Oh Milo, The Excited Elf underneath our Christmas tree.
Join Milo, Mary and their magical Granny as they meet the Excited Elf, a Mischief Maker causing festive mayhem just before the big day. This beautifully illustrated book tackles some topics that should resonate with most children at this time of year as Granny struggles to help Milo and Mary fall asleep before a very special visitor drops down the chimney.
You can explore the entire range on the Uh Oh Milo website
Action Heroes for little heroes
Big characters for little hands, these Action Heroes Twin Figure Sets are great options to start your Action Hero collection. Choose from the Police and Adventurer figure heroic twin pack or the Hero and Sports Person, each figure is 7cm tall and comes with two facial expressions which can be swapped with a twist of their heads.
Each figure has interchangeable heads, torsos and legs and the pop and swap technology allow you to create your very unique character.
Action Heroes are available from The Entertainer now.
Boddle Bath Bathtime Fun
My two LOVE a bath bomb and if your little ones are the same, it's worth taking a little look at Boddle Bath. A small business where your purchase will make a real difference to a rather lovely lady called Jen. Her bath products are beautiful and so much fun.
And if you or your little ones REALLY like bath products and soap, then check out her monthly Boddle Box subscription.
Explore the entire range on the Boddlebath website
Active learning packs from Oaka
This option is a little different but is a great little people who love to learn.
There are many parents and guardians who are still worried about the loss of classroom time over the past two years and Oaka packs work to address that concern. Their education packs present information in a visual way and provide techniques to help children as they learn.
Each pack focuses on a topic and includes a booklet, workbook and active-learning game. Covering a range of topics for KS1, KS2, KS3 and KS4/GCSE you can view the entire range on the Oaka website.
Yoto Mini Screen Free Player
Finally, I'm added this one in because we've recently reviewed it, and we genuinely loved it. There is no doubt that there will be new Yoto cards underneath the tree this Christmas.
If you're looking for a bigger children's gift this year that will also be something that you can build on for every birthday and Christmas to follow, then it's worth taking a closer look at the review.
Yoto Mini – the screen free player for children
You can read more about the Yoto Mini on the Yoto website.
And there we have it, a few ideas for what you could buy for children this Christmas. Whether they love learning, small world play, or getting lost in a digital world. I hope there is a little something for everyone.