Giving Your Skin a Treat with Balmonds – review and giveaway (AD)
Created by a mother for mothers. Balmonds is the brainchild of Natalie Balmond who was desperately looking for something to help soothe her daughters' painful skin. So, what do us mums do when there is nothing that works out there? Well, we make our own of course which is exactly what Natalie did. Finding a solution that worked not only for her daughter, but also for people who are prone to dermatitis, eczema, psoriasis and dry, sore, itchy skin conditions.
Henry sadly struggles a little with eczema. Not enough for it to be a constant battle, but bad enough that when he has a flair up it can be difficult to manage. At the moment the only thing that we have found which worked for him is hydrocortisone cream. Something that I am not comfortable using indefinitely. So, with this in mind I was eager to take a closer look at what Balmonds had to offer.
We have been sent the All Natural Starter Set to try out which contains: skin salvation (30ml), Daily moisturising cream (100ml), bath and body oil (200ml) and free scalp oil (50ml).
BALMONDS IN USE
The fact that these products don't contain any harsh chemicals means that they all have a wide range of uses. Here are a few of what I have been using mine for.
Skin salvation – I've really loved this for not only Henry's skin but also for my own as it's been great for keeping dry spots moisturised. It's also been fantastic as a lip balm.
Bath & body oil – this is my favourite product in the starter kit. Apart from the obvious use in the bath and shower as a body oil, this has also worked well as a shaving oil. It leaves my legs beautifully soft with no irritation. The smell is also amazing, with the chamomile really shining through. Every time I use it, it reminds me of the massage oils you get at a spa! In fact, that gives me an idea for an additional use……
Daily moisturising cream – at first, I was only using this on my body, but when caught short one day I tried it on my face and really liked it. It feels like a heavier night cream, but it has left my skin feeling lovely and soft. I suffer from rosacea so I am a little hesitant to try new things on my face as it can be very sensitive, but this has been great with no irritation.
Scalp oil – I'll be honest and say that I've not used this yet, but I have high hopes for it as a foot rub! The Balmonds website informs me that this little beauty has many other uses including as a foot rub, inhalation oil and topical rescue oil all being given as alternative uses.
THE VERDICT
I found the Balmonds range to be simple but effective; addressing our skins needs using natural products. I love thought of making a few simple products work harder for you rather than keeping a wide variety of potions and lotions.
The fact that the Balmonds team works with natural plant-based ingredients to ensure that all their products are packed full of goodness is incredibly attractive. Not only are they natural, but vegan too. Free from parabens, petrochemicals and perfumes, what you have are products that are close to their natural state as possible. You can find the full Balmonds range on their website.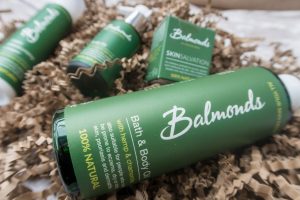 THE GIVEAWAY
Does all that sound good? I hope so as I have an additional Balmonds All Natural Starter Set including everything covered in this review to give away to one lucky reader. Just enter via Rafflecopter using the link below and follow the usual social media accounts.
This giveaway is open to UK residents only. It is powered by Rafflecopter and will close on Sunday 14th July 2019 at midnight. The winner will then be chosen at random using the tool. For full terms and conditions for the giveaway, please visit the Tippytupps terms and conditions page.  Good luck!
If you enjoyed this review, they why not check out our other reviews over on the blog.
I was provided with these items for the purposes of this review. However, all thoughts and opinions are my own.