Product Review & Giveaway – Xtava Satin Waves 5 in 1 Curling Wand
Now I'm no beauty blogger but what I am is a mummy who struggles with her appearance. My children always look lovely and well presented – until they cover themselves in mud that is – me on the other hand; I just about get myself dressed some days. Make up? Not a chance day to day but one thing I try to make an effort with is my hair. At the moment it's a little longer than usual which means it's more often than not being chucked back in a ponytail or up in the dreaded mum-bun. So when the opportunity came up to review the Xtava Satin Waves 5 in 1 Curling Wand I immediately volunteered. Who doesn't want lovely tussled hair?!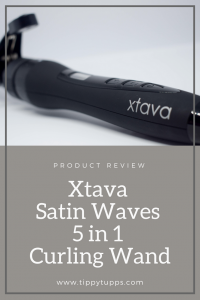 THE REVIEW
I was immediately struck by the box which had a lovely modern design on in one of my favourite colour palettes. Open that layer and you're faced with a lovely sleek black presentation box, then open that layer again and you have a travel bag which contains the curling wand and attachments.

With 5 interchangable barrels, there is a size and type for everyones inner stylist. The wand also comes with 9 temperature settings from 90C to 210C, and it even comes with a 60 minute auto sleep mode function for piece of mind to those people like me who ALWAYS thinks that they've something plugged in and on when they leave the house! I loved the travel case as a way to keep all the different bits together in one place and the heat protection glove was great seeing as I have a tendancy to be a little clumsy with heated appliances!
I currently use my hair straighteners to curl my hair which I thought were doing a pretty ok job until I started to use these. Wow, what a difference! After a bit of a false start where I had to figure out where to best hold my hair in the curlers I was off. It takes about 10 minutes to do my whole head but once done, with a little bit of styling clay the loose curls stay in all day.
I've haven't tried the other wands yet, mainly because I have straight hair with a fringe so if I go for the proper curled look I end up looking like an 80's throwback with a poodle perm and straight fringe….not a good look! Therefore for now I've stayed with the tusseled look but I'm looking forward to playing around with the other attachments to see what I can do with them. I may need to hit up YouTube for some tutorial videos!
THE DETAILS
The Xtava Satin Waves Curling Wand is currently on sale on Amazon for £21.99, reduced from £45.99.
THE VERDICT
I loved this curling wand. Speaking as someone who isn't the best when it comes to things like these, I thought they were stylish and easy to use with a long lasting result. Great value for money, I am more than happy to be retiring my straighteners for something far better to curl my hair with.
THE GIVEAWAY
Fancy some tusseled locks yourself or have someone in your life that would? Then I have one Xtava Satin Waves Curling Wand to give away to one lucky Tippytupps reader. Just enter via Gleam using the link below and follow the usual social media accounts.
Win the xtava Satin Wave 5 in 1 Curling Wand #15
This giveaway is open to UK residents only, is powered by Gleam and will close on Monday 25th September 2017. The winner will then be chosen at random using the tool. Please note this competition is being administered by the Review Directory and hosted by the Tippytupps blog. For full terms and conditions for the giveaway, please visit the Tippytupps terms and conditions page.
DISCLOSURE: I was provided with this item in return for my honest review. As always though, all opinions expressed in this post are my own.