Winter Skin SOS
With the turn in the weather recently, my lips have gotten so painful. I have a bad habit that my daughter has inherited, of licking my lips. Add that to the cold and they get cold, split and very sore. That got me thinking about where you turn to in the cold to give your skin a little helping hand.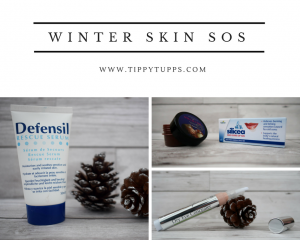 EYES – DRY EYE CONCEALER
Dry eye concealer works to brighten any dry skin around the eyes. If your eyes are anything like mine, they can get tired and itchy in the winter – I think from a mixture of cold outdoors followed by warm heated indoors. The good news about the dry eye concealer is that it calms the eyes and treats them whilst brightening. A win win situation right? Dry Eye Concealer costs £11.95 and is available on the skinshop website.
SKIN – DEFENSIL RESCUE SERUM
Cold weather is not good for the skin. Cold winds strips it's natural moisture and leaves it dry. Over time that can cause soreness, flakiness, chaffing, itchy skin and overall making it more sensitive. Sometimes the only thing that can help, is to create a barrier against the harsh conditions. This is where the Defensil Rescue Serum comes in, as it creates a soothing balm that helps to lock in moisture. Defensil Rescue Serum costs £9.95 and is available on the skinshop website.
LIPS – SILICEA COLD SORE GEL
Day to day I use general lip balm throughout the winter to try and keep them moisturised but when you get that tingle then, well lip balm just doesn't cut it anymore. I'm lucky that I don't really suffer from cold sores but when you do, you need that little bit of help to treat them and ensure they heal as soon as possible. This is where cold core gel is a God send, as it helps to relieve the itching and buring that comes with cold sores. Hübner's Silicea Cold Sore Gel costs £7.99 is available from independent health shops and online at www.healthy2u.co.uk
And that's it. My recommendations for when your eyes, skin and lips need a little TLC. What about you? Anything you would add to this list?
DISCLAIMER: this is a collaborative post.