Photowall Wall Prints – a review
Anyone who follows the blog knows that I love photograhy. Add in the fact that I'm a blogger and a mummy – a snap happy one at that – and it's at no surprise that I take a lot of photos. And I mean A LOT. So many, that when I upload them to Flickr for safe storage, there can be anything from 500 – 800 each month. So, when the team from Photowall got in contact asking me if I wanted to choose something from their site to review, there was never any doubt that it would be a new photo wall print that we would choose.

ORDERING ONLINE
The website is professional with an attractive user display. It's clear and easy to navigate and I was very quickly able to locate what it is that I wanted to order.  You simply upload the image you want to use and decide if you are happy ordering yourself online, or whether you need online assistence. I was happy to plough forward alone so then I simply had to choose my options.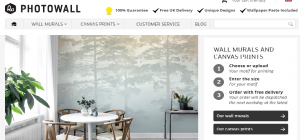 I went for a do it myself frame and wrap around edging. Finally you needed to select the size you want your canvas to be, once you do this you will get a little guide to position over your image to trim it exactly how you wish. We went BIG: 1oocm x 75cm.
OUR PHOTOWALL CANVAS PRINT
Our print arrived quickly and was extremely well packaged. I have to admit, I was initally rather intimidated by the build your own nature of the frame. However, not only were the instructions clear, but everything was prefabricated meaning it all slotted together very quickly. Once built, the frame felt very solid and secure.
Stretched out, I was immediately pleased with the print we chose. It may not show the children's faces but it does show their relationship with each other which is what I wanted.
I couldn't be more pleased with the quality, as it was gorgeous. Given the size of the print we chose, I was worried that the clarity wouldn't translate but that wasn't the case at all. The image was clear and the colours beautifully viabrant. I also loved the wrap around option as there is a real 3D quality to the finish.
Overall, I loved this service. Quick and easy to use and a great quality product. I know this is going to live on our wall for a good few years to come. Probably well into their teens when I use it as blackmail to convince them to sit together for a replacement shot.
I am also delighted to say that Photowall are giving Tippytupps readers a 20% discount on their order – valid until 31st January 2018 – just use tippytuppscampaign2017 at the checkout to redeem. So, if you've been thinking about adding something special to a wall either by way of mural or canvas print, then I recommend taking advantage.
DISCLAIMER: I was provided with this item in return for my honest review. As always though, all opinions expressed in this post are my own.