Adding sparkle with Rainbocorns | AD
It's fluffy. It's unicorn themed. It has sparkles.
It sounds like every little girl's dream, right? With this in mind there was no doubt that Darcie would LOVE the latest Rainbocorns from ZURU.
Here's what you can expect from the new range.
Rainbocorns Wild Heart Surprise Series 3
With 7 new characters to collect, the new series 3 Rainbocorns are literally WILD. They are a supersized squishy, adorable soft toy with a bright unicorn mane, sparkly horn and butterfly hair. What's not to love? Nothing according to Darcie as she LOVED the tiger Rainbocorn that came inside her sequin surprise egg.
Each giant egg contains a Rainbocorn along with a reversable sequin heart that reveals a surprise when swiped. This heart can be clipped onto clothes, hair (or curtains in our instance) as well as slipped in to the Rainbocorns tummy.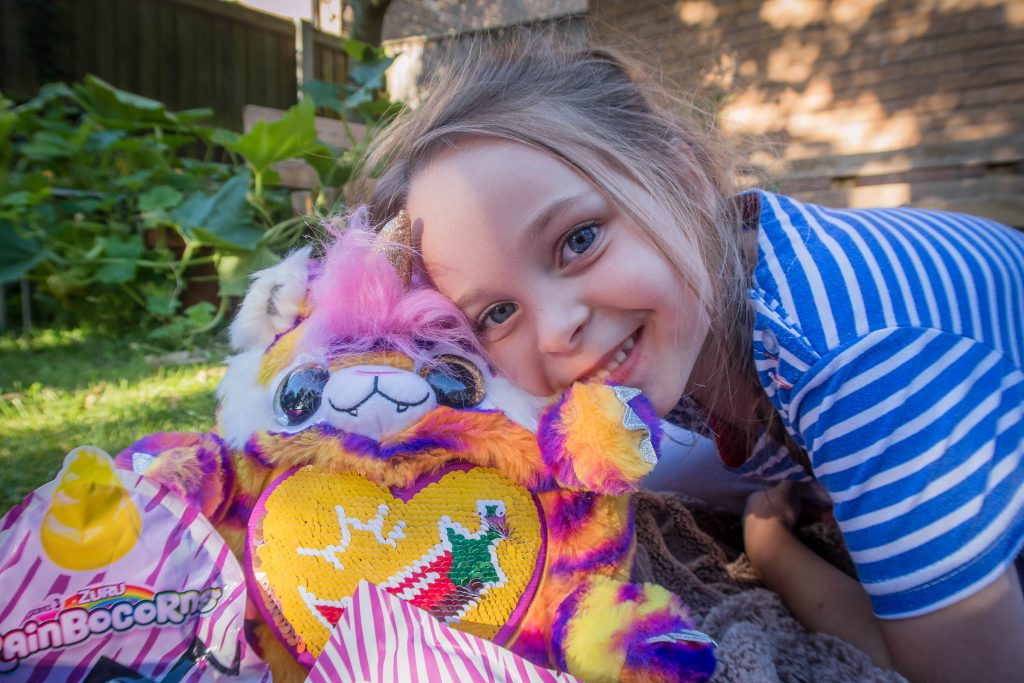 The egg also contains a number of small goodies too including wild nail decals, a cute little long tailed baby Boo-Boocorn in its own little egg and of course some rainbow poo!
Rainbocorns Sparkle Heart Surprise Series 2
If the Wild Heart Surprise packs are a little too big, then the Sparkle Heart Surprise is the perfect middle ground. Containing a mini Rainbocorn they have full cuteness at a fraction of the size.
Each of the 6 characters come with a sparkle heart which you peal to reveal what your Rainbocorn loves (pizza in our case!). And as is the way with all Rainbocorn eggs, there are some more surprises inside including a stamp, little Boo-boocorn and of course the ever present glitter poop which Darcie loves!
Rainbocorns Itzy Glitzy Surprise Collectible Eggs
Now these were right up the Bears street. She loves anything teeny tiny and small world play, and this is exactly that. The itzy glitzy's each come with a cute removable gem which attaches to a ring, as well as a sweet hair bow.
With 26 characters to collect, this are an adorable addition to the small collectable market. I love that the little eggs are so sweet and become part of the world to play with. Darcie has kept each and every one as beds for her itzy glitzy's.
The Rainbocorn range is available now at Smyths toystore.
I have a feeling that these are going to be making an appearance on her birthday and Christmas lists. Yes, I know it's only September, but she's already got her Christmas list on the go!
Also, be sure to what this space over on Instagram this week as I have a brillant Rainbocorns giveaway coming soon!!
DISCLOSURE: We were sent these items for the purposes of this review. As always though, all thoughts and opinions are my own.