All about music with Yoto
AD | gifted – I have spoken a lot about the Yoto story cards we love, but with the recent release of the new Queen card, our Yoto's have been used to blast music as loud as we can.
Therefore, I thought this was a great chance to share with you the new music cards that have been recently added to the Yoto store.
QUEEN – GREATEST HITS
There is no doubt that this one would be top of the list and it's a MASSIVE bravo to Yoto for bringing some classics to the ears and hearts of the next generation. And for their parents too (obviously!).
This card contains all 16 tracks for this utterly fabulous album and I have already lost track of how many times it has been played in our house.
Recommended for: everyone!
Running time: 52 minutes
---
SONGS FOR LITTLE PIRATES
Why are pirates called pirates? Cause they arrgghhhh. Do you get it?
I think most children go through a fabulous pirate phase and this is a such a great card for when they do. Follow the adventures of Sea Dog Sam and friends on this collection of sea shanties and pirate singalongs.
Recommended for: age 3 – 8 years
Running time: 30 minutes
---
MINDFUL PIANO
This is such a beautiful card. Calming to listen to, it is packed full of gorgeous piano pieces that should delight listeners of any age.
The Bear loves to listen to it in the car while gazing out of the window but it would be a great option for bedtime too.
Recommended for: age 0 – 14 years
Running time: 59 minutes
---
SINGALONG STORY: CAMPING TRIP
This card is such a sweet idea. Great for imaginative play it is filled with songs and sound effects about camping in the forest. All guided by storyteller Miss Katie.
Most definitely one for younger listeners but a great option.
Recommended for: age 2 – 5 years
Running time: 20 minutes
---
---
OLD MACDONALD AND OTHER PRE-SCHOOL SONGS
This is the card I wish I had when my two were little. Filled with rhymes that little ears will know and love.
It most likely comes with the risk that you will have to listen to this card over and over again, but that is always better than what I had to do, which was sing them over and over again!
Recommended for: age 1 – 5 years
Running time: 1 hour 8 minutes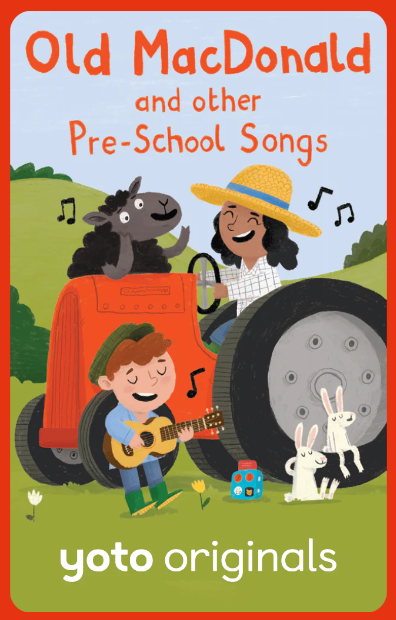 ---
SUPER SIMPLE SONGS COLLECTION
Another one for little people, this collection contains some really lovely and fun songs.
The Super Simple Songs Collection really does have something for every event including:
Bedtime Songs
Happy Songs
Silly Songs
Underwater Songs
So whether you're trying to get your little people up and dancing or down for a nap, this collection has something for you.
Recommended for: age 0 – 7 years
Running time: 2 hours 35 minutes
---
MORE DANCING SONGS
Casper Babypants is back. If you've not come across Casper before, he is an American Children's musician who little people all over the world has fallen in love with!
This collection brings little ears 20 new songs to make little legs dance!
Recommended for: age 0 – 8 years
Running time: 48minutes
---
And there we have it. The new releases from Yoto that will keep little legs singing and dancing for hours. Do you have any yet? Which one would tempt you the most?
Liked this post? Then my not check out our favourite Yoto card recommendations for Spring
DISCLOSURE: we were sent these items for the purposes of this post. As always though all thoughts and opinions are my own.