Moon Shoes Review – blasting off on mini trampolines
AD | gifted – If you follow the blog, then you will know that we have been chosen alongside Olympic champion Greg Rutherford as one of the Character Options ambassadors who have launched their Stay Active range. I love this campaign as they have identified a number of family inclusive toys which everyone can enjoy together both indoors or outside.
Last month we had so much fun taking a closer look at the Jump It, and this month we couldn't wait to blast off with Moon Shoes.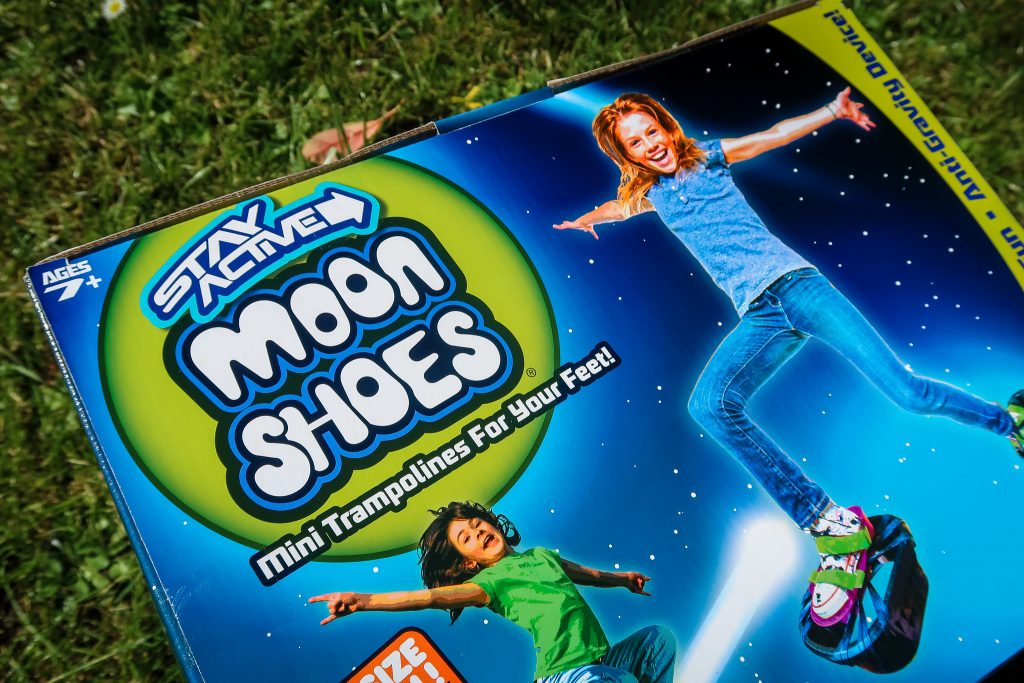 What are Moon Shoes?
The aim of the Stay Active range is to provide families with fun toys to engage with together to not only improve their health, but also increase wellbeing, improve movement, balance and coordination while also improving social skills, self-esteem, and confidence. I have to admit that Moon Shoes ticks all these boxes and more!
Moon Shoes turn your feet into gravity defying mini trampolines.
With self-centering shoe platforms which are strong and durable, the base is made out of lightweight, shatterproof plastic that won't break as you bounce. With non-skid soles suitable for most surfaces and sturdy adjustable straps to fit up to size UK 7.5 feet.
The bounce is provided by strong and durable bands and thankfully there are plenty included in the box to allow big kids to play too which attach to reinforced band post which are designed to hold them tightly.
How to set up Moon Shoes
When you first get your Moon Shoes out of the box, you may feel a little bit daunted! When faced with two big and bulky shoes and a massive bag of elastics, you may wonder what you have done!
The instructions are fairly simple though as you are told to thread each elastic through the sole of the shoes before hooking it onto the base on either side. The order you thread them in is important just to make your life easier.
And if you get stuck, don't worry as there are plenty of YouTube instructions out there.
How many bands you need will depend on the weight of your child. When I first threaded them, I used them all, putting three bans on each slot. However, with two small children they got no bounce out of their Moon Shoes, so I quickly took a band off.
If your child is 60lbs or under, you need one band per slot.
If your child is between 60 to 100lbs you need to add two bands per slot.
If your child is between 100 and 130lbs you need to add three bands per slot.
So, you'll need to keep this in mind if you use your Moon Shoes for kids who weigh drastically different weights. Or if – in my case – you have a husband who wants a go!
What we thought
The Moon Shoes were hilarious!! The kids absolutely LOVED them and had such a great time bouncing their way across the garden. In fact, the hubby may have also added on a couple of bands and had a go too!
It's a great workout for your core while also working your chuckle muscles as it makes you laugh so much.
Moon Shoes are OUT NOW and are available to buy from Argos.
DISCLOSURE: we were sent our Moon Shoes for the purposes of this review. As always though, all thoughts and opinions are our own.