Making Friends with the Puppy Dog Pals
One thing that both my Bears love is animals. Specifically, cats and dogs. So, when we were contacted to try out the Puppy Dog Pals Doghouse Playset along with a Puppy Dog Pals Deluxe Friends Set, there was no hesitation. So, if you have little ones that are fans of the show and are looking to maybe invest in some toys for them, this is what we thought. 
WHO ARE THE PUPPY DOG PALS?
For those not currently in the know, the Puppy Dog Pals follow pug brothers Ringo and Rolly and all the friends they encounter across their neighbourhood. If you haven't guessed already, it's American, it's cheesy and the kids love it. 
We were sent both the Puppy Dog Pals Doghouse Playset along and the Puppy Dog Pals Deluxe Friends Set to try out.
First, we have the Doghouse Playset which comes with the doghouse itself which a host of interactive elements such as a slide, swing and an elevator. It also comes complete with Bingo and Rolly as well as and ARF car and a seesaw for the brothers to play on.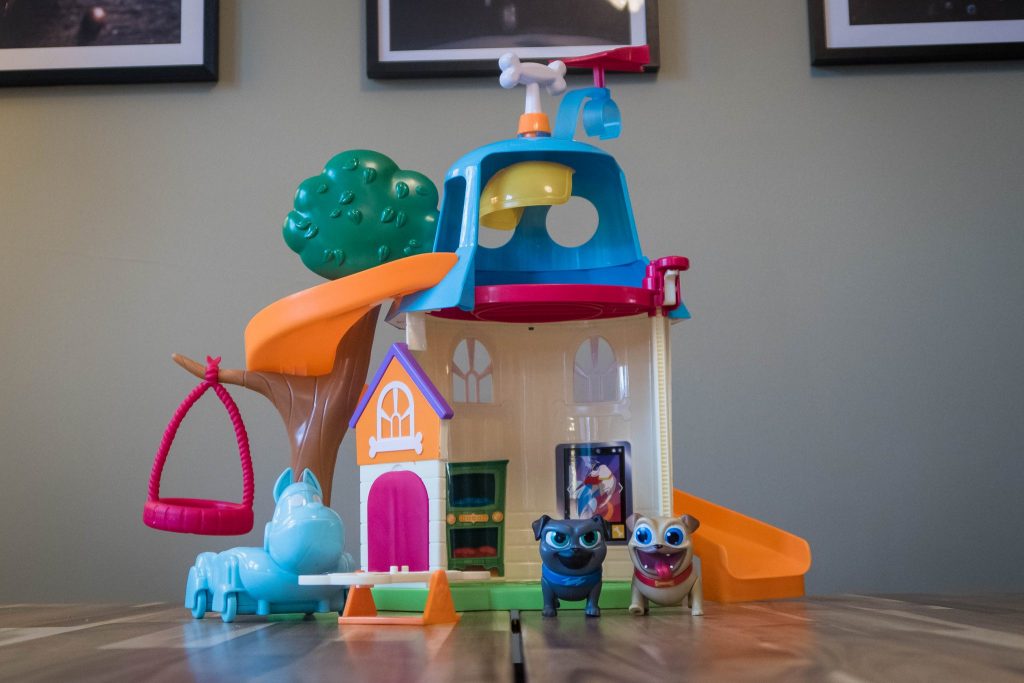 The Puppy Dog Pals Playset comes complete with 10 different items. There are 6 characters included in the set: Bingo, Rolly, A.R.F., Bob, Hissy and Keia. Then 4 accessories to go with them: 2 food bowls, a cat bed and a toy.
WHAT WE THOUGHT
My kids LOVED this. As in it arrived and they played with it solidly all day from 10am until 7pm. Even then some of the characters came upstairs to bed with them. They even played with it nicely together under threat that it would be taken away if they didn't, and it worked. That never happens!
I will say that I was very glad that we had the Deluxe Friends set to go with the Doghouse Playset as not only did it mean there was more to go around in the 'sharing', but it also widened the scope for imaginative play.
Darcie's favourite characters by far were easily Hissy the cat and Keia the dog and her favourite thing to do was launch them down the slide of the doghouse. Henry was a little simpler in his tastes and loved pushing Bingo and Rolly around on the ARF car. 
THE VERDICT
Although fans of the show will no doubt love this, I don't think this is limited to just them. My two have only seen it in passing at their Grandma's house and both have instantly fallen in love with this playset and all the friends from the show. 
Bright and colourful, these little characters are full of personality. The doghouse has that much going on, it has literally kept my two entertained for hours. The characters are solid and a good size for little ones to play with. In fact, the doghouse itself is a decent size. Big enough for great play, but small enough that it's not going to be a nightmare to store.
I will say that the doghouse isn't the sturdiest of items they've ever played with. Henry had the biggest issue with it falling over during play, whereas Darcie had no problems with it at all. Therefore, as this is set at 3 years + age limit, that could explain the reason why.
We would recommend both the Doghouse Playset and the Deluxe Friends Set to any toddler or pre-schooler that loves animals and enjoys imaginative play. This really is hours of entertainment in a box! 
If fact, you can take a little look at the fun we had trying it out over on YouTube.
The Puppy Dog Pals Doghouse Playset and Deluxe Friends Set is would make for some amazing adventures this Christmas. They are available from Amazon as well as from high street toystores.
DISCLOSURE: I was sent these items in return for our honest review. As always though, all thoughts and opinions are our own.