OKIDO Which Way? Game Review
AD | review
Did you know that this week is National Coding Week?  Founded in 2014, National Coding Week is a volunteer-led organisation which aims to help build people's confidence and skills through fun and engaging digital events. For this reason, I thought it would be the perfect opportunity to introduce you to the OKIDO Which Way? game.
Filled with characters from the television show and magazine, the OKIDO Which Way? game introduces children to coding. Aimed at little ones aged from 4-8 years of age, OKIDO Which Way? utilises STEM learning in a fun and interactive way.
Children won't even realise they are sitting through an introduction to coding; a skill that will help them find their way in a digital age. Add that to the cognitive and problem-solving skills they develop through playing this game, then you have a happy mummy too!
WHAT'S IN THE BOX?
Magic car
Magnetic board
16 magnetic tiles
Mission wheel
Screwdriver
x4 spare batteries
Mini missions
Instructions
The car already comes complete with batteries, so the additional spare ones were a nice touch. I will say that my one big criticism is that the OKIDO Which Way? game board is folded in half to fit in the packaging. This means that it has a rather large crease that runs down the middle of it, making the job of the magic car that has to travel across the board even harder.
It didn't help that the car is pretty light, and the runners had a tendency to come off the wheels on a wonky board. This is easily slipped back on though, and didn't slow down play too much. You can bend the board straighter, and after a few days everything flattened even more which helped everything to work a little smoother.
HOW TO PLAY
The game is simple. Spin the mission wheel which will set your task. From there you need to use your tiles to map the journey from A to B which your magic car will then take, testing your route as it goes. Without realising, this simple process will build coding skills in our children. Not convinced? Well let me put it this way.
Define the mission – the mission wheel gives children a problem to solve. The car needs to get from A to B and they need to figure out how to do it.
Plan the route – by finding points A and B on the game board, children then figure out the best way to move between them.
Build the route – using the magnetic tiles, they can build the route the car will take. Or – in more simple terms – they code the program.
Test the route – the magnetic car will test whether their route fills the mission or not. Does the program they have built, solve the problem?
It was interesting to see the different approaches that both children took.
Henry got stuck right in, figuring out by trial and error as to what worked and what did not. Darcie on the other hand wanted to know the rules and wanted to understand fully what she needed to do. It was her who was happy to systematically work out which tiles would get her where she wanted the car to be.
There probably needed to be a few more tiles in the pack, especially for the routes which had three destinations as Darcie was often frustrated that she couldn't quite do want she wanted with what was available to her.
However, to be fair, I can't decide if that's a bad thing or not. On the one hand did they need more. Or is a good thing that they're limited as it forces them to be more creative with what they have. I'm on the fence with that one!
WHAT WE THOUGHT
The OKIDO Which Way? game really is simple. However, the missions really worked to keep it interesting and set down the challenge. At almost 5 years old, this was a good game for the Bear. The missions were hard enough to be challenging for her, but the concept simple enough for her to be able to work it out. Though, a little grown up help was required for the most difficult routes.
Technically this is a game with the winner being the person to get to all locations on the game board. However, we didn't feel the need to play it as a game. Instead we just enjoyed playing all together to work out the different routes and test it out with the car.
Although the board could do with being a little flatter and the car a little more robust, we really enjoyed our introduction to coding with OKIDO Which Way? and I know that this is something that both kids will continue to enjoy.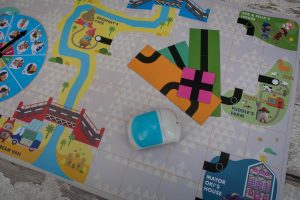 The OKIDO Which Way? game retails at £30 and can be found on the OKIDO website.
If you enjoyed this review, they why not check out our other reviews over on the blog.
DISCLOSURE: I was sent the OKIDO Which Way? game for inclusion within this review. However – as always – all thoughts and opinions remain my own.