Stay Active with Jump It! | AD
We're really lucky because as a family we have always loved to be outside. One of my favourite things to do, is head out on a family walk with little people holding one hand and my camera in the other ready to capture special moments.
Over the past few years though, that simple pleasure has come up against a few challenges. First up we are more sedentary than ever. The pandemic had us spending more time at home than we ever had before. Then in addition to that, our two outdoor loving children developed an interest in technology. This is something that we allowed because the juggle between home working, childcare and home school became an interesting thing that we had to balance. The fall out though is that an educational necessity a few years ago, has now become a hobby and favourite past time for them.
While it's not something we're worried about per se, but it is something that we will be balancing out in 2022 by getting outside as much as possible. Luckily, we're not the only ones thinking this way as Character Options have launched their Stay Active range which is a range of family inclusive toys which everyone can have fun with together indoors or outside.
The Stay Active range has been chosen to not only support families who want to get away from screens and improve their health, but they have so many other amazing benefits too such as increasing wellbeing, improving movement, balance, coordinator and reaction time as well as improving social skills, self-esteem and confidence.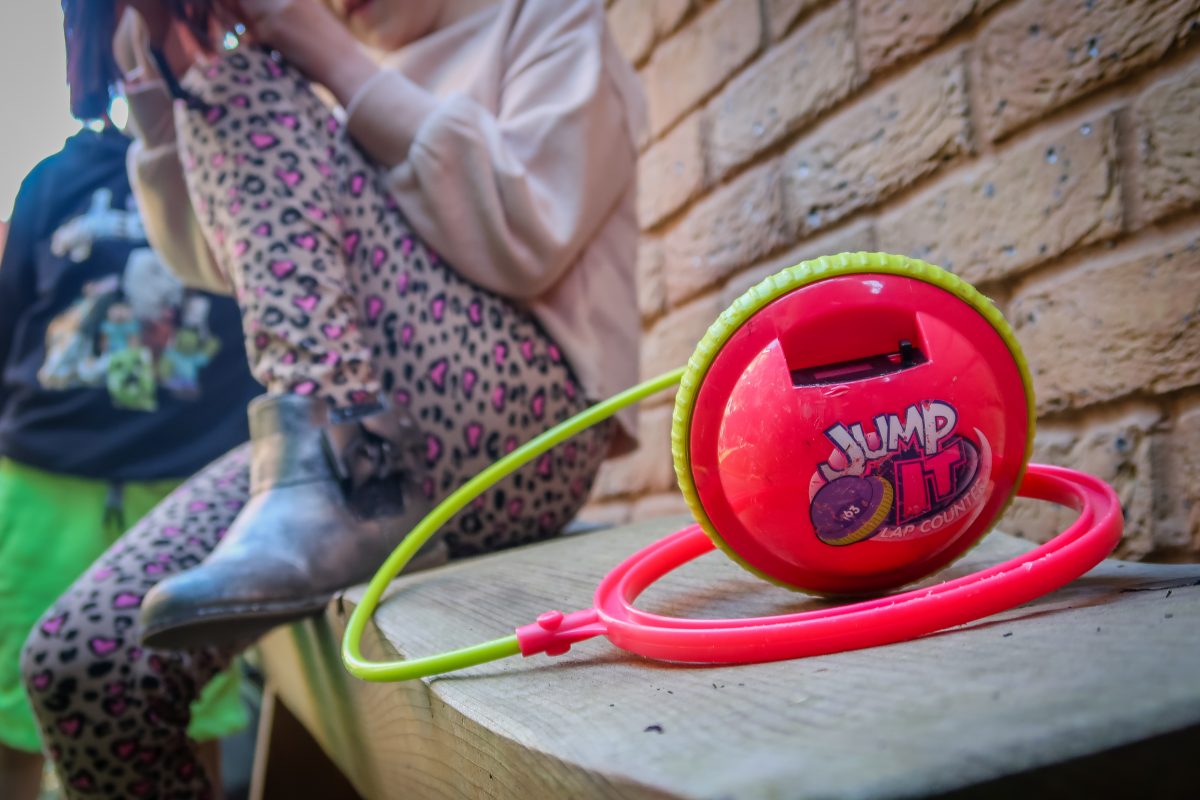 Each month we will be testing some of the items in the Character Options Stay Active range and first up is the Jump It Lap Counter.
What is the Jump It Lap Counter?
If you were born in the 80's or 90's, then the likelihood is that you will know exactly what Jump It is. However, if you've never seen it before, then you don't know what you've been missing!
It's a brilliantly fun jumping and skipping game which can be played indoors or outdoors; all you need is space and a fun-loving attitude to have a go.
One size fits all, all you need to do it put the hoop around your ankle, spin the ball with one leg, and hop over the cord with the other. Then the fun really begins as you try and coordinate your legs and repeat as many times as you can.
The counter records up to 999 laps, then you get to reset and go again! Therefore, the question is, how many jumps can you do?
What we thought
We honestly we had such a great time trying out our Jump It. So much so that every single one of us got involved, including Daddy. We challenged each other to swap legs and then swap directions.
It was genuinely so much fun and I was so pleasantly surprised by how much it felt like a workout (so much so I may have used it a few times since we first tested it without the kids!).
In the 15 minutes or so it took the Bear to get the hang of the Jump It, I saw her coordination improve, saw her exercise problem solving skills to understand why she was finding it tricky at first and also saw her exercise great resilience as she persevered to finally be able to Jump It. Jump by jump her confidence grew and by the time she got the hang of it. she was beaming.
Once it clicked, she was off! I have to admit I had as much fun watching her learn as I did playing it. Especially with some of the weird and wonderful poses she was striking!
At 5, the coordination needed was a little beyond The Boy (though it didn't stop him trying!) However, at 7 – The Bear was a great age for this and it's something I could see us all enjoying for years to come. We're already planning to make it a welcome addition to our caravan outdoor toys. And if you're in doubt as to how much we love Jump It? Well. look how well loved it's looking already!
Jump It is OUT NOW at Smyths Toys.
DISCLOSURE: we were sent Jump It for the purposes of this review. As usual though, all thoughts and opinions are our own.