The Best Yoto Cards for Christmas
AD | Gifted – If you follow the blog then you know that we were thrilled to review a Yoto Mini Player last month and our kids have been big fans of it ever since. Well, this month we were looking for ways to expand our Yoto card collection and found these festive treats. All of which would be just the right size for your Christmas stocking.
The Christmasaurus Collection
No modern Christmas audio book post would be complete without The Christmasaurus on the list and The Christmasaurus Collection goes one step further, providing three magical festive adventures from bestselling author, Tom Fletcher.
This three pack card set, includes The Christmasaurus Musical Edition (featuring 14 original songs all written and performed by Tom Fletcher, accompanied by a full orchestra), as well as The Christmasaurus and the Winter Witch and The Christmasaurus and the Naughty List.
Running time: 18 hours 53 mins
Christmas Stocking Fillers
This is the cutest little 4 card pack, guaranteed to get little ones in the festive mood.
The pack includes the classic take of Rudolph the Red Nose Reindeer, A Family Christmas contains more then 2 hours of festive stories the whole family will love. Snowflake will bring music to your ears with a collection of festive carols and melodies whereas a Bad Kitty Christmas is a hilarious festive feline tale.
• Running time: 3 h 38 min
• View full details on the Yoto website
Advent Stories
This is an adorable collection of original audio stories, counting down the days to Christmas! Written for the festive period they are a lovely collection which will allow children to relive advent on Christmas night when they find this in their stocking.
• Running time: 1 hr 30 mins
• View full details on the Yoto website
---
---
Father Christmas Needs a Wee
We don't personally have this card but it sounds absolutely hilarious as on Christmas Eve, every child leaves out a drink and a snack for Father Christmas. Before long he really, really needs a wee but what can he do about it?
Disney Classics Collection: Volume 1
Yes I know this isn't specifically a Christmas option but I have an primary school aged daughter who – while she is growing up too fast – still loves Disney and getting lost in the worlds that they create.
In volume 1 of the Disney Classics Collection, littles ones can find their favourite characters from Frozen, 101 Dalmatians, The Little Mermaid, Pinocchio, Dumbo and Sleeping Beauty.
Running time: 3 hours and 37 mins
Marvel Junior Novels Captain America Bundle
I've covered off one child, so it's only fair that I pick something for the Boy too. And this boy is still Marvel mad so this Marvel Junior Novels Captain America Bundle is right up his street.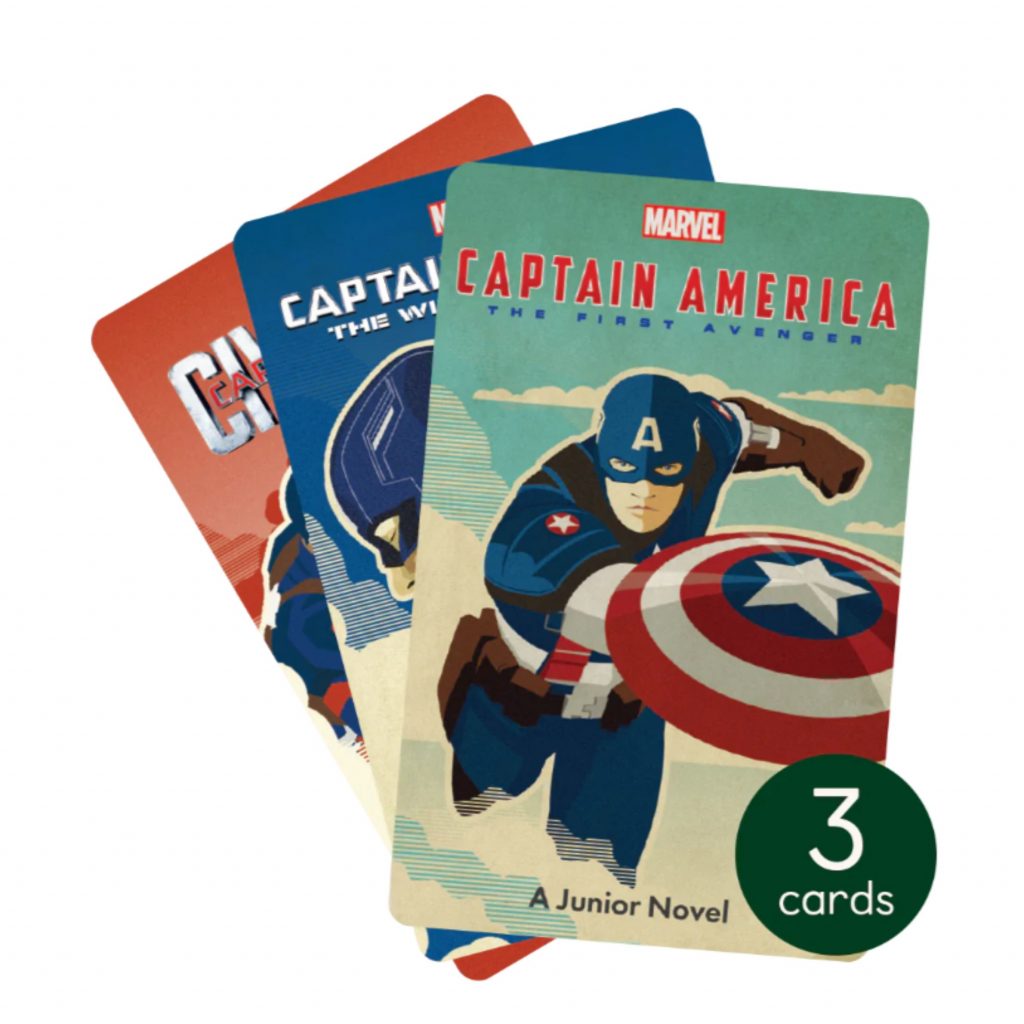 This three pack of cards follows the three stories that even grown up who are fans of the franchise will recognise. First up we meet Steve Rogers as he becomes Captain America in Captain America: The First Avenger. Included in the collection is also Captain America: The Winter Soldier and Captain America: Civil War. (Civil War being my personal favourite!)
None of these options suitable for your little ones? Then don't forget there is also the a Yoto Club subscription you can consider as well as Podcasts in the app and digital downloads.
---
---
DISCLOSURE: we are proud to have an ongoing collaboration with Yoto. However, all content and opinions are my own. I was under no obligation to create this post and the decision to do so is my own.