Time to Pamper with Cool Maker | AD
We have had a wonderful half term. Although spend at home thanks to the Welsh fire break lockdown, we've had a lovely relaxing week. Made even more relaxing thanks to Cool Maker who sent us a lovely pamper bundle to enjoy.
Hollywood Hair Extension Maker
The Hollywood Hair Extension maker is brilliant and so much fun. Both my two loved this and were captivated until they made 12 extensions between them! The had the choice between customising their hair ribbon with the markers included in the pack, or to choose a printed design.
Once they chose, next they had to load it into the machine. Press the button and the machine will magically transform the ribbon into a wearable hair extension by shredding it as it passes through. Once finished, switch off the machine and discard the spool. Finally, add to a hair clip and wear your creation with pride.
Create bright and beautiful extensions in a variety of colours and patterns. The kit comes with everything you need to customise and style 12 hair extensions. Also included is a heatless styling wand and two attachments to create fabulous salon ready curls by curling around the want and setting with water using the spray bottle.
What I really liked about this though is that storage is included as all the little bits and bobs pack away lovely into the base of the machine.
Requires 2x AA batteries to work, but this does last for the entire set of hair extensions and beyond.
The pampering did not stop there though, as next week took a closer look at the Go Glam Nail Salon.
Go Glam Nail Salon
This lovely piece of kit allows you to style and stamp custom manicures and pedicures. It comes with a stamper / dryer unit, 5 pattern pods, 2 nail polishes, a topcoat and instruction manual and allows you to decorate up to 125 nails of any size
First up, paint your nails with one of two colours included in the set, then put them under the built-in dryer and wait for 5 minutes for them to dry until tacky. Next select your pattern and pop it in the machine. Placing one finger at a time into the machine, press the button and you have a perfectly patterned nail. Finish with a clear glossy topcoat. And that is it! As easy as paint, pop, and press.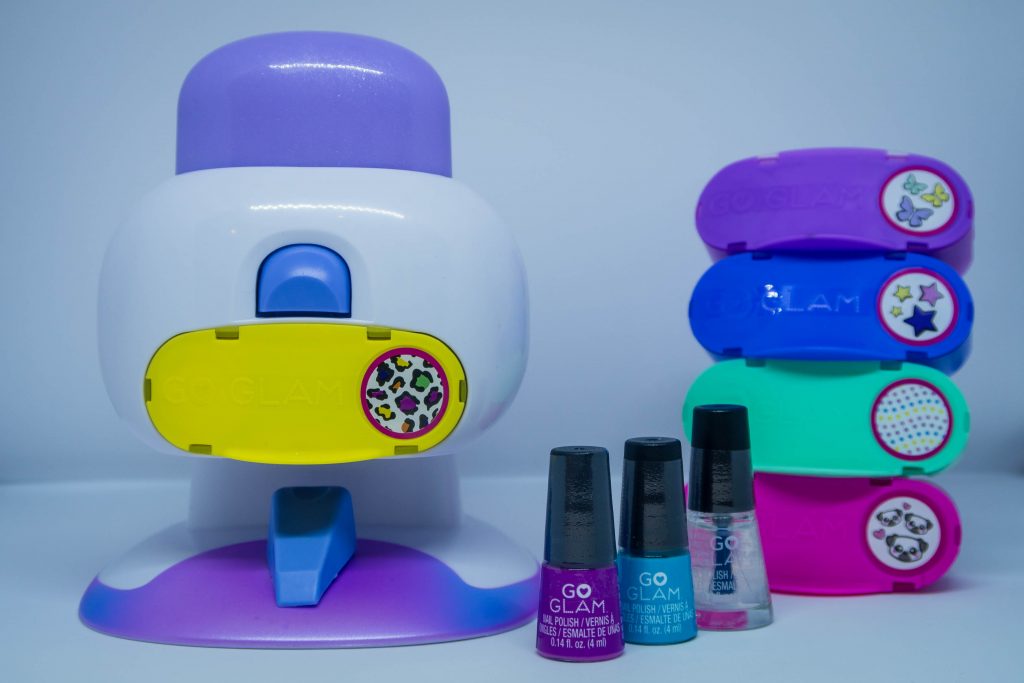 There are 5 patterns to choose from included in the set including butterflies, stars, pugs, flowers, spots and my personal favourite: leopard print! Don't worry about running out as there are also Go Glam Pattern Packs and Mini Pattern Pack refills available to extend your collection.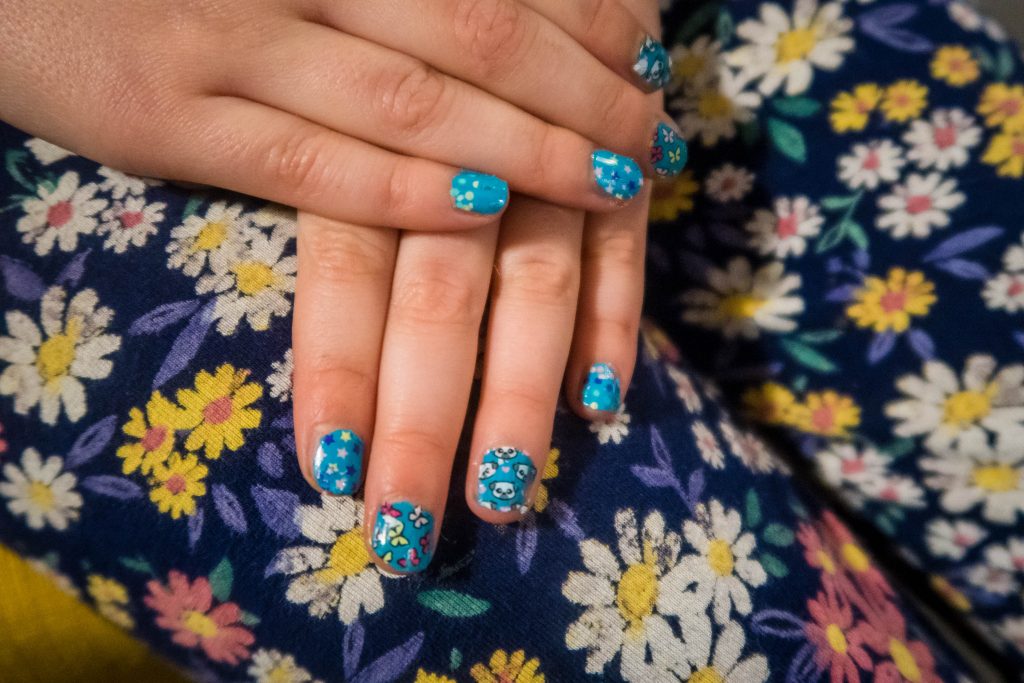 I will say that the Go Glam Nail Salon needs 4 AAA batteries to work the dryer so keep that in mind if buying as a gift. However, it is not required for the stamper as that aspect of the salon is not battery powered.
These are both lovely pamper kits and both the Bear and I had a lovely time together playing with these sets.
DISCLAIMER: we were sent these items for the purposes of this review. As always though, all thoughts and opinions are my own.