Yoto 3rd Generation – what is new?
AD | review – We've made no secret of the fact we are massive fans of Yoto. Our Yoto mini's come with us on every trip we take in the car and have genuinely recommended them to everyone we know. I've looked at getting a big Yoto player a few times now, but it's only recently with their release of their 3rd generation that I've really been excited to take a closer look. Here's the reason's why.
What is Yoto?
If you've not come across them yet, Yoto is a screen free audio player that provides access to a massive amount of content. Stories, music, podcasts and radio. From education content, to adventures that would engage even the most imaginative minds – there really is something for everyone.
And if you really can't find anything amongst their hundreds of different options of content, then you even have the freedom to make your own!
The Yoto Player vs the Yoto Mini
I've made it abundantly clear that we love the Yoto Mini for travel. It is small, compact and works briliantly paired with a set of headphones to allow children to explore and manage their content. My two kids have reacted so well to the Mini that they now will no longer travel without them.
The Yoto is everything the Mini is but bigger and more. The look and feel is the same will twist button and click technology to browse and select content and control the volume. A single click on the right dial still accesses Yoto daily and a double click accesses the radio. Both players – both original and mini – can be accessed and managed via the Yoto app in the exact same way.
---
---
Where the original player comes into it's own though is it's usability in the home. Big chunky dials and a big screen makes it more accessible for little people and the nightlight is an amazing option for kids. Paired with the free sleep sounds and white noise, it becomes an incredible tool for managing sleep for little ones.
For my kids – now they are older – the mini rules but for in the home and little hands, the original cannot be beaten.
---
---
What's new with the 3rd Generation?
So while the size, look and feel of the big Yoto remains the same, there are a few big improvements that – while not visible – make a big impact on usability.
Battery Life
The battery life on the 3rd Generation Yoto has increased massively from just 10 hours to a full 24 hours.
Storage
The previous 2nd Generation Yoto has a 16GB storage capacity – the same as the Yoto Mini – however with the 3rd Generation this has doubled to 32GB.
Temperature Sensor
Brand new with the 3rd Generation, is a simple temperature sensor. This can be accessed via the Yoto app and is a brilliant addition for those people who keep their Yoto's in their kids room.
Enhanced Features
We don't have a 2nd Generation Yoto but by all accounts the sound and picture quality has been noticeably improved and to be fair my two absolutely love it.
What's the same?
There are a lot of great features with the earlier Yoto's that we all know and love, and they are still present with the 3rd Generation. Your cards will still play as normal, and the nightlight is still the same. You can even make your Yoto stay on all night by turning off the auto power and battery saver modes. Just make sure you have enough battery to last the night.
What we thought about the Yoto 3rd Generation
We are such big fans of the mini, that we didn't really think we would get that much more from a big Yoto but I have to admit we have been so impressed. We keep ours in our living space so it is assessable at all times and it's been so interesting to see how we all use it.
The boy has been enjoying clicking into the Yoto daily activities and the Bear loves jumping between her cards. Whereas I – yes me – have been having a great time listening to audio books as I'm pottering around the kitchen.
All in all, this is a great player that has very quickly become a big part of our lives.
More in photos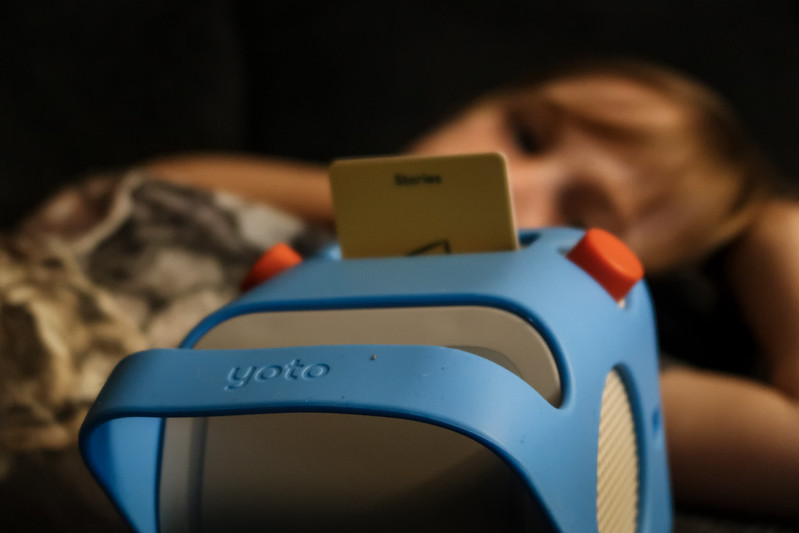 DISCLOSURE: we were sent the Yoto 3rd Generation and adventure jacket for the purposes of this review. However, as always, all thoughts and opinions are my own.