Yoto Mini – the screen free player for children
AD | Gifted – In a world where content is so readily available and multi-sensory, I love the thought of something that will encourage children to slow down and engage. So, the thought of a screen free player sounded amazing. No camera, no microphone and – most importantly – no ads! So, let me introduce you to the Yoto Mini. The portable screen free player which has been designed with our kid's wellbeing at the centre of what they do.
What is a Yoto?
As mentioned, the Yoto is a screen free player for children. It allows little ones to engage and explore new worlds through music and books but without distraction. Not only are camera's, microphones and ads a hindrance for our children, but it also puts their safety and wellbeing at risk. The Yoto takes all that away through their screen free design and puts the control in children's hands through a simple, easy to navigate operating system.
Content comes in the form of cards which can be slotted easily into the player for hours of entertainment. Think books, songs, science discovery and so much more. I have no doubt that there will be cards to suit any child's tastes.
Why choose a Yoto Mini?
You have the choice between the Yoto Player or the Yoto Mini. We went with the mini due to just how portable it is. Great for journeys, days out or even quiet journeys at home, the Yoto Mini packs everything great about the original player – such as the wide range of cards and access to podcasts and radio – and packs it into a small handheld device.
The chunky design is easy for little hands to navigate allowing them to change chapters, pause, play and swap cards on the move. Pair it with the Yoto headphones and you have a combination that will allow children to escape into their own world, wherever they are.
---
---
It's all about the accessories
There are so many accessories for your Yoto Mini which are designed to enhance your user experience. These are the ones which really helped us get the most from our Yoto Player.
Yoto headphones
For me these are a must have for the Yoto Mini just because of how portable the mini is. It makes sense to me to connect them up to a set of headphones to allow kids to disappear into their own worlds. Designed for little ones, they have kid-safe volume limit to them and are super comfy on little ears.
Any headphones with a jack will work with the Yoto Mini, but what makes these so great is the fact that additional headphones can be added on using their daisy chain technology, allowing more than one child to listen in at the same time.
Mini Adventure Jacket
This was a must have for us for a portable player as although the design of the Yoto Mini is beautifully simplistic, I also knew it would last 5 minutes out on adventures with my two before it became scuffed. The Mini Adventure Jacket is a colourful silicone case which fits snugly over your Yoto Mini to protect it from small knocks and bumps. There are plenty of colours to choose from so kids can personalise their players.
Yoto Card Case
Now our ears and our Yoto Mini is safe, we also need to protect our cards! This card case is a soft-case folder and holds up to 64 Yoto Cards. Available in 3 colours, it's a great way to keep all your cards safe and in one place.
What we thought about our Yoto Mini
I am honestly more impressed than I thought I would be. At 6 and 8, I was worried that it may be a little young for my two but actually, we all love it.
I am pleased that we got the Yoto Mini as the Bear especially loves disappearing into her own little world while out and about. It has been brilliant for the back of the car and the fact that the headphones have daisy chain technology for sibling listening is absolutely brilliant as it keeps both of them happy. Until they start fighting over which card to listen to that is!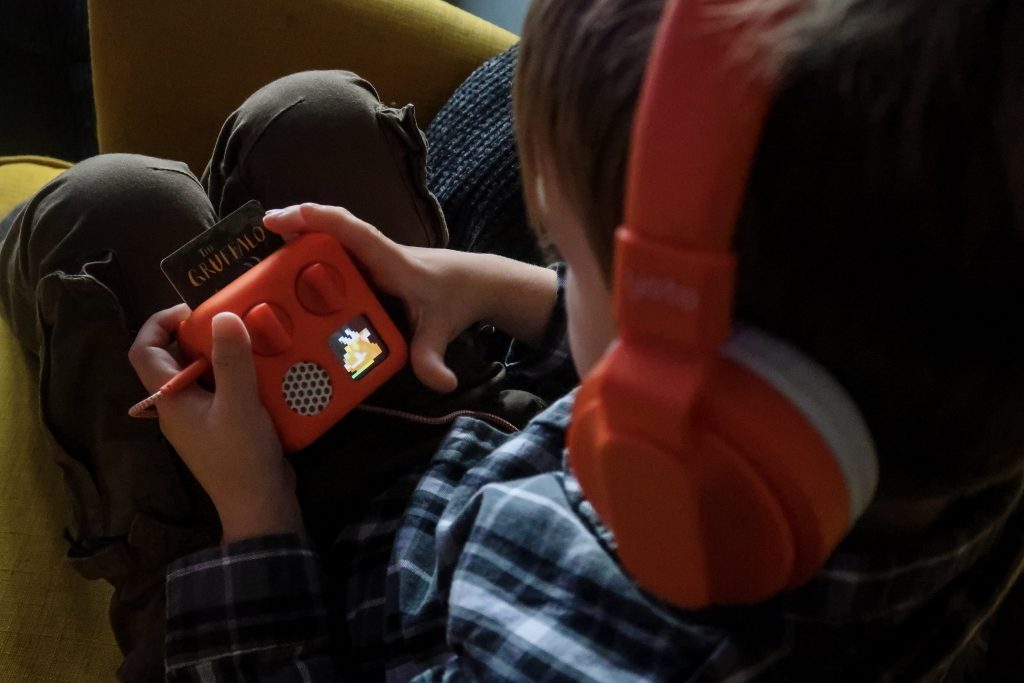 Yoto has a great range of cards for kids of all ages though, and there are plenty of options for them to choose from. And the fact that they can make their own cards is awesome! I love how the Yoto Mini – and of course the original Yoto Player – has been designed with our children's wellbeing in mind. It has no screen, no camera, no microphone and no ads to protect their privacy
Needless to say, I would highly recommend the Yoto Mini and we already have new cards ready for the children's Christmas stockings this year.
You can visit the Yoto website for more information and to check out the whole range.
Now I wanted to finish off this review a little differently. When our Yoto Mini arrived, I jotted down all the initial questions I had, and I thought I would share the answers here. My thought process is that if I had the question, then maybe you do too. So, I hope it helps.
---
---
Does the Yoto Mini need Wifi?
Yes and no…. You need to connect your Yoto Mini to Wifi to set it up and then download your Yoto cards. However, once they are downloaded then you no longer need to be connected to the internet and will be able to listen to them wherever you go. Just how portable the Yoto Mini is, is one of the things we really loved about it.
Some of the features that set the Yoto apart from other players on the market will need Wifi though such as Yoto Daily and Yoto Radio so keep that in mind.
How do I download Yoto Cards?
It really is so simple. You will have downloaded the Yoto app on your phone when you intially set up your Yoto. Therefore, all you need to do to download cards, is to open the app and tap the "scan a card" option in the "My Library" section. Or (if you have an iPhone XS or newer or a compatible Andriod phone) simply tap the card against your phone to launch the player. How clever is that?!
Don't worry if the cards are not immediately available downloaded on the player though as it can take around 10 minutes for the cards to download (depending on size). You can still use the cards on your Yoto player while you're waiting but just be warned that you can't tap a card as you're leaving the house with your keys in your hand and expect them to be immediately there.
How much can the Yoto Mini store?
The Yoto Mini has a whopping 16 GB of internal storage which equates to around 350 hours of audio. It is so much because there are no distracting visual elements to the player outside of the adorable little pixelated character which appears for each chapter.
If you do manage to fill your Yoto Mini though, then you can easily remove old content you don't listen to anymore and replace it with new and exciting cards!
Does the Yoto Mini have radio?
Yes! This is one of the things I absolutely love about the Yoto Mini. It is packed full of things such as the radio and podcasts. It really is rammed with so many things for curious young minds to explore and engage with.
You can access all this good stuff via the app and play through your Yoto player. Or if you have left your player at home, then just play it through your phone.
Can I use the Yoto Mini as a Bluetooth speaker?
Yes. Kids want to listen to their favourite songs, but you don't have them set up on a Yoto card? Then don't worry as you can pair your phone with your Yoto Mini and use it as you would as any other Bluetooth speaker.
DISCLOSURE: we were sent the Yoto Mini for the purposes of this review. As always though, all thoughts and opinions are my own.
---
Looking for more gift inspiration for kids?
---