Middlehills Farm Campsite | Derbyshire
With camping season just around the corner and the exciting news that not only will self contained units be opening up soon, but it also looks like we will actually have a 'real' summer where we can see friends and family.
Can I get a whoop whoop!!
The news has got me looking at 1001 campsites as we plan to spend pretty much all our late spring and summer in our little caravan. It's also go me looking back down memory lane at some of the fabulous places we managed to stay last year. I never wrote them up at the time, so I thought I would take a little time now before the season starts to share some with you. Just in case you are looking for somewhere to stay this year.
First up, we have Middlehills Farm campsite.
OUR FIRST TRIP IN THE CARAVAN
Our first trip of the year last year was to Middlehills Farm in the heart of the Peak District. Middlehills Farm Campsite is a well-established family run site which is owned and run by Nick and Liz Lomas and has been in the family for over 30 years. 
Set in 40 acres of land in the heart of the Peak District National Park it has stunning views and plenty of walks from the site to explore the local area.
Middlehills Farm Campsite accommodates touring caravans, motorhomes, and tents at their site. There are two large fields available for open access tents where campers can just arrive and pitch wherever there is space. There is also a separate field for electric pitches which is where we hitched up.
The surface was grass and although on a slight slope, it was easily adjusted.
Dogs are allowed and Middlehills Farm doesn't charge for this, however visitors are asked to keep them on a lead at all times.
FACILITIES AT MIDDLEHILLS FARM CAMPSITE
Middlehills Farm Campsite had everything we needed plus more.
Separate toilet and shower blocks that were always clean and presentable whenever we used them. The showers are ran on meter that charges £20p for 1 minute quick rinse, and £1 for a 5 minute shower so be sure to bring plenty of change with you.
The small shop was well stocked with the essentials, snacks and local produce. I didn't notice the opening times, but they were certainly open any time we needed to pop in.
We were located next to one of the pot washing areas by the shower block which were exactly like you'd expect them to be: clean and accessible. There was also a chemical waste point for caravans and motorhomes as well as plenty of bins to get rid of your rubbish. There was even recycling available which was brilliant to see and often overlooked on campsites.
Finally, one for the kids is that there was also a great play area on site which is great for kids. What was especially nice is there was plenty of green space around the site for little ones to simply enjoy running around. Our two were especially thrilled with the pig pen on site as well as the free-range chickens that were running around the place.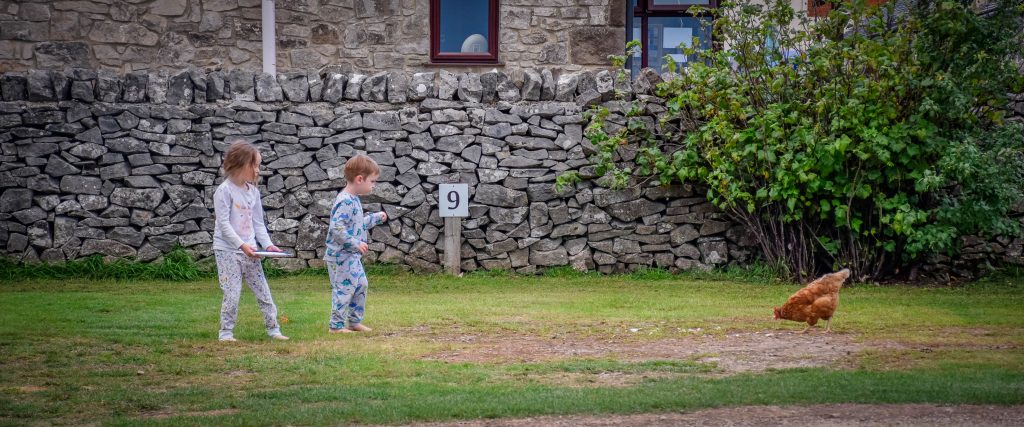 COVID RESTRICTIONS
We visited the site in August 2020 when the country had started to open back up, though restrictions were firmly in place. The shower and toilet blocks were open but alternate cubicles and sinks were closed to allow for easier social distancing.
Visitors are encouraged to stay 2m apart at all times, and from what we could see, on a whole that was stuck to.
The only area for concern that we saw was the playground. As you would expect, there was very little social distancing going on between children. though that is down to visitors not the Middlehills team. We just kept firmly away from the area until it felt quiet enough to use.
WHAT WE DID NEARBY
Middlehills Farm is based 8 miles from the historic market town of Bakewell and is an ideal location from which to explore Derbyshire.
We were only at Middlehills Farm for a long weekend, but we still managed to get out and about and explore a little. We had a fantastic day out to the Heights of Abraham while we were there, as well as stopping off at Hardwick Hall. Both were brilliant days out for very different reasons.
There was so much more to do in the area if we had more time though as there are a massive number of attractions nearby. Matlock Bath, Buxton, Gulliver's Kingdom, Ashbourne, Dovedale, Tissington Trailas, Chatswoth House and Haddon Hall. All this is in addition to stunning views and fabulous walks every way you turn. There is certainly plenty to do in the area.
DETAILS
Address: Middlehills Farm, Grangemill. Matlock. Derbyshire, DE4 4HY
Website: https://www.campingandcaravanningmatlock.com/
Middlehills Farm Campsite are of course currently closed, however they are planning to reopen for the season on 17th May and are taking bookings on their website now.