A day out at RAF Cosford
The rain arrived for the weekend, so yesterday we decided to head down to the RAF Museum at Cosford. It's been years since we've been – the last time being when Henry was still a tiny baby – so it seemed like a good chance to head back down that way.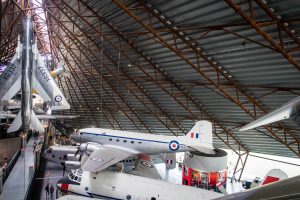 EASY TO ACCESS
Located just off the M54, RAF Cosford is really accessible to most people. Especially as it's only around 30 minutes from Birmingham, 10 minutes from Telford and 20 minutes from the M6 motorway. There's plenty of parking on site though it does cost £5 to leave your car there for the day. It's not too bad though as that is offset by the fact that the museum is free to enter. However, if you do want to contribute something to thank them for your visit, there are plenty of places for you to donate something both in coins and digitally.
PLANES, PLANES AND MORE PLANES
The RAF Museum at Cosford is spread across 4 hangers / buildings. The first hosts the visitor welcome as well as a substantial refreshments area. From there you head outside and make your way past a number of aircraft on the way first hanger.
This first stage of your visit explores the research and development stage of the offer at RAF Cosford. It's in this hanger that you are able to get closest to the aircraft as you are able to sit and explore a cockpit. Something that the kids loved.
It's also home to the RAF Cosford Fun 'n' Flight area. This is the chance for kids to get a hands on feel for the science and technology behind aviation. The area encourages children to play, explore and learn and is a must see on your visit
A VISIT HIGHLIGHT
Moving on to the next building, you encounter RAF Cosford's National Cold War exhibition. This is nothing short of stunning. Presented and displayed in a way that you can't help but be impressed by. You can see machines of all shapes and sizes displayed up close – and in some cases – vertical!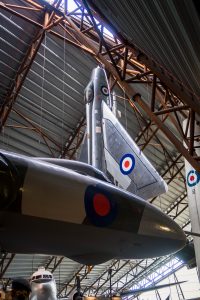 This is a great space and really engaging no matter your age. With a small play area for children, it's also a good spot to pause for a moment and take it all in while little ones entertain themselves.
This exhibition space is also home to a cafe and souvenir shop which is my one complaint about our visit. There is no way to avoid the shop as you HAVE to walk through it to get to the next hanger on your visit. I understand why visitor attractions do this, they have to maximise our spend after all. That doesn't help parents who end up with two sobbing children who are told that they are unable to buy the £25 toy which has caught their eye.
The tears were short lived though and on we went to the next stage of the visit: hanger 1. This is the home of RAF Cosford's transport and training collection as well as a rather substantial display of engines and missiles. There was also a HUGE open space that my two had an amazing time running around and exploring as they pretended to be jets chasing each other through the skies.
Papa Bear was in his element but by now we had been at RAF Cosford for around 4 hours and the kids were starting to flag. Tired feet and hungry tummies meant we were soon headed back towards the car, but not before some play down the hills the surround the museum.
RAF COSFORD – WHAT WE THOUGHT
RAF Cosford is a great day out for anyone, no matter what your age. A great family day out and free to come along to. Even people who aren't aircraft enthusiasts should see it at least once. However, for anyone who has an interest in aviation, flight – or even just engines! – then I have no doubt that you will come back to RAF Cosford time and time again.
If you enjoyed this post, they why not take a look at our days out section for more inspiration.