Choo Choo!! The Conwy Valley Railway Museum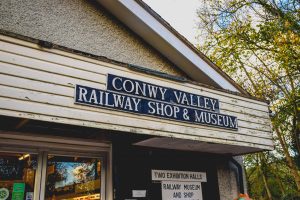 I'm sure I'm not alone when I say that I have a two-year-old boy who loves trains. As in LOVES them. We have a few options close to us when it comes to getting up close to trains and one of them is the Conwy Valley Railway Museum in Betws-y-Coed. At just over an hour from us in North Wales, it's a little bit of a trek but not too bad for a nice afternoon out exploring. So, last weekend we bundled ourselves up in the car and headed deeper into Wales in hunt of some choo choo's!
THE WHAT?
Unless you're local, it may be that you've never heard of the Conwy Valley Railway Museum as to be fair, it's very small. Located just off the A5 on the edge of Snowdonia in the beautiful village of Betws-y-Coed, it's located adjacent to the main station in the village. The perfect location for a railway museum.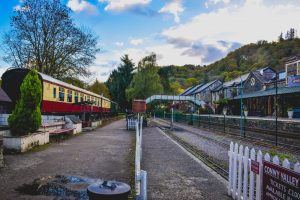 The museum has free parking and is made up of the main museum hall, a museum shop selling a selection of souvenirs and the miniature railway. In addition to this, there is also a buffet car which is a restaurant / cafe selling hot and cold food as well as beverages and a lovely collection of cakes. Finally, there is also opportunity to buy some fabulous items made from Welsh slate if that's something you're in the market for.
THE MUSEUM
As soon as we arrived we headed straight to the shop to pick up our tickets for the miniature railway. While there (after picking up a model train for Henry and little doll for Darcie), we popped into the museum hall. First of all, there were a series of locomotive scenes set up in displays. You can see that there is a lot of care and attention to detail poured into each and every one.
Next you have the main section of the hall, literally filled to the rafters with everything trains. Signs, signal boxes, routes, posters, tickets, reproductions, toys…..you name it and it was in there. Including a series of train sets set up to allow visitors to operate them at the push of a button (when the buttons worked that is!).
What I liked about the museum was that there was no snobbery there at all. Reproductions no doubt worth thousands were across the aisle from an electric Thomas, which children could operate. Despite being very dated, the collection is accessible to all ages. And at only £4 for a family ticket to cover all four of us, it was a cute way to spend half an hour or so exploring all the displays and playing with the train sets.
THE RIDES
Where the Conwy Valley Railway Museum really comes into its own – at least for us and other families with young children – is the miniature railway. Visitors can board Douglas, the resident steam train, and take an 8-minute trip looping around the site. Rides are just £2 per person and I know we had a great time watching the kids' faces light up as they travelled over bridges and waved to miniature villages.
There is also a little ride on train that for £1 a go, two children can climb in and operate the train themselves. It only takes them to the end of a little track and back again, but they absolutely loved being able to operate it themselves.
THE VERDICT
Don't get me wrong. The Conwy Valley Railway Museum it tired and is in desperate need of some TLC. Everywhere needs a good lick of paint to give it a much-needed facelift. Some of the glass screens in the museum were simply missing. Many of the buttons didn't work and the little souvenir booklet we picked up proudly stated that it was published in 1980. That kind of says it all.
However, did the kids care? Not one bit.
Henry had the best time shouting "choo choo" at every opportunity, pointing each one out and describing what colour it was. Darcie loved finding the buttons in the museum that did work and operating the model trains. Both loved riding the different train rides and playing on all the other little amusement rides throughout the site.
It's the kind of place that's ran by people who do it simply because they love it. I'm a firm believer that as visitors we need to support places like these. As if we do not, they will simply disappear.
Can you spend all day there? Not at all. But if you're passing through or staying close by in the area, then it's a really sweet way to spend an hour or two for a lovely afternoon out.
If you enjoyed this post then why not take a look at some of our other Days Out recommendations.