Fun for little monkeys at Monkey Forest | AD
With the return of the warm weather is the return of day trips for us. We love nothing more than getting outside, having adventures and making memories. So, when the opportunity came up to check out Monkey Forest, we jumped at the chance.
WHAT IS MONKEY FOREST?
Monkey Forest is a unique experience, giving visitors the opportunity to walk among approximately 140 free range Barbary Macaques. Native to the Atlas Mountains across Morocco and Algeria, Barbary Macaques are able to live outdoors in a habitat dedicated to them in Trentham, just outside Stoke. And when I say walk among them, I really do mean walk among them. Monkey Forest has no cages or bars meaning that the monkeys are free to roam and cross your path. Something they do on a regular basis as you explore their forest.
What a beautiful forest it is too. With a wonderful 3/4 mile walk threading its way through 60 acres of Staffordshire woodland, it's a great way to slow down and just enjoy nature in a beautiful location.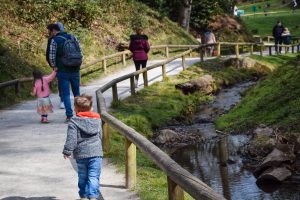 THINGS TO DO AT MONKEY FOREST
As if being able to get so close to these amazing animals isn't enough, Monkey Forest has a wide range of activities available to fill your visit. There are hourly feeding talks throughout the day, allowing visitors to see the Barbary Macaques in a social environment while learning a little more about them. There are also guides on site at regular intervals to provide information and answer any questions you may have.
One of the things about our visit that the Bears no doubt loved best was a little learn and explore discovery workshop. This was such an unexpected bonus, but the kids were captivated as they learned more about the Barbary Macaques. They loved how hands on it was and it was fabulous to watch them making monkey footprints in the sand and making social monkey faces at each other.
It is more than just an enclosure though. There is a shop available on site, as well as a very well stocked restaurant and picnic area. Add that to the adventure play area, it makes for a great spot for rest before heading back in to the main arena for more monkey fun.
HOW WE SPENT OUR DAY
With two little people in tow, we found Monkey Forest to be just the right size for us. Big enough to spend most of the day without feeling like we were missing out on anything, and still be back at home in time for dinner.
This is how we spent our day:
As you can see, our two had a great time. Even if the Bear is obsessed by calling it monkey world and / or monkey land (sorry about that Monkey Forest team!). We found it to be both fun and educational, and a great way to spend the day getting close to these beautiful animals.
Monkey Forest – Stone Road, Trentham, Stoke-on-Trent, Staffordshire, ST4 8AY – www.monkey-forest.com
If you're looking for more inspiration then be sure to take a look at our other days out.