Festival Fun at The Good Life Experience
It's crazy to think that this time two weeks ago we were donning out wellies and loading up the trailer for our last family festival of the season. The nights are already darker and the days colder, but join me as we look back on our time at The Good Life Experience for one last summer hurrah!
SO, WHAT IS THE GOOD LIFE EXPERIENCE?
Nestled in the grounds of the Harwarden Estate Farm Shop in North Wales, The Good Life Experience is a stones throw from Chester and all the North Wales transport links. The festival promises a unique experience for families and adults alike, and it's safe to say that it's a festival that really does have something for everyone.
Want to learn to skin a rabbit? No problem. Want to sew a bag? Sure, take a seat. Want to learn to chop wood? Then just pick up an axe and someone will be on hand to show you how.
However you wish to spend your time at The Good Life Experience – whether it be sitting back and enjoying the electic music on offer, enjoying food you've never tried before or learning a new skill – there is no doubt that this is a festival that encourages you to put away technology and embrace the right here and right now. With wellbeing, sustainibility and fun at the forefront of everything they do, this is a great day out for a whole family.
OUR HIGHLIGHTS
All this is right up our street so when the opportunity came up to go along to The Good Life Experience and see what it was all about, we jumped at the chance. We could only go along for one day of of the weekend, but we found it was more than enough to get a taste all things of The Good Life. Here are a few of our highlights.
SLACKLINING
One of the first things we came across when we arrived was the cutest little wooded area. That's pretty much where we stayed for the next hour or so. The little kids ate through their picnic boxes while the big kids tried their hands at slacklining. It was great fun, but I have to say that it really is so much harder than it looks!! (Says the woman who has zero balance…..)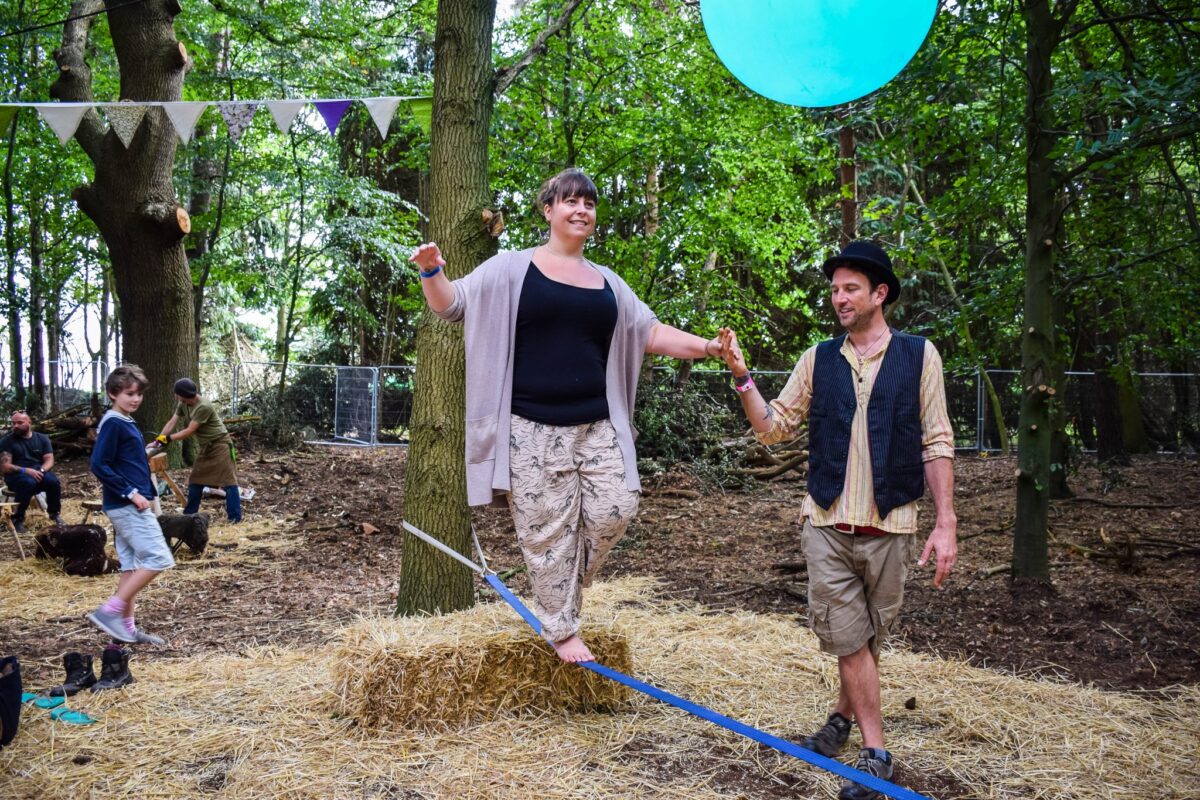 THE WORKSHOPS
This is where The Good Life Experience really comes in to its own. There literally are workshops and demonstrations for anything. We were only there for a day but we still managed to pop along to a few. Our favourite without a doubt was hand print casting. We were doubtful whether the kids would be able to stay still enough for clear prints, but I was so pleased with the end results. Even if they did then cover up all the beautiful detail with paint and glitter!
A LITTLE GROWN UP TIME
As we walked around the festival, there was so much that I wanted to have a go at. Not always practical with two little ones in tow. However, I did get to indulge in a little 'mama me' time before we left. I popped along to a book club meeting before we left the festival. We were given an extract and chatted through our thoughts. It was lovely to sit down with other people and talk about one of my favorite things. Books!!
THE STALLS
The stalls around the festival were no doubt a huge highlight for us. The people we met we're welcoming, friendly and keen to keep the kids happy and entertained. Their favourites were colouring pictures and making badges in the Welsh language tent, and making masks with the team from Chester Pride.
THE MUD KITCHEN
While his sister ran off to explore, Henry found a cute little mud kitchen and had the best time playing it in. Little things like this spread across the festival really made a difference for us. With two little people in tow, having stations like this set up to explore and hold their attention was invaluable. And mud with this boy was always going to be a winner.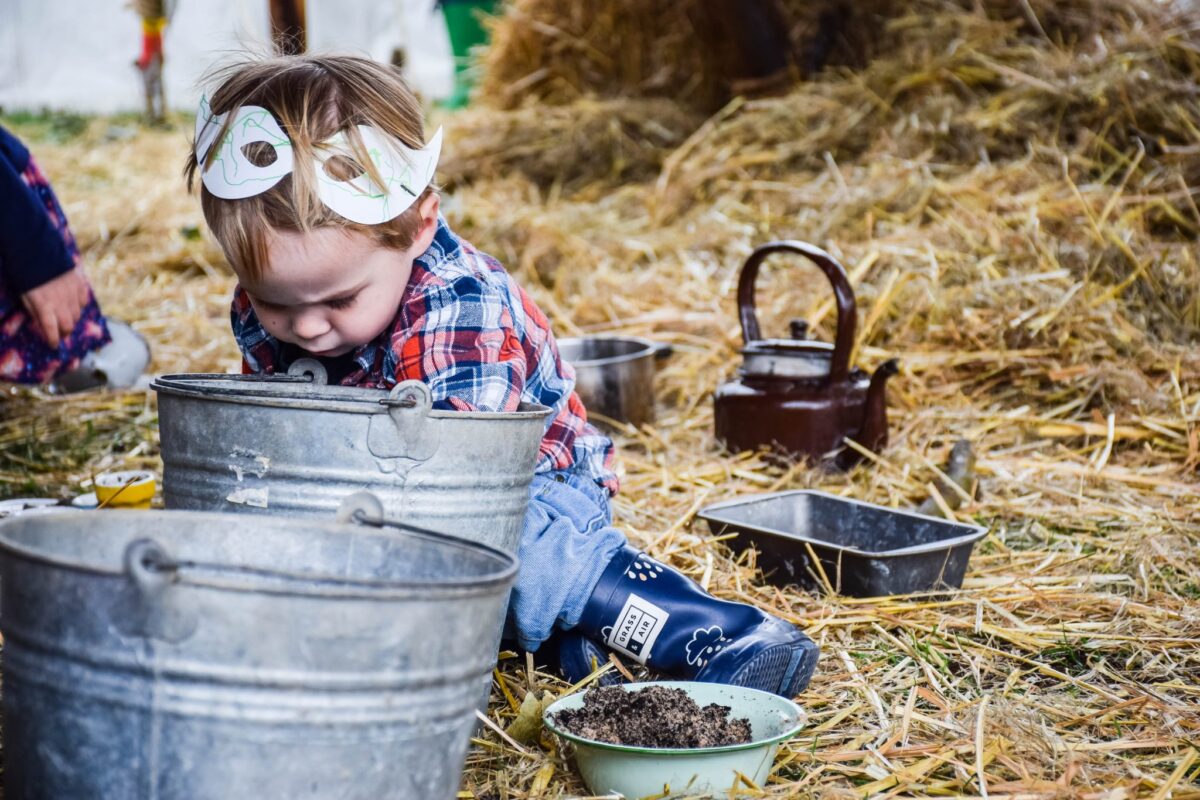 THE PARK
While her brother was playing with the mud, Darcie was having her own adventures in the fort park. Sometimes all kids need is a slide to keep them entertained. When Henry (finally) joined her, it seems all this boy needed was straw to play with to have a great time.
HULA HOOPS
In the main field there were a number of hula hoops scattered around to play with. These were a HUGE hit with the kids. Roll them, jump through them or simply run around with them. It seems the possibilities are endless and they can generate a serious amount of fun. It was these small, simple touches that upped the fun factor at The Good Life Experience for our two.
ROOM TO RUN
Finally, the real bonus for us was the space. If you follow the blog then you know that we love a good festival. What stood out for us with The Good Life Experience though was how much space there was. It's not a huge event was miles to walk, but what they do is keep it simple and do not oversell tickets. Therefore, although there were plenty of people supporting the event, it never felt crowded. There was plenty of room for the kids to really run around and get up some speed without fear or knocking into people.
There we have it. Our festival highlights. So, if you are looking for a festival full of good music, good food and new experiences then The Good Life Experience could be for you. Tickets for their 2019 festival are on sale now.
If you enjoyed this review, then why not check out our Days Out section for more inspiration for family fun.
DISCLOSURE: we were provided with tickets to this event in exchange for this review. However, all opinions remain our own.