Curlew Cottage – a Northumberland getaway
AD | review
As a family we love exploring new places. So, when we were invited to Northumberland this summer to visit the area, we didn't hesitate to accept. Staying as guests of Outchester and Ross Cottages Farm Cottages, it looked like a great base to explore from.
Before we even arrived we were very impressed with the level of information we were given. The email confirming our stay included everything we needed. Not only was there the usual booking confirmation details but it was also packed with relevant information from arrival details, instructions on how to get there as well as handy tips for our weekend.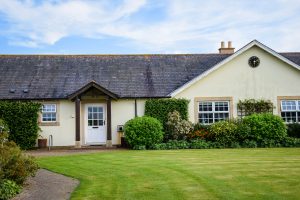 I won't lie, the journey was a bit of a nightmare. Now this will of course depend on where you are based, but for us it was around 5 hours to get there. It was also a pretty dull journey as everything from Leeds all the way up to Newcastle seemed rather monotomous. From there though, everything became beautiful as the flat and repetitive landscape gave way to some pretty stunning sights. Then – at the end of our epic trek – we were rewarded with the beautiful setting which we were lucky enough to be spending the weekend.
CURLEW COTTAGE
Set in open countryside near the coast, the Outchester cottages are made up of 8 units which house between 2 and 6 people. With path links leading to Ross Beach you can from there enjoy three miles of golden sands with views of Holy Island, the Farne Islands and Bamburgh Castle.
You could be anywhere though, as the cottages fell like a lush oasis in the middle of acres of working farmland. There is a real sense of peace about the Outchester cottages which has a lot to do with its stunning setting.
Without a doubt David – the caretaker/gardener – is fantastic at his job as the thing that immediately stands out about the cottage complex is just how lush and well tended it is. There is a communal grass courtyard out the front of the cottages which is beautiful and each cottage also has its own private garden. Trust me when I say that there is no better place to enjoy a hot cup of tea on a beautiful morning.
Curlew Cottage is set at the back of the U-shaped buildings complex, which means that we also had direct access to a rather wonderful strip of grass and trees which felt nothing short of an idyllic little orchard. The kids had the best time exploring it.
A LITTLE LOOK INSIDE
I have to say that the website really does not do this cottage justice. Online the decor looks dated, but in person it is prestine. Decorated in a traditonal style, it has a classic feel to it which screams luxury in person.
Made up of a two bedrooms – one double one twin – 2 bathrooms and a spacious open plan kitchen, dining and living area. Curlew Cottage had plenty of space for the four of us to enjoy our weekend.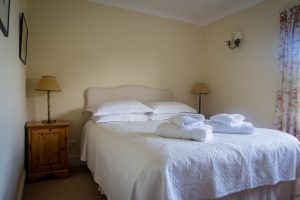 Incredibly clean and comfortable, Curlew Cottage is filled with plenty of home comforts. It is already stocked with a lot of the basics ready for us to enjoy. In fact the kitchen was so well stocked with pots, pans, crockery and cutlery it even included some childrens plates, bowls and cups. You really don't need to bring anything with you from home.
There is also a huge amount of information stored in the cottage. And I mean HUGE. Everything from advice from previous visitors in the comments books, leaflets, business cards, restaurant guides, tourist information. It was great to be able to spend a few hours with a glass of wine reading through what past visitors enjoyed during their time in the area.
MORE FOR FAMILIES
I love the Curlew Cottage is obviously designed with families in mind. Not only in the added extras within the cottages themselves such as child kitchen supplies and gated gardens, but also outdoors too.
There is plenty of space to get up speed an run, but there is also a pretty impressive playing area. Containing a sandpit, playing area, football goals and ping pong tables. There are a good selection of things to keep kids entertained.

The Outchester cottages have a little extra something up its sleeve though. They have their very own observatory for when it gets dark. Yes, you heard me right! You can enjoy the benefits of being away from big city light pollution by taking a look at the stars. Sadly for us although we were lucky with the weather by day, it was cloudy by night. I can imagine how fabulous that must be on a clear night though.


A WONDERFUL STAY
Needless to say we loved our stay at Curlew Cottage. It was a wonderful end to a pretty wonderful summer. A glorious base to relax and spend some time together as a family. Our only regret is that we weren't able to stay longer.
We loved Northumberland. It was our first time there but I was stunned by just how beautiful it was. There is no doubt that we will find our way up that way again.
Find out more about Outchester and Ross Cottages and book your stay on their website. If you enjoyed this review, they why not check out the adventures area of the blog.
DISCLOSURE: we were invited along to enjoy a two night stay in Curlew Cottage in return for this review. As always all thoughts, content and images are our own.