Our Pocket Guide to Bluestone Wales
If you are a regular reader, then you may remember that we took a trip to Bluestone Wales in November last year to check out their festive offer. Everyone had a great time, so when the opportunity came up to go again as part of their #BluestoneBlogger programme and we jumped at the chance and couldn't wait to check it out in the sunshine this time.
We weren't disappointed. So, here is our very own pocket guide to Bluestone Wales.
BREAK UP YOUR JOURNEY
Nestled in 500 acres gorgeous hills and beautiful fields, Bluestone Wales is located in Canaston Wood, Narberth, Pembrokeshire, SA67 8DE. For us that's 4 hours' drive, first down the A483 and then the A40 through to Pembrokeshire. So, that's 4 hours of 'A' roads which is pretty tough going for us all.
Therefore, my number 1 recommendation would be to plan your route and plan in stops. For us, I know the limit I can push my two to is 3 hours. Luckily for us Dinefwr sits exactly 3 hours from our home and is the perfect place to stop for a few hours and burn off some energy. I find stopping somewhere like a National Trust property works better than stopping at a service station as not only can be refuel but we can also really get out and stretch our legs to explore somewhere. It has the added benefit of feeling like we haven't wasted an entire day traveling as we also manage to explore somewhere new.
PACK YOUR SWIMMING COSTUME
One of the big benefits to staying at Bluestone Wales is that you have unlimited access to the Blue Lagoon water park. This is one of my kid's favourite parts about staying somewhere like Bluestone as they LOVE the water and the Blue Lagoon has a great mix of toys, fountains and lazy river to keep them entertained for a few hours. If you're staying at the resort then you get exclusive access from 9am when it opens, until midday when it opens to the public. Therefore, we recommend you visit earlier in the day as it can get quite busy.
My two aren't old enough to enjoy everything that the Blue Lagoon has to offer as the slides and wave machine are too big for them. Therefore, I think it was missing a smaller slide in the toddler area for the little ones and some of the activities they have are broken and no longer work. However, I loved that the toddler area was sectioned off and closed so that they are able to explore further than a meter away from you without the fear that they're going to drop off a 6ft edge into deep water!
SIT BACK AND WATCH THEM PLAY
One of my favourite things about being away at Bluestone Wales was being able to sit back and just watch them enjoy themselves. First of all, the Bear LOVED the park. There's nothing better to a 3-year-old than a great park to explore and she had the best time climbing, sliding and exploring. Her baby brother spent the whole time gleefully running around behind her trying to keep up. There was a big difference between this time and last time in that she made little friends where ever she went, and these little communal areas are perfect for that.
Next, we had the Adventure Centre where we planned to spend a few hours but in reality ended up spending the entire day. Last time we went along it was full of Christmas cheer, however this time we got to explore it in its natural state and I must say they LOVED it. Highlights for them were the crazy golf where the two of them spent around an hour trying to get the ball into every hole on the course. Next was the soft play area where Darcie spent I don't know how long going down the 'round and round' slide time and time (and time!) again. Henry on the other hand had the most amazing time in the ball pit. If you ever wonder how long a huge ball pit can keep an almost 2-year-old entertained, the answer is a LONG time!
ENJOY YOUR LODGE
This year we had the pleasure of staying in the Skomer Lodge. This is a detached lodge which has plenty of space. With three bedrooms (1 double and 2 twin) and 3 bathrooms, the Skomer sleeps 6 people comfortably. The kitchen, dining room and living room were all open plan giving a real sense of space. Add in the mezzanine floor upstairs which hosts a little 'cwtch' area for kids – complete with its own TV – the kids had a great time exploring their own space.
What I loved the most though was our little garden area. Completely private and secluded, it felt like we could have been anywhere. It even had its own little picnic bench for outdoor dining. The weather was so lovely during our week that we made the most of it by having the patio door wide open whenever we were in the lodge and the kids loved being able to run in an out while they picked flowers and went on bug hunts.
I would warn that the sofas aren't the most comfortable and certain seats are obviously worn more than others. With no cushions available we had to raid the spare pillows in the evening to get comfortable. Overall though, the lodge held everything we could ever need for a short stay and we didn't feel like we were missing anything. In fact, the inclusion of kids cutlery was a welcome surprise and something I haven't seen before at any equivalent holiday villages.
THE BEST OF THE REST
Sadly, I can't comment on any of the summer shows as unfortunately they had already sold out by the time we went along to book some seats. Same goes for the restaurants on site as we didn't use any them in the evening. With two little ones, I simply find it easier to eat back in the lodge in the evening. However, we did sample the delights of the fish and chip takeaway which was delicious (eating outdoors of course!) and ate out at lunch time daily. First in the Blue Lagoon which unfortunately has such a limited menu it was a struggle to feed the little ones, however the restaurant in the adventure centre the following day more than made up for it and all four of us left full and happy.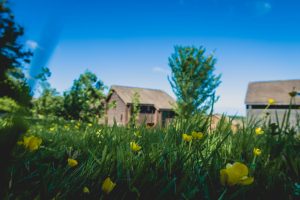 So, there we have it. Our very own pocket guide to making the most out of your Bluestone Wales stay. And if you have a spare few minutes then why not check out our highlights in video!
DISCLOSURE: we were invited along to Bluestone for the week in exchange for this review. However, all thoughts and opinions as always are our own.