BLW – Crustless Quiche
This is a recipe I've been using for lunches for a while now as I'm not a great pastry lover but I do enjoy quiche…the solution? Crustless quiche of course, and this week I adapted it to fit into Henry's BLW diet.
THE INGREDIENTS
Another simple one here, you just need:
 8 eggs
200 ml whole milk
25g mature cheese finely grated
Your choice of additional filling – think ham, mushrooms, tomatoes, peppers or even sausages and bacon for toddlers and adults.
This makes up 8 good sized portions for kids or in our case 2 adult portions and 4 kiddie sized portions which makes sure there's enough for everyone. If you don't need that much then I recommend just halving the ingredients and doing half sized.
THE METHOD
Preheat the oven to 180 / 160 fan.
Brown anything that may need browning, e.g. bacon, sausages or mushrooms etc
Combine the eggs, milk and cheese and whisk – season if you wish at this stage but as this was for BLW I skipped this part.
Add any optional ingredients you want to include – today we used ham.
Add to a greased pan and put into the oven for 20 – 30 minutes until cooked through.
Serve! We added some toast for this carb hungry boy.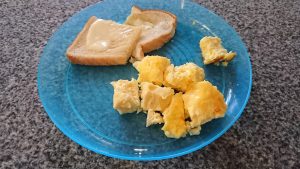 THE VERDICT
Yum!  I'm a big fan of this as it's a lunch that all of us can enjoy; baby toddler and mummy. That means mummy only needs to cook one meal….score!  The texture is very much a quiche without the pastry and that sogginess you sometimes get with it so if you're not a fan of traditional quiche or wish to cook something for you all without adult vs. baby options, then it's worth a go.
And Henry's opinion?  It was definately a winner! Even Darcie was impressed with the making, even if her fussy toddler ways wouldn't allow her to actually try egg!