Dress To Impress – the wifes choice
Have you seen that new dating show on ITV2; Dressed To Impress? Basically, three women compete to win a date with one lucky guy. To do this they need to dress them to impress them. Yep you heard right. It's a show where women dress men to win a date.
How it works is that they watch a video of a random guy telling them a little about himself, they then get given a set budget to pick an outfit for him. First of all is a casual outfit where one unlucky woman who chooses the worst outfit is eliminated. Then it's the formal round where the suiter picks his date for the evening based on nothing more than the outfit that has been chosen for him.
It's a bit of trash TV and ultimately harmless fun – albeit addictive. I came across it by accident and ended up watching the whole programme. It also got me thinking. What would I choose for my husband to wear? Well, with a little help from Jacamo this is what I came up with.
CASUAL WEAR
We're a pretty active family so the default tends to be jeans and boots. Warm and hard wearing, they are our default go to when it comes to weekend exploration.
I'm not a fan of tracksuit bottoms and I believe that the only place that trainers belong is in sports or in the gym. Don't get me wrong, in the house lounge pants rule but out and about for me; it's all about jeans, combats and in the summer, shorts. Therefore, I wanted to keep it simple and keep along this theme of autumn layers.
My choice: jeans and a t-shirt as the basics, paired with a smart hoody and boots for warmth.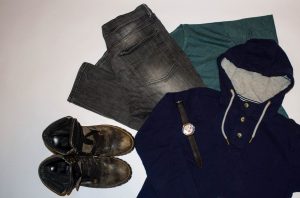 jeans: Topshop | t-shirt: Primark | hoody: Jacamo | boots: Fued | watch: Globenfeld
FORMAL WEAR
Jeans are still a default regardless of whether it's formal or casual. For formal though, they are a little dressier and a shirt, a good jacket and some decent shoes are added.
Nothing smartens up an outfit like a decent pair of shoes. I have always been taught never to go cheap with shoes as you need to look after your feet. Therefore, invest well and not only will they will last longer, but your feet will also thank you for it!
The choice: once again jeans but this time paired with a good quality shirt as a base layer and paired with a smart pair of shoes and a tweed blazer to add a more formal – yet still modern – style.
jeans: Topshop | shirt: M&S | jacket: Dobell | shoes: Jacamo | watch: Swatch
And that's it: my choices. How did you think I did? And what about you: what would you choose for your other half in if you were dressing them to impress them?
DISCLAIMER: this is a collaborative post.