Festive Wrapping
With Christmas a little more than 2 weeks away, that means one thing. Time to start wrapping. We've still got one or two things that we need to get but what we most definitely have is a spare room of things to wrap! We alway pick a theme each year  – and by 'we', I of course mean me! – and this year I've gone back with tradition.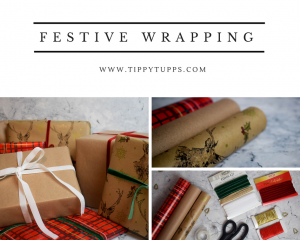 THE PAPER
I love brown Kraft paper and think it makes such a beautiful foundation when it comes to any kind of wrapping. This year I've gone for the standard brown paper foundation – available at any post office or supermarket – along with a few patterns to compliment it. Tartan to add a splash of red, and this amazing stag print that I picked up from Primark of all places.
THE FINISHING TOUCHES
I go all out at this time of year and really like to make all our wrapping beautiful. That means ribbon. Lot and lots of ribbon. And twine and bells and bows. All those little finishing touches that really make it look special. This year to compliment the brown and the splashes of red, it had to be reds, greens and whites really didn't it?
So far, I've been using these fantastic packs from Party Pieces. Some green velvet ribbon, rustic twine and white ribbon in one.  Some red velvet ribbon in another, and then red and gold twine in the last one (which also comes with bells – how festive is that?!)
The only thing that's missing is a glass of wine (it would be rude not to) and a Christmas movie on TV. Add these two things and this is exactly what my evenings for the next 2 weeks leading up to the 25th will look. What about you? Do you have a Christmas wrapping theme? Or do you just go all out on the first paper that comes to hand?