Our Festive Table
It's almost here….in fact there are only days to go now which means I've been thinking about the main event. Christmas dinner. And more specifically making sure we have everything we need (other than the food that is!). So, here's a little sneak preview of what our Christmas table will look like come Monday.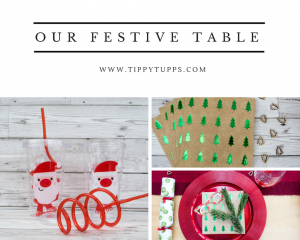 If you read the blog regularly then you will know that we are all about traditional colours. I love the rustic look but just can't bring myself to do it on Christmas Day. Instead our Christmas table is all about the greens and reds of the festive season. So, when the guys from Party Pieces agreed to accessorise our festive feast…..well, this is what I chose.
THE TABLE TO EAT FROM
I've had these red plates and red table runner for years, and each year they make up the foundation of our festive table. Everything else is then picked around this colour.
This year at the centre of the table I picked up the fabulous berry bouquet in a recent Sainsburys festive haul. I love how it pulls everything around it and introduces the green which sits alongside the red. Upon the plates, we have some cute Christmas tree napkins, a sprig of our Christmas tree to match, along with some really fun brussel sprout glasses to add that splash of green to the table. The glasses also match the brussel sprout crackers which are so much fun.
The glasses are festive themed with a Santa suit and some Santa's little helper options. The table is then finished off with some wooden Christmas tree confetti to fill in the gaps.
THE GLASSES TO DRINK FROM
Now, the adults have those wonderful festive glasses for the table but I didn't want the kids to feel left out. The Bear is old enough for a open cup, but Henry is too little at the moment and would just launch it over himself. We've also found matching is the way to go. As, if they already have the same thing, they don't argue over it. Siblings eh?!
That's where these fabulous Santa cups come in. Festive fun – check. Closed lid – check. Twirly whirly fun straw – check! I've been desperate to show them to the kids already as I know they will love them, but I've resisted so they stay special for Christmas Day.
THE THINGS TO KEEP US ENTERTAINED
Now the thing about Christmas dinner is, if you do it properly it takes a LONG time. A lot of back and forth, a little bit of prep between each course and a little bit of time for it all to settle. As we have a 1 year old and a 3 year old, we will limit time at the table by having a nibble starter as we play. Therefore, will only sit down for the main course – and of course pudding – once that's ready. Even so, it can still take time so we have a few things to bring out bit by bit to keep everyone entertained.
The Bear loves taking photos, her uncle got her a kiddizoom camera for her birthday in September so – alongside our brussel sprout glasses which will be on the plates – will we have some festive photo booth props to play with while we all take photos of ourselves. We also have a Christmas colouring book with pencils for everyone to colour in, as well as some fun reindeer antlers to dress up with. This is of course along with the crowns from our crackers. Finally we have this fabulous tots trivia game to challenge the little ones. Containing questions like what comes after number six and things to do like find your belly button and give it a tickle. It's sure to be a big hit with everyone.
And that's it! That's what Christmas Day is most likely going to look like for us. An explosion of red and green and (hopefully) packed full of fun for little ones and grown ups alike. I'm not the best cook in the world: I give it a good go but I'm certainly not up to Jamie Oliver standards. So, I hope when everyone looks back on the day in the evening – stuffed full to bursting – that they remember the fun over everything else.
A big thank you to the team over at Party Pieces for providing so many of these items to fuel our festive fun. I can't wait to see what my family thinks of it all come Monday. We wish you a very Merry Christmas and a Happy New Year.
DISCLAIMER: this is a collaborative post.