Is it possible to work from home and look after small children?
This is a collaborative post. Thank you for supporting the posts which make this blog possible.
As the country disappeared under a dusting of snow, my social media ignited with a scream of 'snow day!'. It seems that the Bears was one of the only primary schools to stay open today despite her needing to walk to school in what felt like a blizzard. However, that doesn't mean our day didn't got completely off plan.
So, what do you do when the dreaded snow day arrives but there is actually work you really do need to do from home?! Is it really possible to work from home and look after small children?
I work a PAYE job 2 days a week and today was one of those days. For us the message arrived at 7am that our childcare was snowed in and couldn't make it. This threw a rather large spanner in the works as there was work that I really HAD to do today. To cut a long story short, at lunch time after the Bear came home from preschool, I found myself sat at the dining room table trying to work whilst also trying to keep a 2-year-old and 4-year-old on semi speaking terms. Scrap that, I was just trying to keep them alive.
I reached out to my fellow online colleagues to ask just how they manage to successfully work from home AND parent a child. Here's what they said.
BE PREPARED
Becka from Www.mummyest2014.wordpress.com tells us to be prepared. "Make lunches and put in fridge so you just have to grab it when it's time to eat, have (lots of) snacks and drinks prepared ready too."
I won't lie, this was key for us today. One thing that is bound to keep my son happy is food. So, today has no doubt been a grazing, carpet picnic, distract them with food kind of day. Taking that one step further and preparing (or at least planning) lunch, dinner and snacks in advance is such a great idea and a fantastic time saver.
DON'T BE AFRAID TO CALL ON TV
Natasha from mummyandmoose.co.uk confirms that "Cbeebies is my co pilot on those days. sometimes needs must and the kids love it!"
This is a common theme. When time is short and work has to be done, it seems that TV is the ultimate support. Victoria from lyliarose.com confirmed this. In her house it's all about "LEGO, iPads, colouring books and TV! If I have to work then the screens have to come out!" Hannah from hannahmeadows.com told us that "Kindles, are the current favourite in our house. Nothing occupies my two like a screen! Jigsaws are also working well here at the moment, but not for very long periods."
Do you know what, I see absolutely no issue with this. Would it be a problem if you child was glued to YouTube all day every day? Yes of course. But on the odd occassion where you really do have to do it all – be a mother AND a good employee – I see no problem with this at all. Need must after all.
KNOW YOUR KIDS
Knowing your kids and what will keep them occupied is of course key. For Susan from edinburghmummy.com that involves "YouTube. Remote Control. Films. Jigsaws. Unlimited tangerines, hummus and breadsticks." For us it's been Brio trains, Hatchimals, Disney movies and fruit sticks! Dusting off the activities that you know will keep them entertained for extended periods of time is no doubt key.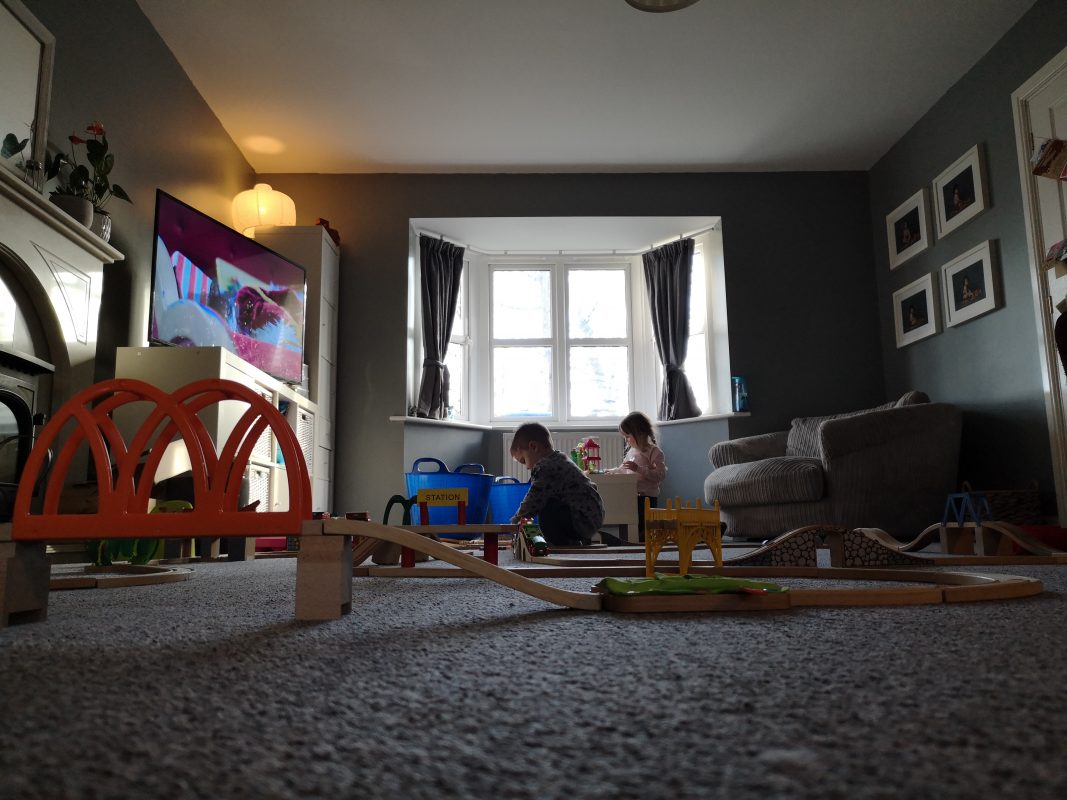 SET THE SCENE
I love this idea from Emma over allsheloves.co.uk, as she spends a little time up front to set the scene. She suggests to "Put on a movie and do a pretend picnic in the front room – rugs, bean bag, play food, plastic plates. Make it cosy and snug, then you can get on with some work!" This is no doubt one I am keeping for next time we find ourselves in a situation like this.
STAY FOCUSED
This piece of advice from Sophie at www.sophobsessed.com will really help to keep stress levels down. She warns us to not try and multitask. "Do one thing at a time so if you are playing then just play. If you are making lunch just make lunch. If you.are sending an email then just send the email. It's far more efficient, you get more done and everyone stays happy!"
Such a simple piece of advice but something that stop you feeling like your day has been filled with half filled jobs.
TIRE THEM OUT
Finally Jenny from www.travelynnfamily.com suggests that if you have flexibility in your day, to tire them out. "Take them out sledging and building snowmen. Tire them out so they will go down early to bed, and work in the evening. You will then be focused, uninterrupted, and get MUCH more done."
As for us. Our day was a mixture of movies, Thomas trains, Hatchimals and stickers. I made sure I spent time with them playing and did what I could when they were occupied. I got done what was NEEDED, and the rest? Well, that can wait until they're in bed! With more snow coming though, this could be the start of a few more snow days.
TAKE A LOOK AT YOUR OPTIONS
Luckily, there are many different options for parents who want to earn a sustainable income from home. One of the most popular options is to invest in home-based businesses for sale. These can be either home-based franchises or home-based companies for sale. This allows a parent to make a good income from home but also to make time for what matters most in life.
If you would like to learn more about the different types of home-based business opportunities available. In that case, we recommend you use an online directory of businesses for sale, such as Businesseek.