Crafts and kindness with B-Kind | AD
Anyone who knows the Bear knows that she loves a doll. Big, small, baby or life like, she has always had a real love for dolls which is why when I found out about B-Kind, I just knew she'd be desperate to take a closer look. Add in crafts and I had a 7-year-old that fell in love with her new best friend.
Who and what are B-Kind?
We we're sent Nora who is a rather fabulous looking doll complete with craft activities and accessories. Nora is also joined by Ivy, Daisy, Brianna, and Koral from the B-Kind range and from first glance I was impressed with the diversity of skin tone and outfits compared to many others on the market.
At 31cm these posable dolls are a good size and come with shoes, earrings, a hair accessory, a pillow pet friend, tips booklet, message card and hairbrush. Nora also came with crafts to complete, including a hair accessory to braid and embellish, a fabulous sun hats and stickers to decorate it and a fabrics and stencil to customise Nora's suitcase.
A doll with a difference
The thing I loved most about B-Kind dolls though is also what makes them special. These are more than just fashion dolls as there is a real ethos of sustainability behind the B-Kind brand.
The packaging is plastic free and the dolls themselves are made from recycled materials with sustainable fashion accessories. In fact, even the ink on the packaging is made from soybeans!
I even love that the box flattens out to create a "kindness board" complete with cut out shapes and activities. Every aspect can be reused including the ribbon handle that can be upcycled into a bracelet. In fact, the entire box can be decorated and used as a scene for doll play.
I've seen a lot of brands over the past few years start to make real efforts into more sustainable products and packaging, but B-Kind really takes that ethos one step further and ensures that it is really embedded into its brand.
More than just sustainability
B-Kind promotes more than just sustainability though as each doll comes with a craft activity and also promotes kindness. The Bear LOVED the craft aspect of Nora and went straight to the hat to customise it. This added a really lovely dimension to her play and really kept her engaged.
The Bear really connected with this aspect of the B-Kind doll, especially as being kind has always been something we try hard to talk about as a family.
The last word
In short, the Bear loved the doll and the crafts whereas I loved both the packaging and the sustainable focus of this toy. I really valued the fact that this is a toy that that promotes kindness and inspires children to be both creative and compassionate.
Needless to say, at the end of the day we were a very happy Mama and Bear! The B-Kind range are available to buy now from Smyths toystore.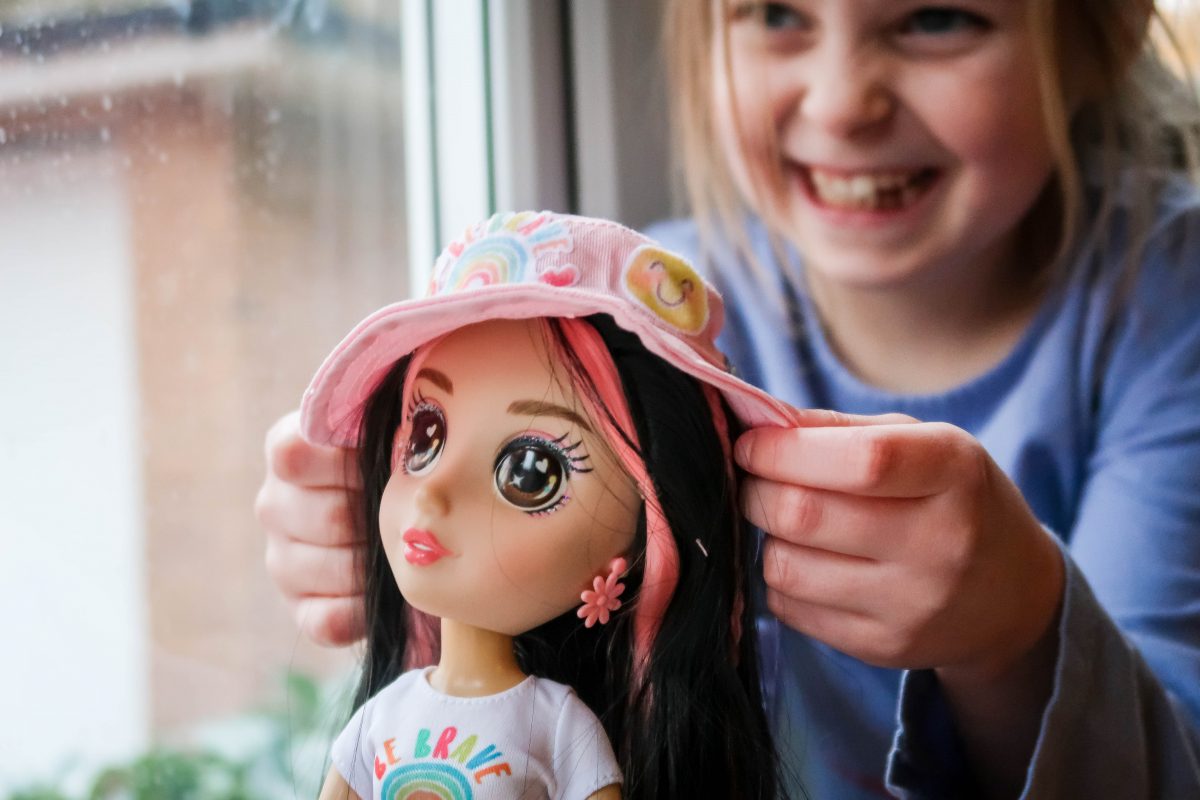 DISCLOSURE: we were sent Nora for the purpose of this review. As always though, all opinions are our own.