Banana Pancakes blw style 
Now the little man is moving over to three meals a day I've been hunting around for some blw recipes suitable for him rather than just giving him little nibbles from my plate and came across the concept of 2 incredient pancakes. Literally just 2 ingredients: banana and egg…..and that's it!  Sounds too good to be true right, so I decided to put them to the test and I have to say – I was pretty impressed with the results.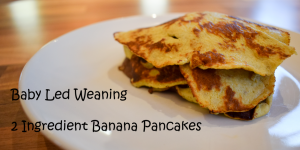 THE METHOD
So all you need to do is:
Take your ingredients: 1 medium banana + 2 medium eggs.
Cut the banana into pieces and mush with a fork.
Add the eggs and whisk – I also gave it a quick whiz with a hand blender too at this stage to get a smoother consistency.
OPTIONAL – at this stage you can add any additional ingredients you wish – think chocolate chips, sugar, honey etc as per your taste.  As this is for blw I kept it pretty plain for him and just kept to the banana.
Fry in a pan on a medium heat with a little oil / butter / fry lite (whatever your frying preference is). You're looking for small pancakes so just a few
tablespoons on each side of the pan is enough.
Serve! Our mix was enough for 6 pancakes and we went down the route of a few strawberries post cooking but add to it whateven your belly craves!
THE VERDICT
I have to say I didn't hold out much hope for this as I was expecting a weird eggy texture with random banana bits in but I was pleasantly surprised.
Not only did it have same texture as traditional pancakes but the banana really gave it a sweetness to the point where you didn't even miss the sugar. I'm happy that I whizzed it first as I'm not sure any big bits would have been pleasant, but the smooth mix ensured a nice even texture throughout.
They were so nice that I even shared the breakfast and had a few myself! However the proof is in the eating and what did Henry think of it?  Well…..judge for yourself!